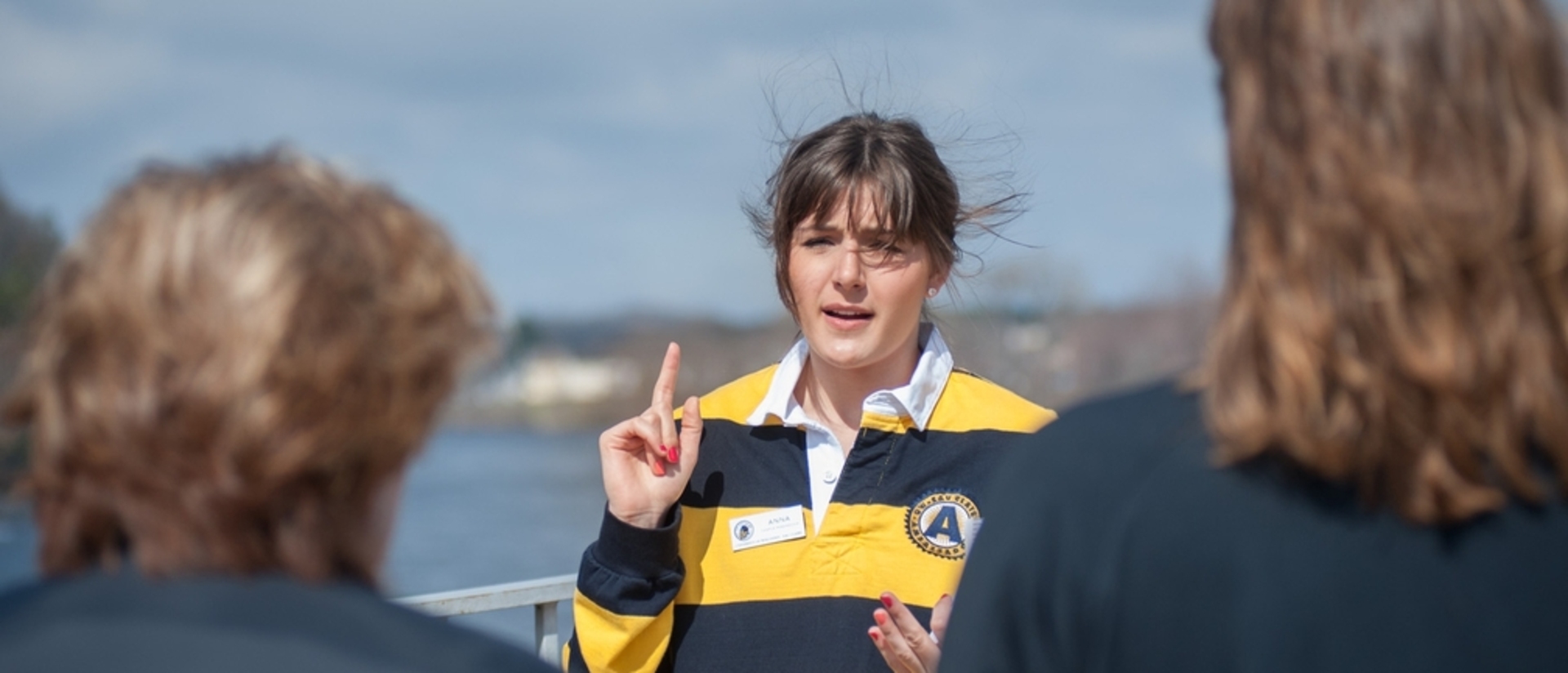 Have you noticed the people in striped shirts all over our site? Those are our Campus Ambassadors and they are current students at UWEC who are passionate about this campus and the education they're receiving here. They'll show you around campus, pointing out their favorite study spots, hangouts, and giving you the scoop on the best places to get food on campus. Their intimate knowledge of campus life is the best way to see if UWEC is the right school for you!
Derek (he/him/his)

Biology Major
Pre-Professional Health Minor (Pre-Physician Assistant track)
Spanish for Health Professions Minor
coatesds7130@uwec.edu

"To me, being a Blugold means making meaningful relationships with professors and faculty on campus, giving yourself every opportunity to grow into the person you want to become through learning about other people of minority groups, and being a better advocate for them"
Ella (she/her/hers)

Psychology Major
Spanish for Health Professions Minor
townseej6261@uwec.edu

"To me, being a Blugold means being a part of an ever-growing community filled with faculty and students who are always helping each other prosper. It also means learning more about people in this community that are different from me as well as learning the stories of people who are similar."
Ian (he/they or iel/ellui)

French Education Major
Special Education and Inclusive Practices Minor
mcintyia7395@uwec.edu

"Being a Blugold is being a person who has an understanding of the world that allows you to challenge your own beliefs and pushes the conversation in a productive way. I means that I am a part of a bigger picture with many diverse people who care about me as a person!"
Katie (she/her/hers)

Journalism Major
mccoyka7544@uwec.edu

"To me, being a Blugold means that you always go above and beyond."
Rachel (she/they)

Broadfield Social Studies Education Major with a History Concentration
Equity, Diversity, and Inclusion Certificate
hamelerc8768@uwec.edu

"Being a Blugold to me means stepping outside of your comfort zone and empathizing with people's identities and lived experiences. Additionally, using that empathy with individual privilege to create equitable spaces for all."
Sarah (she/her/hers)

Biochemistry/Molecular Biology Major
landease8362@uwec.edu

"To me, being a Blugold means supporting everyone around you on campus and working to better our community. It also means knowing that I can rely on those around me to support me when I need it most."
Zoe (she/her/hers)

Unified Elementary-Middle School Education Major
Social Advocacy Certificate
lewiszs1324@uwec.edu

"To me, being a Blugold means being a part of a community that supports each other and provides countless opportunities for success and memories!"