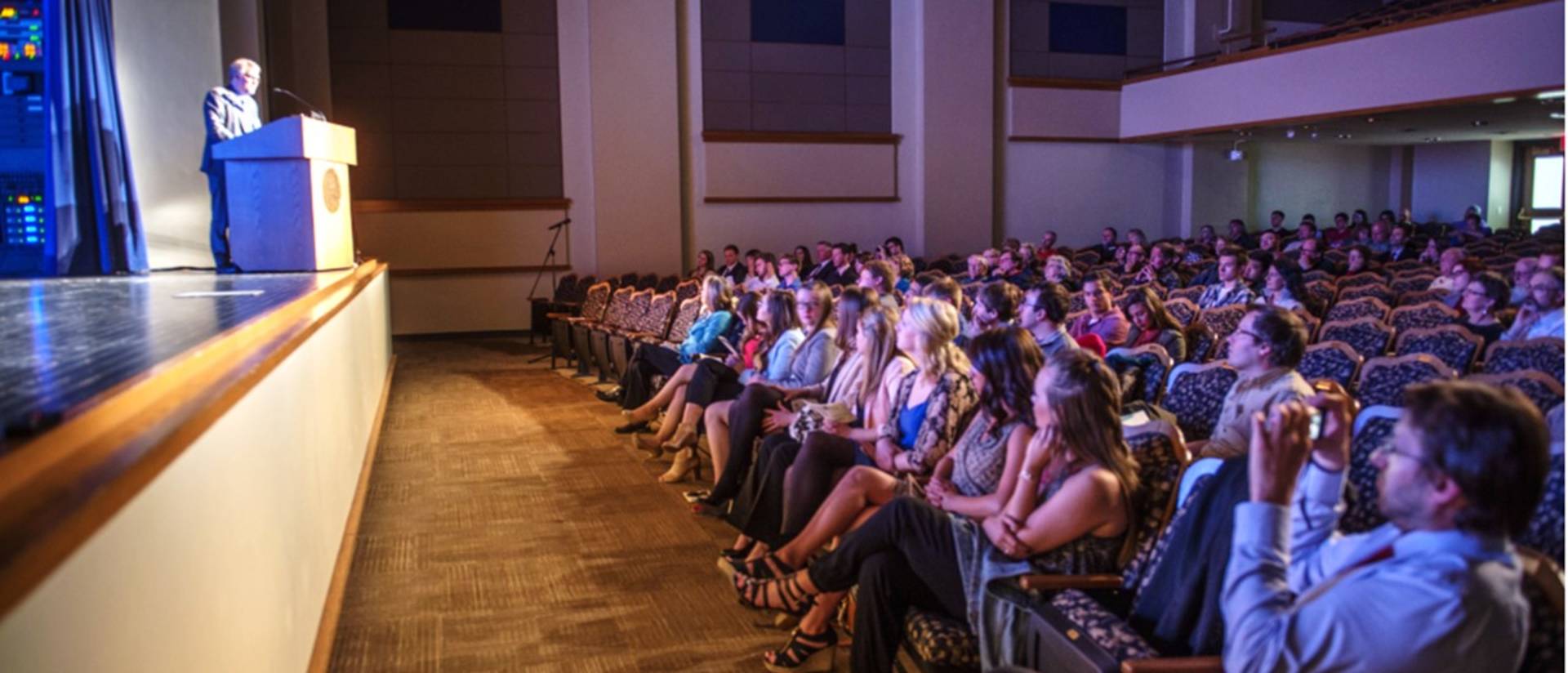 President W.R. Davies was the prime mover in establishing The Forum within the first year of his administration, to bring to life his vision of the college as a cultural center. He transformed Eau Claire's after-dinner speakers club into a college-community partnership that selected an average of five speakers a year. The Forum is committed to the concept of non-discrimination as related to race, creed, sexual orientation, age and physical disability.

Forum Special Bari Weiss | Sep. 20

Bari Weiss
The Freedom of the Press and Role of New Media
Wednesday, September 20, 2023
Schofield Auditorium | 6:00pm
Ticket Info | Watch Virtually Here

This Forum Special is being put on by the Menard Center as a Constitution Day Event.

Bari Weiss is the founder and editor of The Free Press and host of the podcast Honestly. From 2017 to 2020 Weiss was an opinion writer and editor at The New York Times. Before that, she was an op-ed and book review editor at The Wall Street Journal and a senior editor at Tablet Magazine.

Weiss is the winner of the LA Press Club's 2021 Daniel Pearl Award for Courage and Integrity in Journalism. She is also the winner of the Reason Foundation's 2018 Bastiat Prize, which honors writing that "best demonstrates the importance of freedom with originality, wit, and eloquence." In 2019, Vanity Fair called Weiss the Times's "star opinion writer."

Weiss is a proud Pittsburgh native. Her first book, "How to Fight Anti-Semitism," was the winner of a 2019 National Jewish Book Award. She lives with her wife and daughter in Los Angeles
David Hogg | Oct. 23

David Hogg
Co-Founder of March For Our Lives
Monday, October 23, 2023
Schofield Auditorium | 7:30pm
Ticket Info

Thrust into the world of activism by the largest school shooting in American history, Parkland survivor David Hogg has become one of the most compelling voices of his generation. His call to "get over politics and get something done" challenges Americans to stand up, speak out and work to elect morally just leaders, regardless of party affiliation. Passionate in his advocacy to end gun violence, David's mission of increasing voter participation, civic engagement and activism embraces a range of issues.

On February 14, 2018, David's life changed forever. As a senior at Marjory Stoneman Douglas High School in Parkland, Florida, he lost friends, classmates and teachers. A total of 17 people were killed when a lone teen gunman sprayed bullets from a high-powered military assault rifle. David's eloquent responses to America's largest school shooting immediately placed him in the national and international media spotlight. Committed to becoming an agent for change, he resolved that no other young person should have to experience the tragic impact of gun violence. He joined with friends from high school to co-found March For Our Lives, now one of the world's largest youth-led movements. Five weeks after the shooting, March For Our Lives mobilized one of the biggest demonstrations in the nation's history. Speaking before an estimated 800,000 protestors in Washington, D.C., David declared, "The sun shines on a new day—and it is ours!" Since then, David's activism has taken him around the country, meeting with impacted families and diverse communities to deepen his knowledge of gun safety and the politics of ending gun violence. With his younger sister, Lauren, also a student at Marjory Stoneman Douglas High School, he co-wrote #NeverAgain, a New York Times best-seller. David and Lauren also contributed to the best-selling book, Glimmer of Hope: How Tragedy Sparked a Movement, a compilation of writing from the founders of March For Our Lives.

A prolific voice on social media with more than a million followers, David uses his platform to promote civic engagement, activism and voting. As a speaker, he informs, challenges and energizes, empowering his generation to resist apathy and become catalysts for positive social change. "People call us snowflakes," he once tweeted. "What happens when snowflakes vote? That's called an avalanche."
Faye Wattleton | Feb. 19

Faye Wattleton
An Evening with Faye Wattleton
Monday, February 19, 2024

Schofield Auditorium | 7:30 p.m.

Faye Wattleton is a Managing Director with Alvarez & Marsal in New York. Faye has amassed an extraordinary track record for leadership, both as CEO of national not-for-profit organizations and serving on the boards of public and private corporations, academic institutions and high-impact philanthropic organizations.


Prior to joining A&M, Faye served as Co-Founder and President of the Center for the Advancement of Women, an independent, nonpartisan think tank, conducting women-focused national research for public education and policy advocacy. From 1978 to 1992, Ms. Wattleton was President and CEO of Planned Parenthood Federation of America (PPFA).

Lauded as public spokesperson, countless honors and awards include the Fries Prize for improving public heath, Independent Sector's John Gardner Award, and the Jefferson Award for the Greatest Public Service by a Private Citizen and was inducted into the National Women's Hall of Fame in 1993. Ms. Wattleton earned a bachelor's degree in nursing from Ohio State University and a master's degree from Columbia University. She holds fourteen honorary degrees and is the single honoree of the 2014 Ohio State University alumni medalist awarded for national or international career achievement.
Steve Burns | March 11

Steve Burns
Monday, March 11, 2024
Zorn Arena | 7:30pm
Ticket Info

Steve Burns is an American actor and television host best known as the original host of the long-running children's preschool television program Blue's Clues from 1996 until 2002, for which he was nominated for a Daytime Emmy. The series was rebooted as Blue's Clues and You, with Burns serving as frequent writer, director, and producer. As a musician, he collaborates with Grammy award winners The Flaming Lips, with whom he released the critically acclaimed album Songs for Dustmites and Foreverywhere, an album for children.

Burns also wrote and performs the theme song for Young Sheldon on CBS. He is a frequent host and storyteller for NPR's The Moth. Burns appeared in videos for the 25-year anniversary of Blue's Clues, including a widely watched Twitter video in which he – in character as the host of the show – explained reassuringly that he had never forgotten the viewers after leaving to go to college, and marveling at how much each of them had experienced since then. His return was unexpectedly profound and "struck a chord among many viewers, raising feelings of nostalgia and childhood comfort, especially juxtaposed with global crises like the coronavirus pandemic and extreme weather linked to climate change." (The New York Times). In less than 24 hours, the video had 30+ million views and today stands at over 100 million views and counting.

As a speaker, Burns refines and re-examines the message of empowerment and exceptionalism he delivered to a generation of children- carrying the thoughtful, care-driven conversation he began in their childhoods into their now-hoods as they struggle with the demands and realities of adulting.
Craig Richard | April 9

Craig Richard
The Effects of ASMR
Tuesday, April 9, 2024
Schofield Auditorium
Ticket Info

On July 20, 2013, Dr. Craig Harris Richard realized that he experienced Autonomous Sensory Meridian Response (ASMR). This moment sparked his interest in this sleepy-bliss sensation and initiated his journey as an ASMR researcher (co-author of the first brain scan study of ASMR & coordinator of the largest database about ASMR), ASMR educator (founder of the website 'ASMRUniversity.com'), ASMR author (author of the book 'Brain Tingles'), ASMR presenter (TED Talk, 'Whispered Revolution of Relaxation'), ASMR consultant (JetBlue, PBS, and the first ASMR Super Bowl commercial), and ASMR content creator (host of the podcasts 'Sleep Whispers' and 'Calm History').

His research and interest in ASMR have been featured by ABC, CBS, NBC, PBS, FOX, CNN, BBC, MTV, NPR, Al Jazeera, Associated Press, NY Times, Washington Post, Boston Globe, Newsweek, The New Yorker, Huffington Post, Scientific American, Popular Science, Discover, Women's Health, Self, Shape, GQ, Rolling Stone, National Geographic, and The Today Show.

Dr. Richard received his Ph.D. in physiology from Albany Medical College, completed his postdoctoral research fellowship at the University of Pittsburgh School of Medicine, and is currently a professor of biomedical sciences at the Bernard J Dunn School of Pharmacy at Shenandoah University in Virginia.
$8 | General Public
$6 | UWEC Faculty/Staff
$4 | UWEC Students Day of Event
$2 | UWEC Students Until Day of Event
Visit the Service Center in Davies Center's east lobby.
Call 715-836-INFO [4636] or 800-949-UWEC [8932].
PURCHASE ONLINE