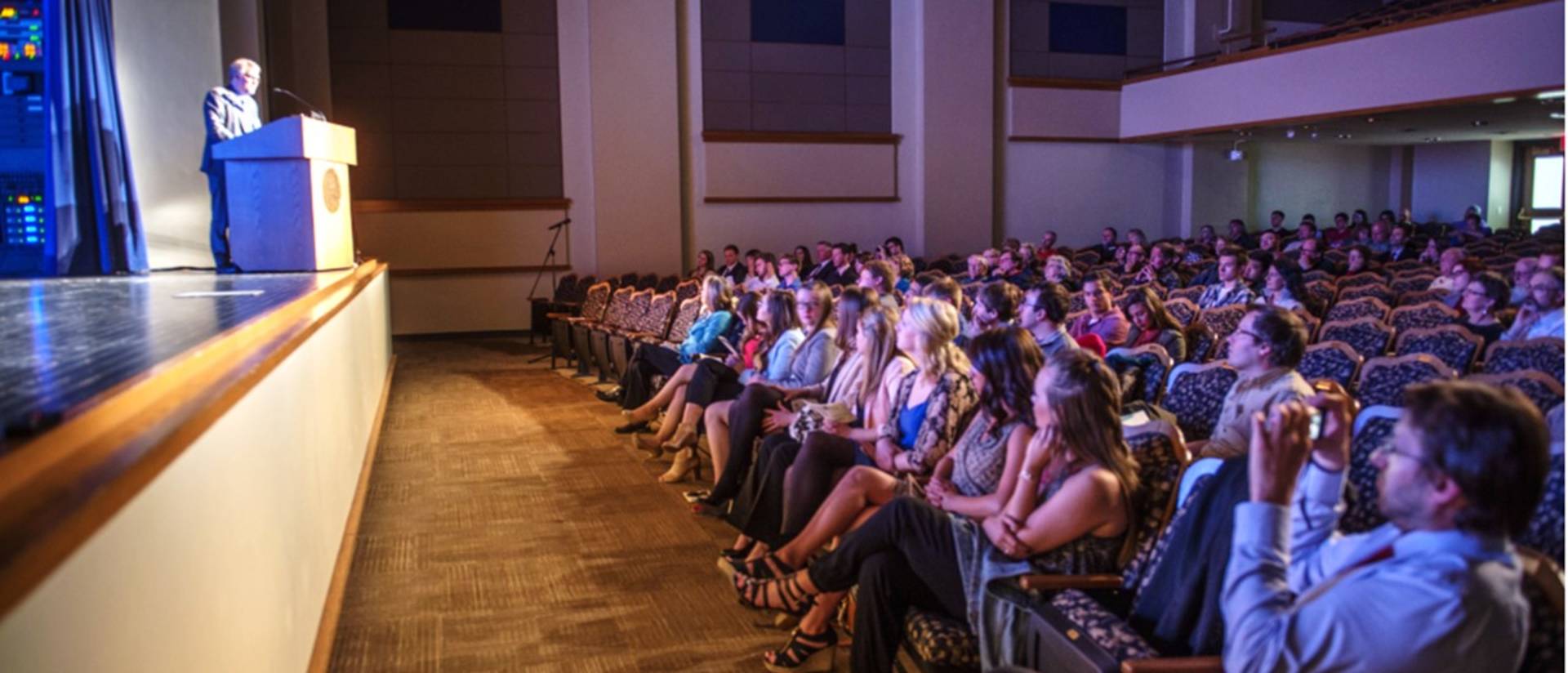 President W.R. Davies was the prime mover in establishing The Forum within the first year of his administration, to bring to life his vision of the college as a cultural center. He transformed Eau Claire's after-dinner speakers club into a college-community partnership that selected an average of five speakers a year. The Forum is committed to the concept of non-discrimination as related to race, creed, sexual orientation, age and physical disability.

Monica Lewinsky | Oct. 26

Monica Lewinsky
The Price of Shame
Wednesday, October 26, 2022
Zorn Arena | 7:30pm
Ticket Info

Monica Lewinsky is a producer, social activist, global public speaker, and a Contributing Editor to Vanity Fair. Her focus is on storytelling that moves the conversation forward – around shame, reclaiming identities, and justice for women. As an activist, Lewinsky advocates for a safer social media environment and addresses such topics as digital resilience, privacy, and cultivating compassion online.

Most recently, Monica was a producer on Ryan Murphy's Impeachment: American Crime Story for F/X. As well as, an executive producer on the documentary 15 Minutes of Shame for HBO Max.

After a decade of silence, in 2014, Lewinsky authored the essay "Shame and Survival" for Vanity Fair in which she re-examined her personal experiences at the center of a political, legal and media maelstrom in 1998 connected to the impeachment of President challenged the often-misogynistic culture of shame that continues to cannibalize the powerless (June 2014). The piece was nominated for a National Magazine Award.

She was a speaker at the 2015 TED Conference in Vancouver. Her speech, "The Price of Shame," has been viewed over 20 million times. She has also spoken at the Forbes 30 Under 30 Summit and delivered the Ogilvy + Inspire Lecture at the Cannes Lions Festival.

In 2017, for National Bullying Prevention Month, Monica created the #ClickWithCompassion campaign and released an award-winning PSA in collaboration with the advertising firm BBDO New York. "In Real Life", which asked people to rethink their online behavior in an offline social experiment, was Emmy nominated for "Outstanding Commercial." Monica & BBDO collaborated again in 2018 and 2019 on award-winning campaigns.

She is a founding board member of the Childhood Resilience Foundation, on the advisory board of Project Rockit, Australia's premiere anti-bully organization, and is an Ambassador for The Diana Award's Anti-Bullying Program in the UK. Monica holds a Master's degree in social psychology from the London School of Economics and Political Science.
Forum Special: Jelani Cobb | Feb. 22

WEATHER_RELATED CHANGE: Jelani Cobb now virtual only
The Half-Life of Freedom, Race and Justice in America Today
Wednesday, February 22, 2023

7:30 p.m. on Zoom

Zoom Link Here

Also available to stream at http://uwec.ly/live . Livestream link does not allow for participation in the Q&A.

With wit, style, and erudition Jelani Cobb is one of the clearest voices in current conversations about race. A staff writer for The New Yorker, he's an expert on how race, politics, history and popular culture intersect in America, and is known sharing his brilliant opinions on current events in real time—for example, Jelani is featured in the hit Netflix documentary 13th, which explores the origins of mass incarceration in America. Author of highly-acclaimed book The Substance of Hope: Barack Obama and the Paradox of Progress, he also writes on more pressing and somber issues, like police brutality, voter access, racial discord, and the partisan polarization. As the preeminent voice on these matters, Jelani eloquently explores how the past looms in our contemporary societal landscape and how we can collectively push towards a more equitable America.

This event is sponsored by History Enthusiasts, The Forum, Racing Toward Justice, Martin Mogensen Family, the Gender and Sexuality Resource Center, Multicultural Student Services, the Visiting Minority Scholars Grant, Center for EDI Training, Development and Education, and the Pablo Foundation.
Jessica McCabe | March 14

Jessica McCabe
How to ADHD
Tuesday, March 14, 2023
Schofield Auditorium | 7:30pm
Ticket Info

Jessica McCabe is the creator and host of How to ADHD, the most popular ADHD channel on YouTube, that focuses on educating and supporting ADHD brains around the world. It's designed as an ADHD toolbox - a humorous and heartfelt mix of research-based strategies and lessons learned from her own journey into ADHD adulthood. McCabe was selected as a spokesperson for CHADD (Children and Adults with ADD/ADHD), and her work has been featured by ADDitude Magazine, Today.com, Upworthy, and more. She posts new episodes for her 100,000+ subscribers every Thursday at her YouTube channel called HowtoADHD. Her TED talk has been seen over 12 million times on Facebook and 1.5 million times on TED.com and has inspired ADHD and neurodiversity advocacy around the world. Her content has helped hundreds of thousands of people accept and understand their unique brains and live better, more fulfilled lives.
Forum Special: Naomi Shihab Nye | April 6

Naomi Shihab Nye
Frederick and Joan Christopherson Schmidt Robert Frost Celebration
Thursday, April 6, 2023
Schofield Auditorium
Ticket Info

Naomi Shihab Nye describes herself as a "wandering poet." She has spent more than 40 years traveling the country and the world to lead writing workshops and inspiring students of all ages. Nye was born to a Palestinian father and an American mother and grew up in St. Louis, Jerusalem, and San Antonio. Drawing on her Palestinian-American heritage, the cultural diversity of her home in Texas, and her experiences traveling in Asia, Europe, Canada, Mexico, and the Middle East, Nye uses her writing to attest to our shared humanity.

Naomi Shihab Nye is the author and/or editor of more than 30 volumes. Her books of poetry for adults and children include 19 Varieties of Gazelle: Poems of the Middle East (a finalist for the National Book Award) , A Maze Me: Poems for Girls, Red Suitcase, Words Under the Words, Fuel, Transfer, You & Yours (a bestselling poetry book of 2006), Mint Snowball, Voices in the Air: Poems for Listeners, Come with Me: Poems for a Journey, Honeybee (awarded the 2008 Arab American Book Award in the Children's/Young Adult category), The Tiny Journalist (Best Poetry Book from both the Texas Institute of Letters and the Writers League of Texas), Cast Away: Poems for Our Time (one of the Washington Post's best children's books of 2020), and Everything Comes Next: Collected and New Poems. Her collections of essays include Never in a Hurry, and I'll Ask You Three Times, Are you Okay? Tales of Driving and Being Driven. Her fiction books for young people include Habibi, Going Going, There Is No Long Distance Now, and The Turtle of Oman. The Turtle of Oman was chosen a Horn Book Best Book of 2014, a 2015 Notable Children's Book by the American Library Association, and was awarded the 2015 Middle East Book Award for Youth Literature. Her picture books include Baby Radar, Sitti's Secrets, and Famous. She has also edited nine poetry anthologies including I Feel a Little Jumpy Around You, Time You Let Me In, This Same Sky, The Space Between Our Footsteps, and What Have You Lost?. Her new book is The Turtle of Michigan (Greenwillow Books, March 15, 2022) a sequel to The Turtle of Oman.

Naomi Shihab Nye has been a Lannan Fellow, a Guggenheim Fellow, and a Witter Bynner Fellow (Library of Congress). She has received a Lavan Award from the Academy of American Poets, the Isabella Gardner Poetry Award, the Lee Bennett Hopkins Poetry Award, the Paterson Poetry Prize, four Pushcart Prizes, the Robert Creeley Prize, and "The Betty Prize" from Poets House, for service to poetry, and numerous honors for her children's literature, including two Jane Addams Children's Book Awards. In 2011 Nye won the Golden Rose Award given by the New England Poetry Club, the oldest poetry reading series in the country. Her collection 19 Varieties of Gazelle was a finalist for the National Book Award. Her work has been presented on National Public Radio on A Prairie Home Companion and The Writer's Almanac. She has been featured on two PBS poetry specials including "The Language of Life with Bill Moyers" and also appeared on NOW with Bill Moyers. She has been affiliated with The Michener Center for writers at the University of Texas at Austin for 20 years and also poetry editor at The Texas Observer for 20 years. In 2019-2020 she was the editor for New York Times Magazine poems. She is Chancellor Emeritus for the Academy of American Poets, a laureate of the 2013 NSK Neustadt Award for Children's Literature, and in 2017 the American Library Association presented Naomi Shihab Nye with the 2018 May Hill Arbuthnot Honor Lecture Award. In 2018 the Texas Institute of Letters awarded her the Lon Tinkle Award for Lifetime Achievement. She was named the 2019 - 2021 Young People's Poet Laureate by the Poetry Foundation. In 2020 she was awarded the Ivan Sandrof Award for Lifetime Achievement by the National Book Critics Circle. In 2021 she was voted into the American Academy of Arts and Sciences. Nye is Professor of Creative Writing - Poetry at Texas State University.

This event is sponsored by the Frederick and Joan Christopherson Schmidt Robert Frost Celebration of American Poetry Committee and the Forum.
$8 | General Public
$6 | UWEC Faculty/Staff
$4 | UWEC Students Day of Event
$2 | UWEC Students Until Day of Event
Visit the Service Center in Davies Center's east lobby.
Call 715-836-INFO [4636] or 800-949-UWEC [8932].
PURCHASE ONLINE