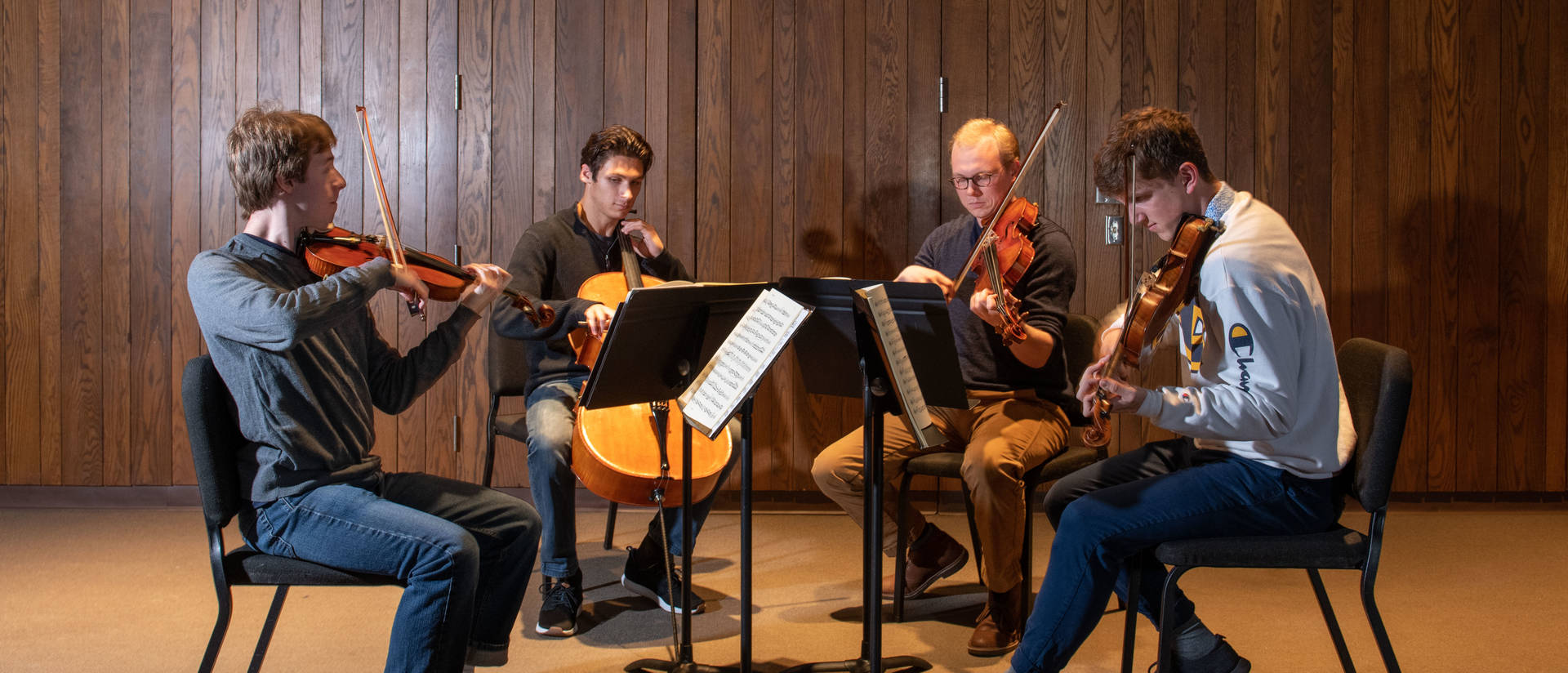 We bring the world to you
In its 57th year at the University of Wisconsin Eau Claire, the Artists Series presents excellence in the performing arts. The series presents quality regional, national and international artists, encompassing ballet, modern dance, theater, world music, jazz, pop, orchestral and chamber music.

Native Pride Dancer

Native Pride Dancer
Thursday, November 16, 2023
Ojibwe Ballroom in Davies Center | 7:30pm
Ticket Info



Colorful regalia, pulsating drumming, and fancy footwork are part of the excitement of a Native American powwow. Feel this excitement and experience the artistry of The Native Pride Dancers as they perform flamboyant movements passed down by their ancestors thru song and dance. They strive to educate and entertain audiences of all ages throughout the world about the beauty, skill, and majesty of Native American music and dance while creating a moving artistic experience that engages the audience. The Native Pride Dancers offer a variety of performance types from solo (and duo, trio, troupe) to large ensemble theatrical productions. The versatility of the company is proven as presentations and productions are continually customized to meet the needs for classrooms, theaters, festivals, universities, corporate events and in the virtual world via livestream through various platforms. They provide cultural diversity training to promote unity and cultural sensitivity in the workplace and offer curriculum support for physical education, history, social studies, physical/behavioral health, and performing arts, etc. for PreK-12 schools and they provide performances, student activity engagements, and Master Dance classes for college and university campuses around the world. In addition, the Native Pride Dancers provide theatrical, engaging, and entertaining performances for various venues including Performing Arts Centers, Auditoriums, Conventions, and Festivals.


Native Pride's performances incorporate information about the dances, the regalia (dress), and the meaning and importance of the dances presented and utilize traditional and contemporary music to engage audience members. Founder, CEO and Artistic Director, Larry Yazzie of the Meskwaki Nation, has created a platform for Indigenous Performing Artists to share their talent with the world. He leads a dynamic talent roster of cultural educators, musicians, dancers, and singers who are members of numerous tribal nations including: Meskwaki, Navajo, Dakota, Lakota, Ojibwe, Lumbee, Cree, Pueblo, Choctaw, and Chickasaw, to name a few. Native Pride also collaborates with many established and up and coming artists throughout Indian country and from the mainstream stage. Native Pride Productions provides impactful and customized National and International Welcoming Ceremonies in collaboration with International and National Production companies [e.g. KOJO (Australia) and NALU Creative Events (Hawaii)].


Based in Jacksonville, Florida, the Native Pride Dancers perform locally, regionally, nationally,
and internationally. Recent notable performances: The Pentagon, Washington DC; Powwow
Nations Spotlight 2020 for POWWOWS.COM, Gaylord Convention Center; National Harbor;
Onstage Land Acknowledgment with Portugal; The Man, IA; IKIAIKA Fest Virtasalmi, Finland; Colorado
Indian Art Market; Santa fe Indian Art Market; "Around the World" Video with Kings of Leon; US Embassy
Tours to Uzbekistan, Kazakhstan, Guatemala, Republic of Moldova, & Kingdom of Jordan; The Bellagio
Las Vegas, NV (with Kmart Australia and KOJO productions); Kenaitze Tribe, AK; Big Cypress Seminole
Tribe, FL; Miccosukee Tribe, FL; Prairie Island and Shakopee Mdwekanton Tribes in MN; National Museum
of the American Indian Washington DC & NYC; Kennedy Center, Washington DC; Macy's Thanksgiving Day
Parade (2005 & 2013); Minnesota State Fair, Flint Hills Family Festival - Ordway Center for the Performing
Arts, Cowles Center for the Performing Arts, in the Twin Cities, MN; as well as numerous K-12 schools,
universities, theaters, and festivals across the country and throughout the world.
$17 | General Public
$15 | UWEC Faculty/Staff
$ 7 | UWEC Students Day of Event
$3.50 | UWEC Students before day of
Visit the Service Center in Davies Center's east lobby.
Call 715-836-INFO [4636] or 800-949-UWEC [8932].
PURCHASE ONLINE
If a disability related accommodation is needed to participate in any of our programs, please contact the Activities, Involvement and Leadership Office at activities@uwec.edu.