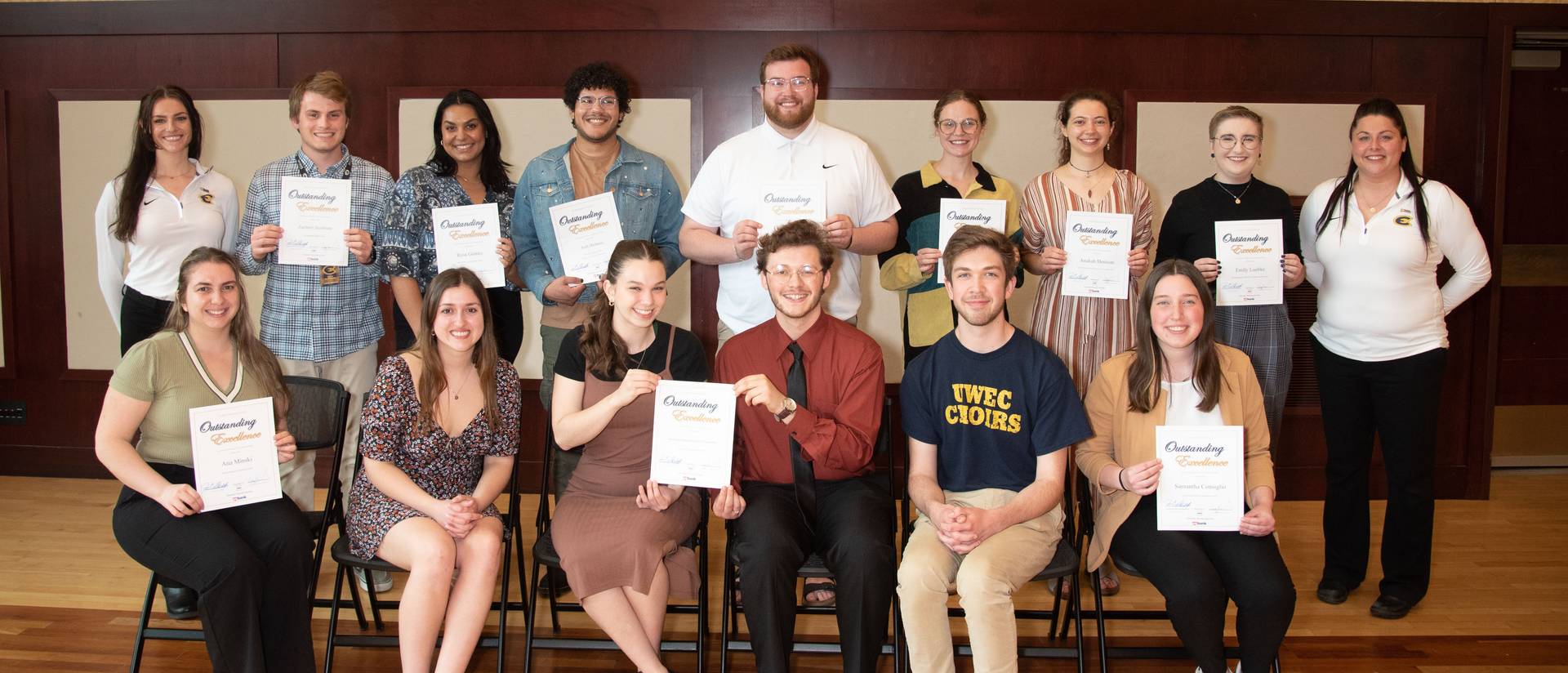 Recognizing outstanding accomplishments
Presented by the Activities, Involvement and Leadership Office and US Bank, the University Student Excellence Awards recognize outstanding accomplishments in areas that reflect the core values of the University of Wisconsin-Eau Claire. The students honored reflect the university's living vision to be the premier undergraduate learning community in the Upper Midwest. Award recipients are recognized at the annual University Student Excellence Awards reception.
Award Ceremony
Tuesday, May 7, 2024
Ojibwe Ballroom, Davies 330
5:30 pm
2023 Excellence Awards Recipients
American Choral Directors Association
Dani Chepil
Samantha Consiglio
Thomas DeLapp
Anakah Denison
Rosa Gomez
Mitch Gordon
Josh Holness
Zach Jacobson
Anna Lash
Emily Luebke
Ana Minski
Leah Olsen
Parker Peters
Shannon Severud
Mitch Stegeman
Annika Yoney
Call for Application
Applications open Monday, February 5th and are due Friday, March 15th.
Available Awards:
Application Requirements
Students are invited to submit applications for University Student Excellence Awards to any award that they qualify. References are no longer needed to complete the application process. Additionally, UW-Eau Claire faculty, staff and students are invited to nominate students by contacting CentersLeadership@uwec.edu to encourage participation. Names of nominators will be shared with the respective nominees.
The applications will consist of questionnaires regarding campus and community involvement related to the individual award. A special selection committee will review all award materials.
Student organizations may submit applications for the Student Organization Award and the Roma Hoff Student Organization Advisor Award.
Thank you in advance for your assistance in helping the University of Wisconsin-Eau Claire recognize and reward student excellence. Please direct any questions regarding the University Student Excellence Awards to Katy Rand, Senior Coordinator of Student Leadership, 715-836-4803.