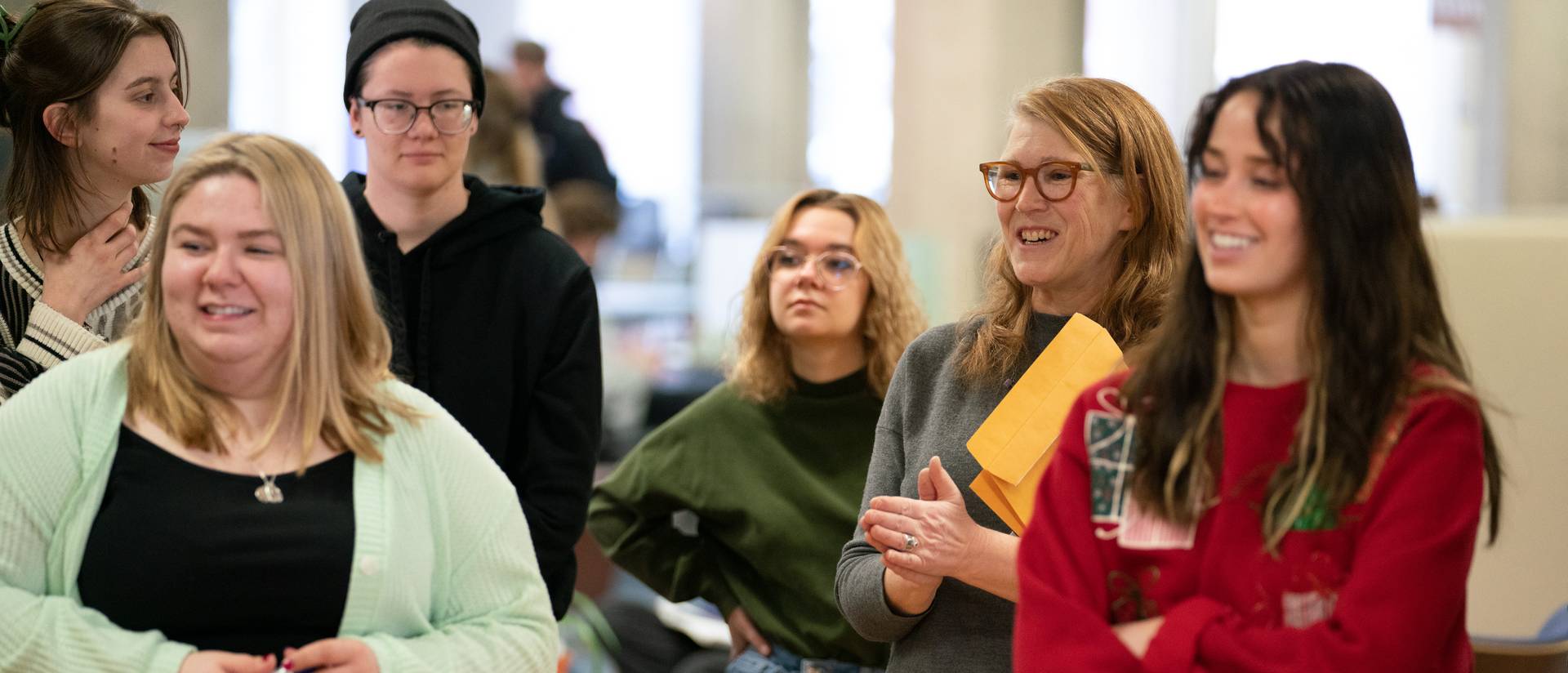 Where are honors alumni now?
The achievements of our Honors graduates are worth remembering. Read these profiles to get a sense of who has preceded you in graduating from the University Honors Program at UW-Eau Claire
Destination Snapshot: University Honors Graduates, 2020-21 and 2021-22
Employment, 2021-23 Grads

3M
Allianz Life
Aon Consulting
Athletes in Action
Baker Tilly
Bellin Health
Boulder Community Hospital
Boys and Girls Club of the Chippewa Valley
Centene Corporation
Chippewa County Department of Human Services
CliftonLarsonAllen LLP
Colfax High School
Columbia St. Mary's Hospital
DeLong Middle School
Duke University
Eagle Eye Farm
Eau Claire Area School District
Ecolab
Epic Systems
Ernst and Young
Fast Enterprises
Fastenal
FDIC
Federated Mutual Insurance Company
Fund for Public Interest
Glenwood City School District
Holiday Vacations
Hooke Laboratories
Hormel
Humana
JAMF
Johns Hopkins School of Medicine
Kohl's Corporate
Kohler Company
Lodi Veterinary Care
Marshfield Clinic
Mayo Clinic Health Systems
Memorial High School
Menard's Corporate
National Institutes of Health
Nature's Way
Northside Elevator
Old World Wisconsin Historical Society
Performance Food Group
Polaris
Prairie Ridge Early Learning Center
Princeton Club
Region's Hospital St. Paul
Secura Insurance
Securian Financial
Sentry Insurance
Smartcare Software
Spectrum Reach
Teach in Spain Program
Teaching Assistant Program in France
Tetra Tech
Texas Christian University
Travelers
University of Colorado Anschutz Medical Campus
US Fulbright Student Program
US TA program in Austria
Wausau Manor Health Services
Wisconsin Conservation Voters
Wisconsin Early Autism Project
Graduate Schools, 2021-23 Grads

Binghamton University, PhD in behavioral neuroscience
Brown University, PhD in chemistry
Carnegie Mellon University, PhD in software engineering
Colorado State University, PhD in chemistry
Concordia University (MN), MA in human services
Concordia University (WI), PA program
Creighton University School of Dentistry, DDS
Indiana University, Bloomington, MS in data science
Marquette University, masters in clinical mental health counseling; DDS
Michigan State University, PhD in math education and statistics
Medical College of Wisconsin, PhD in biomedical sciences
New York Film Academy, certificate in editing
Northeastern University, PhD in chemistry
Oregon State University-Corvallis, PhD in bioengineering
Regis University, doctorate in physical therapy
Southern College of Optometry, doctor of optometry program
University of Central Florida, PhD in computer science
University of Iowa, doctorate of audiology
University of Kentucky, masters in social work
University of Maine, JD
University of Minnesota-Twin Cities, doctorate in occupational therapy; doctorate in pharmacy; doctorate in dental surgery
University of Montana, doctorate in physical therapy
University of New Mexico, PhD in psychology
University of North Carolina-Chapel-Hill, PhD in organic chemistry
University of Pennsylvania, masters of behavioral and decision sciences.
University of South California, PhD in chemistry
University of St. Thomas, MA in counseling psychology
University of Wisconsin School of Medicine and Public Health, MD program
University of Wisconsin-Madison, Masters of Library and Information Science; MS/MBA in real estate
UW-La Crosse, masters in school psychology; masters in student affairs administration; PA; masters in clinical microbiology
UW-Milwaukee, MS in molecular biology
Villanova University, MS in biology
Wesley Theological Seminary at American University, masters in divinity
Yale University, PhD in applied math
Dreaming Big
The University Honors Program takes your future seriously. Our mission is to help you do your most as you develop intellectually, personally, and professionally. Throughout your time in the Honors Program, you'll be invited to workshops where you can learn about prestigious national fellowships, make connections with outstanding honors alumni, and plan how to make the most out of your honors experience. In the Senior Seminar, HNRS 400, you'll learn about everything from salary negotiation to how to speak with impact about your experiences in job interviews and grad school applications.
The Honors Network
The Honors Program is a place of connection. We're working to create an Honors alumni community to connect our current and future students with our amazing alums, the first of whom graduated from UW-Eau Claire in 1986.
Alumni Board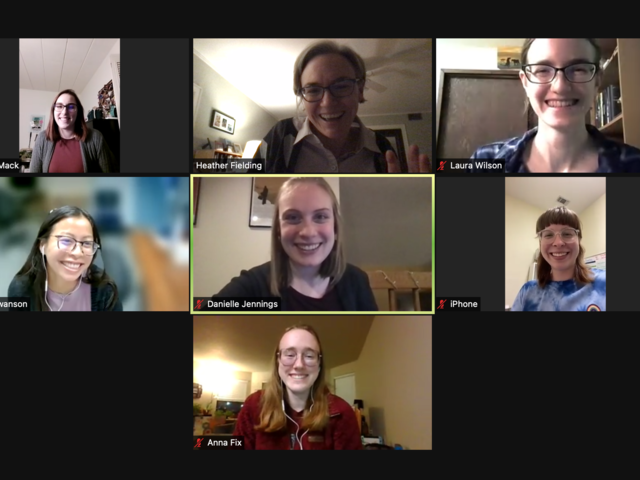 Created to give alumni a stronger voice in the Honors Program, the Honors Alumni Board are the architects behind the future of the Honors Program. The Alumni Board is composed of alums from a variety of professions who want to help the Honors Program innovate, adapt, and grow. Members contribute to strategic planning and connect with current students.
Current Board Members
Anna Fix, '21
Claire Ganschow, '21
Danielle Jennings, '17
Morgan Mack, '21
Ryann Swanson, '21
Laura Wilson, '20
How to Join
If you're an alum and would like to support the Honors Program, please consider joining the Honors Alumni Board. Members serve two-year terms and participate in virtual meetings annually. To learn more, or to nominate yourself or other alumni, please contact Honors Program Director Heather Fielding.
Give Back to Honors
Our program lets students give free reign to their intellectual curiosity while they develop the skills and values they need to become tomorrow's key leaders in their professions. We invite you to help support our students' educational journeys in the Honors Program. With your gift, we will be able to continue offering extraordinary Honors colloquia and make our Honors Program a national leader in Honors education.
Contact the Honors office to find out more, or give today through the UWEC Foundation link below.