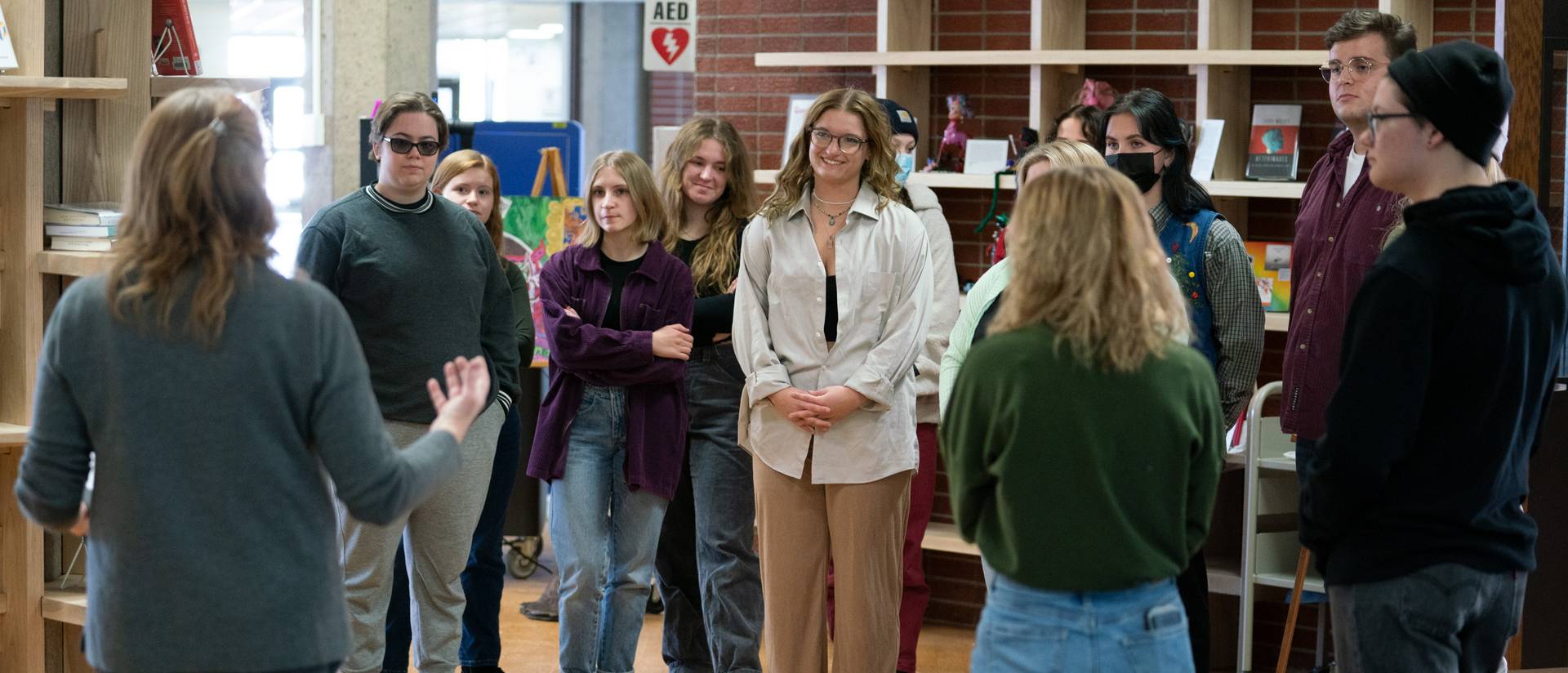 The Honors Program takes pride in its small, interdisciplinary, discussion-based courses. When our highly motivated students from different backgrounds and majors share perspectives and work together, that's where the Honors magic happens.
We offer over 30 courses per semester that are open only to Honors students. These courses include Honors colloquia-interdisciplinary classes on special topics, designed for Honors students—as well as Honors sections of introductory courses in other academic departments. Honors students can also earn Honors credit for a variety of other high-impact experiences, including study abroad, research, and leadership.
Our Current Course Catalog
Below is this semester's course catalog. Don't forget that active honors students earn the privilege of early registration!
Explore some of our previous course catalogs to see what we've offered in the past.
The Honors Program gives you the opportunity to take courses you would not normally be exposed to. If you are seeking out new opportunities and connections, this is the place to find them. It exposes you to other walks of life, new perspectives, and a greater sense of what interests you. The Honors Program is an amazing opportunity to learn something new that can give you a greater insight that you otherwise would not have.
Research
The Honors Program supports student-faculty collaborative research, which gives our students opportunities to explore topics they care about, learn more about a field of study, and distinguish themselves through presentations and publications. Every Honors student has the opportunity to earn Honors credit for research.
The Honors Thesis
The thesis is one of the signature opportunities available through the University Honors Program: it's a chance to make a real contribution to your field. Completed in the senior year, the Honors thesis is a flexible opportunity to pursue a research project of your own design. Thesis writers work closely with faculty advisors and join a supportive community of fellow writers. Thesis projects range from traditional research to applied and creative works.
Recent Honors Theses
Alex Narkiewicz-Jodko, "Computational Approaches for Maximizing Electronic Excitation Energy in Monocyclic Organic Molecules" (chemistry, 2023)
Tyler Warwick-Mick, "Minority Stress and Intersectionality: A Meta Analysis" (psychology, 2022)
Natalie Cruzat, "The Long-Term Impact of the War on Terror on International Criminal Law" (criminal justice, 2022)
Ryan Dainsberg, "Commanding Oneself in the Information Age" (philosophy, 2022)
Ryan Dobson, "Jealousy in Opposite-Sex Friendships: The Threat of Being Replaced" (psychology, 2022)
Provost's Honor Symposium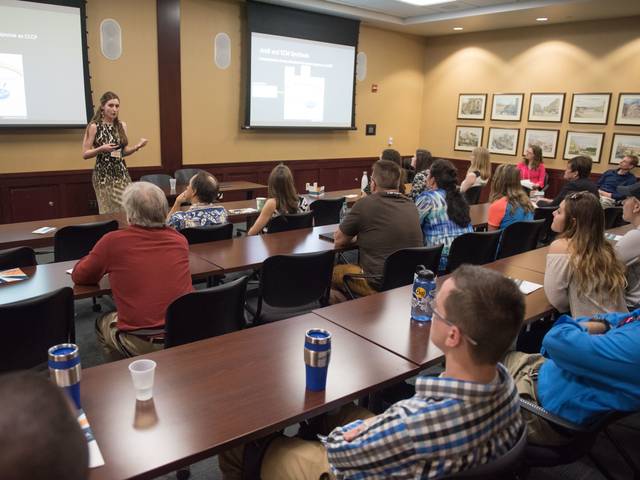 The Provost's Honors Symposium is an annual event that showcases exemplary Blugold student research, scholarship and creative activity in a professional conference format. Participation is competitive —student researchers are nominated by faculty members. In most years, about 75 students present research in nearly 40 disciplines.
From Honors, I was able to challenge the way that I thought about a variety of topics through discussion-based courses. My peers often presented viewpoints that I would not have previously considered, allowing me to grow in both knowledge and critical thinking.
Graduation
Graduating with University Honors is noted on your transcript and in your permanent record. The Honors Program also presents its graduates with an individually engraved medallion to wear at commencement.
Students fit all or some of their Honors coursework into their plan of study by taking Honors courses to complete the Liberal Education core, UW-Eau Claire's general education program. Some Honors courses also meet major or other requirements as well. Students can customize their Honors pathway by earning Honors credit through a variety of other options as well, including options in research, leadership, internships, and study abroad.
Graduation Requirements

Complete Honors 100, Honors First-Year Seminar (1 credit)
Complete 24 credit hours of any honors coursework, which can include research, leadership, internships, and study abroad
Complete Honors 400, Honors Senior Seminar (1 credit)
A total and resident GPA of 3.5 or higher at graduation.
Departmental Honors
Many departments also offer their own honors programs. While University Honors is an interdisciplinary program for students in all majors, departmental honors programs give you the opportunity to gain an Honors experience within your own major. You can complete departmental honors whether or not you're also in the University Honors Program, and you can use credits earned through departmental honors to meet University Honors requirements. Check with your department to learn more.
List of Departments