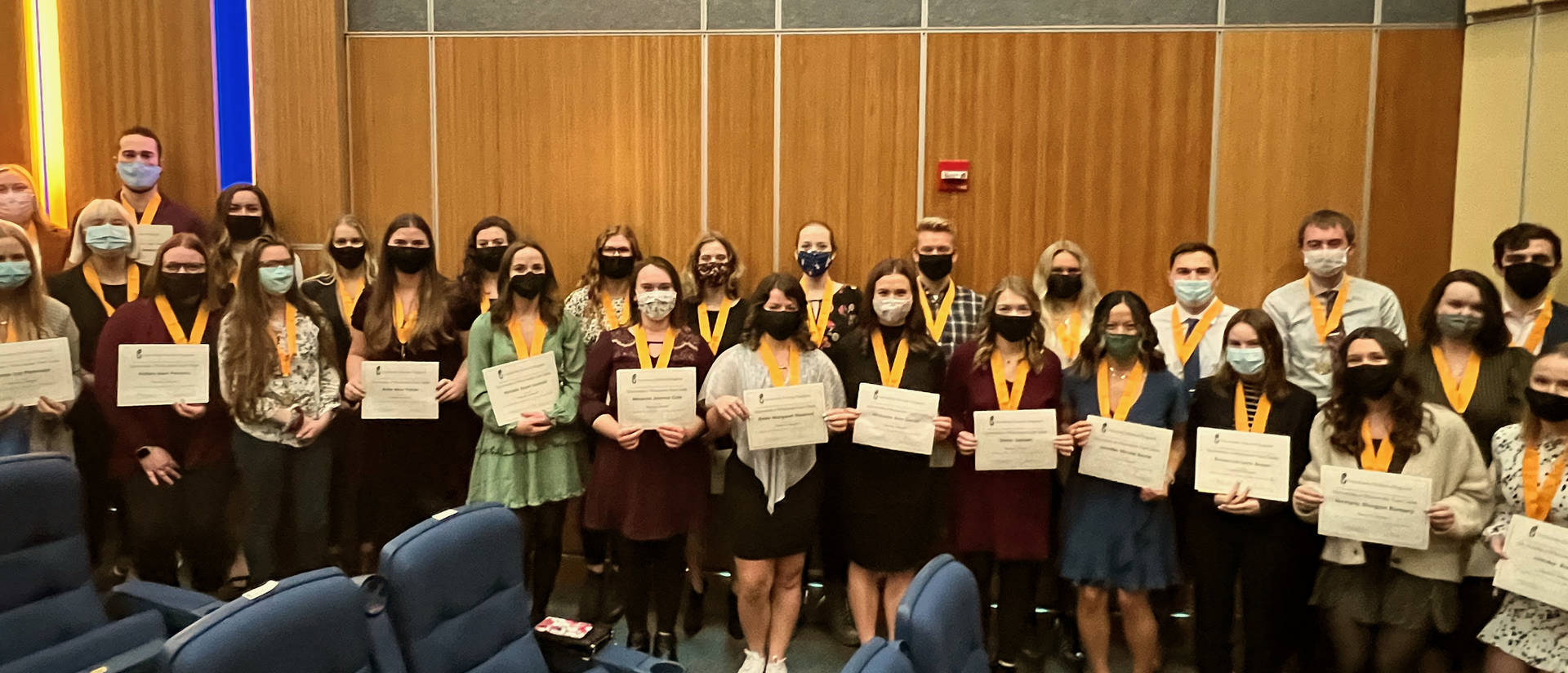 Curious about the Honors Program?
Well, you've come to the right place! The following is a list of the most frequently asked questions about what it's like to be an Honors student at UW-Eau Claire.
Why should I join the Honors Program?

Sure, the Honors Program looks good on a resume, but the real reason to join is deeper than that. Your Honors classes will push you to grow intellectually, to be curious, and to develop new interests beyond your major. In these classes, you'll get to learn across disciplines, and to experience the excitement of real scholarly inquiry, as you investigate questions without known answers. In these small, discussion-centered classes, you'll make lifelong connections with peers and professors you might otherwise have never met.
Does it cost anything to participate in Honors?

University Honors comes at no additional fee to admitted students—it is an academic and student support program provided to admitted students as part of their tuition.
Are Honors courses harder?

Usually, no. Typically, Honors courses are discussion-based, and they often involve interdisciplinary or hands-on learning. Rather than having more exams or lectures, Honors courses ask you to be actively involved in your own learning. Our Honors physics course throws out the lab manual and instead engages students in real experimentation, where you don't know what you'll find. Students in another Honors course work as mentors for high-schoolers—these Honors students make a real difference in the Eau Claire community. These are just two examples—check out our course catalogs to learn more.
Will Honors be extra work besides my major/minor and add time to my degree?

Nope! Almost all honors courses count toward the Liberal Education core that all students must complete, and some courses also count towards major and minor requirements. You'll have the option of turning an upper-level course into an honors experience by designing your own supplemental project (we call these "Honors contracts"). Honors students also earn credit through research, independent studies, study abroad, and writing a senior Honors thesis. Plus, active Honors students get priority registration, which helps students in many majors complete their coursework sooner.
What if my GPA slips?

Once you're in the Honors Program, you can stay in and take honors courses up to graduation. However, if you don't have the minimum, cumulative GPA of 3.5 by the time you graduate, you will not graduate with the University Honors distinction on your transcript.
What if honors isn't for me?

If your priorities change or honors isn't a good fit, you can leave at any time. Your honors credits will still count toward any requirement beyond Honors and toward graduation.
Current students, see the University Honors Information Hub in Canvas or contact us for answers to any questions.
Other Questions?
We'd love to hear from you. Use the contact box below to reach out and we'll get back to you as soon as we can!