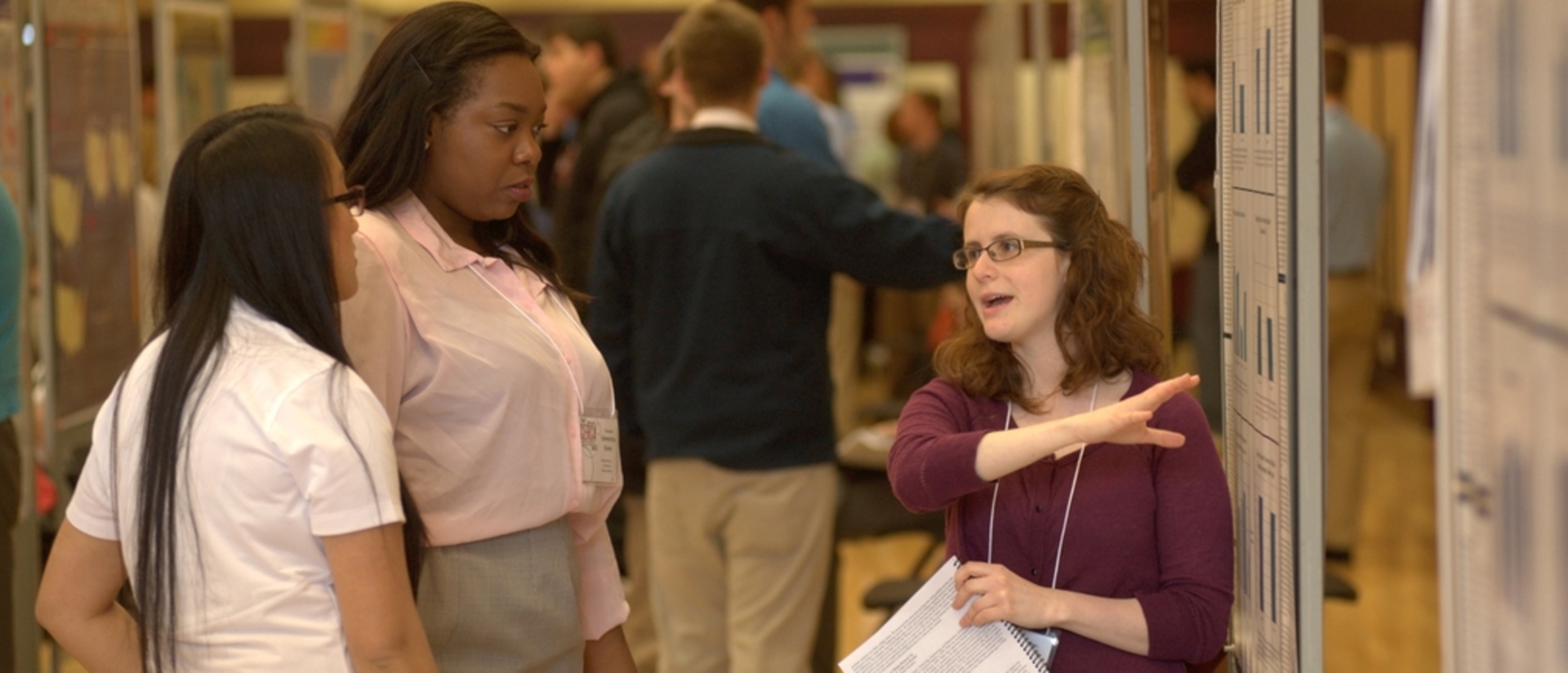 Developing your best self
Looking for answers to frequently asked questions? Prospective students, click here. Current student, check out the University Honors Information Hub in Canvas.
Our Vision
To excel as a signature UW-Eau Claire program and become a national model for innovation and excellence in Honors education.
Our Mission
The UWEC Honors Program provides highly motivated, high-potential students with a challenging and supportive learning community that allows them to develop their distinctive abilities, creating a foundation for high-value intellectual, professional, and personal achievements in future settings.
English | University Honors Program

Associate Professor | Director, University Honors Program

University Honors Program

Assistant Director | University Honors Program
Student Staff
Who better to tell you about the Honors experience than current Honors students? The students who work in the Honors office are all part of the Honors Program, and they have the experience and knowledge to answer questions about the program or about life on campus.
Student staff members can be contacted at honors@uwec.edu
Carly Bower
Media Manager
Carly is a third year Graphic Communications major with a passion for all things art. In her free time you'll find Carly making podcasts with friends, watching bad reality TV, and drinking coffee at Einstein's. She also loves playing trombone with the Blugold Marching Band. Carly appreciates the honors opportunities to learn about topics she wouldn't normally seek out on her own.
Rosa Gomez
Publications Intern
Rosa is a third year student who is majoring in Political Science and Journalism. Her hobbies include reading and writing, thrifting, and going on picnics. She loves being able to pursue new opportunities in Honors and challenging herself to grow!
Megan Gosian
Event Coordinator
Megan is a third year student majoring in Elementary and Special Education. When she's not playing trombone in the Blugold Marching Band or leading tours as a Campus Ambassador, Megan enjoys embroidery, hanging out with friends, and going hiking. Megan enjoys the connections she has made in the Honors program and encourages students to stop by to say hi or ask questions in McIntyre Library 2002.
Honors Council
Made up of both students and faculty, the Honors Council contributes to strategic planning and helps the Honors Program plan for the future.
Our Current Council

Membership:

Six faculty and/or academic staff members with the following composition:

Arts and Sciences (2)

Dr. Jim Boulter, Chemistry + Public Health and Environmental Studies
Dr. April Bleske-Rechek, Psychology

College of Business (1)

Sheril Gilberstadt, Accounting + Finance

College of Education and Human Sciences (1)

Dr. Corey Hannah, Kinesiology

College of Nursing and Health Sciences (1)

Dr. Mary Canales, Nursing

At-Large Faculty/Academic Staff (1)

Hans Kishel, McIntyre Library

Honors Student Steering Committee (HSSC), Living-Learning Community (LLC), and student-at-large Representatives (4)

Annathea Brenneman, Student-at-large
Audrey Westerberg, LLC representative
Sarah Landeau, HSSC
Anna Fregien, HSSC

Ex-officio Member

Dr. Heather Fielding, University Honors
Interested in Teaching a Course?
We encourage both UW-Eau Claire faculty and Eau Claire/Chippewa Valley community members with particular expertise and at least a Master's degree to consider proposing a course for students in the University Honors Program. Reach out to the Honors Director if you have a course in mind.