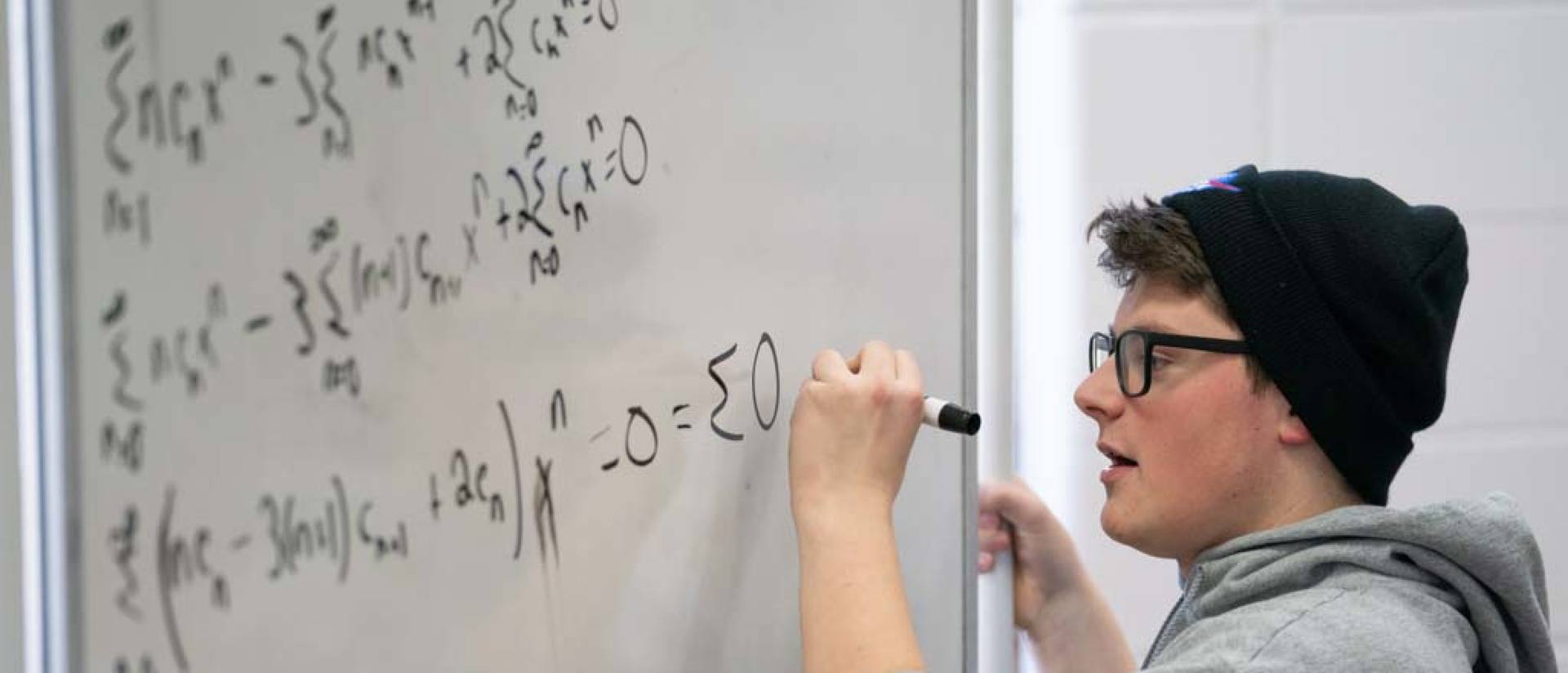 Explore the teaching - mathematics bachelor's degree program at UW-Eau Claire
Combine your passions for math and education with a teaching - mathematics bachelor's degree from the University of Wisconsin-Eau Claire. Rooted in experiential learning, our competitive program is known for producing top-notch math teachers at the elementary, middle and high school levels. Completion of the program licenses you to teach all math courses to students in grades 4-12.
The curriculum within the teaching - mathematics degree focuses on the many different areas of mathematics, including calculus, algebra, geometry, probability and statistics. Courses within the major introduce you to various models of teaching, lesson and unit planning, direct and indirect methods of instruction, managing classrooms, and evaluating and assessing student learning.
While pursuing the major, you'll gain a deeper understanding of how math is learned — and how it is best taught. Through projects, labs and fieldwork, you'll acquire the tools and skills needed to develop successful students. The opportunity to assist teachers in their classrooms throughout your four years, as well as student teach for a full semester, will help you to build your leadership skills, identify your preferred teaching style and discover how to best meet the needs of your learners.
Upon graduation, you'll be ready to hit the ground running and make a difference in your future classrooms and community. Your knowledge of — and passion for — mathematics will educate and inspire the next generation, shaping them into curious, critical thinkers and insightful problem-solvers along the way.
Why teaching - mathematics at UW-Eau Claire?
Cultural immersion programs. Many education majors choose to enhance their education by engaging in cultural immersions. You may student teach in Kenai, Alaska or participate in the Civil Rights Pilgrimage as part of ES 385. These experiences often lead to new ways of thinking and a better understanding of the students in your future classroom.
Collaborative research opportunities. The UWEC math department offers countless opportunities to learn beyond the classroom, including the chance to conduct mathematical research. Alongside dedicated faculty members, your work could lead to publications or presentations at regional and national conferences. Past research projects within the department have included Pattern Avoidance in Trees, Genetic Association Mapping in Latinos and Mathematics of Rhythm and Syncopation. The skills and experiences gained through research set our graduates apart from others, especially when applying for teaching jobs.
Connection to local employers. To help you explore career opportunities and make valuable connections, we host an annual Education Job Fair, an on-campus career fair specific for those looking to enter the field of education. This event is an excellent opportunity to make connections and submit your resume for current and future job openings.
A supportive learning environment. While pursuing the teaching - mathematics major, you'll be surrounded by people who, like you, are interested in math and working with children and young adults. Expert faculty throughout the program will help you learn modern teaching techniques and the fundamentals of a variety of mathematical approaches, helping you to best teach your future students.
Teaching - mathematics program details
Program length: four years
Offered: in person
Campus: Eau Claire
This major can be completed with or without a minor or certificate.
Students majoring in this program will earn a Bachelor of Science (BS) degree.
Student organizations
Aspiring Educators
Math Club
Women and Gender Minorities in STEM
Data Analytics Association
Licensure information
Completion of teacher preparation programs at UW-Eau Claire meets licensure requirements in Wisconsin. Our programs may not meet requirements in other states. It is very important that individuals seeking licensure in another state obtain the most recent certification/licensure information directly from the state in which they seek employment. Find contact information on each state licensure office here.
Licensure requirements can change at any time. UW-Eau Claire's Teacher Education Program Office ensures that our programs meet the requirements for licensure in Wisconsin. If you seek licensure in another state, be aware that their requirements could change at any time.
The United States Department of Education requires institutions to disclose information for programs leading to professional certification or licensure concerning whether each program meets state educational requirements for initial licensure or certification. Please note:
Obtaining a Wisconsin Teaching License PRIOR to applying for a teaching license in another state is usually helpful and strongly recommended.
"Meets requirements" means that a student is eligible for a license with stipulations, typically for 1-3 years, in that state. The stipulations are likely to be specific testing requirements and/or competency through a course or examination. In some instances, additional stipulations might be added.
Licensure grade levels vary from state to state. Students who are eligible for a specific grade range in Wisconsin may be licensed for a narrower grade range in another state. Each state determines grade ranges for licensing differently.
State licensure requirements may change at any time. Licensure questions should be referred to the Teacher Education Program Office (tep@uwec.edu).
The requirements of this program meet licensure in the following states: Wisconsin, Illinois, Iowa, Minnesota, Texas
The requirements of this program do not meet licensure in the following states: Not Applicable
It has not been determined whether the requirements of this program meet licensure in the following states: Alabama, Alaska, Arkansas, Arizona, California, Colorado, Delaware, Florida, Georgia, Hawaii, Idaho, Indiana, Kansas, Kentucky, Louisiana, Maine, Maryland, Massachusetts, Michigan, Mississippi, Missouri, Montana, Nebraska, Nevada, New Hampshire, New Jersey, New Mexico, New York, North Carolina, North Dakota, Ohio, Oklahoma, Oregon, Pennsylvania, Rhode Island, South Carolina, South Dakota, Tennessee, Texas, Utah, Vermont, Virginia, Washington, West Virginia, Wyoming, District of Columbia, American Samoa, Guam, Northern Mariana Islands, Puerto Rico, U.S. Virgin Islands
What can I do with a teaching - mathematics degree from UWEC?
Upon completion of the program, you will be licensed to teach in Wisconsin any mathematics course in grades 4-12. Our graduates go on to become effective, inspired and reflective educators, making a positive impact on others wherever they go.
Where are teaching - mathematics alumni now?
Sixth-grade math teacher, Medford Middle School, Wisconsin
Math teacher, Muskego High School, Wisconsin
Math teacher, D.C. Everest School District, Wisconsin
Math teacher, Wauwatosa School District, Wisconsin
UWEC provided experiences that molded me into the person I am today. I was able to be immersed in the Somali culture, work in an inner-city school and develop curriculum that connects cultures and math. These opportunities gave me insight and knowledge of the world, which I wouldn't trade for anything!
Related programs at UW-Eau Claire
Thinking about a bachelor's degree in mathematics education? Here are a few other programs you might be interested in exploring.