Teaching - Spanish
Major or Minor
Explore the teaching - Spanish bachelor's degree program at UW-Eau Claire
Combine your love for Spanish and teaching with a bachelor's degree in Spanish education from the University of Wisconsin-Eau Claire. Graduates of the program are certified to teach Spanish to students in PK through grade 12.
Rooted in experiential learning and travel, our Spanish teaching major provides countless opportunities for you to grow as a teacher and as a person. Participate in a cultural immersion program, join a student organization or enroll in a community-based course. Rigorous curriculum — paired with a semester of student-teaching — will introduce you to best practices and help you to discover your preferred teaching style.
All Spanish teaching majors are required to take what they've learned and put it into practice through study abroad or an alternative language immersion experience. Popular study abroad sites include Costa Rica, Nicaragua, Chile, Spain, Uruguay and Mexico. Students can also choose to participate in the National Student Exchange Program. This unique opportunity allows Blugolds to study for a semester at another university while still paying UWEC tuition.
You'll graduate from UW-Eau Claire with so much more than just a degree. You'll have the skills, experience and credentials needed to inspire, motivate and educate our next generation.
It is also possible to pursue a double major in teaching - Spanish (K-12) and elementary – middle education (4K-9) through a series of approved substitutions. This dual certification offers flexibility to work in areas like K-12 foreign language programs, 4K-9 one-way immersion, dual-language/two-way immersion and foreign language elementary programs.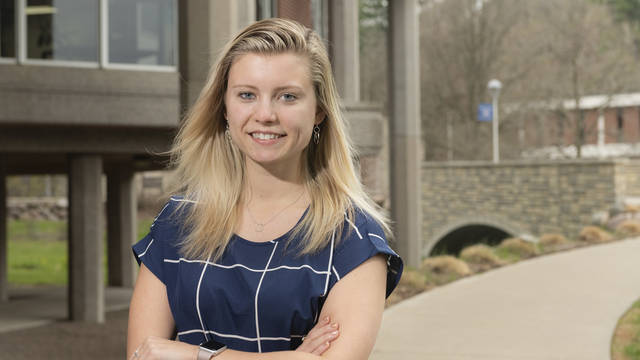 Why teaching - Spanish at UW-Eau Claire?
Cultural immersion programs. Many Blugolds seek out additional opportunities to learn about other cultures. Ranging from week- to semester-long, these faculty-led experiences focus on a variety of interesting topics and often lead to new perspectives that can be life-changing. Recent programs include the Civil Rights Pilgrimage in Alabama, Arkansas and Louisiana; the Social and Environmental Justice Experience in Guatemala; Women's Lives and Experiences in Nicaragua; and Culture, Society and Economics in Argentina.
Research opportunities. Spanish faculty members regularly engage in research and actively encourage students to become involved in their latest projects. These opportunities often lead to a chance to travel to state, regional and international conferences to present their findings.
State-of-the-art technology. Our Language Lab and the Roma Hoff Instructional Resource Center are filled with sound and video programs, films, games and computer software to help you practice what you learn in class.
Connection to local employers. To help you explore career opportunities and make valuable connections, we host an annual Education Job Fair, an on-campus career fair specific for those looking to enter the field of education. This event is an excellent opportunity to make connections and submit your resume for current and future job openings.
Outstanding faculty. At UW-Eau Claire, our talented faculty make it a priority to create an impactful learning environment where you come first. Professors have a multitude of experience in the subjects they teach. Here, you are not just a number — you will get to work closely with faculty, learn how to lead a successful classroom and create meaningful, lasting connections with others who are just as passionate about Spanish as you are.
Teaching - Spanish program details
Program length: four years
Offered: in person
Campus: Eau Claire
This major requires a minor or certificate.
This program is also available as a minor.
Students majoring in this program will earn a Bachelor of Arts (BA) degree.
Student organizations
Spanish Club
Aspiring Educators
Sigma Delta Pi
Licensure information
Completion of teacher preparation programs at UW-Eau Claire meets licensure requirements in Wisconsin. Our programs may not meet requirements in other states. It is very important that individuals seeking licensure in another state obtain the most recent certification/licensure information directly from the state in which they seek employment. Find contact information on each state licensure office here.
Licensure requirements can change at any time. UW-Eau Claire's Teacher Education Program Office ensures that our programs meet the requirements for licensure in Wisconsin. If you seek licensure in another state, be aware that their requirements could change at any time.
The United States Department of Education requires institutions to disclose information for programs leading to professional certification or licensure concerning whether each program meets state educational requirements for initial licensure or certification. Please note:
Obtaining a Wisconsin Teaching License PRIOR to applying for a teaching license in another state is usually helpful and strongly recommended.
"Meets requirements" means that a student is eligible for a license with stipulations, typically for 1-3 years, in that state. The stipulations are likely to be specific testing requirements and/or competency through a course or examination. In some instances, additional stipulations might be added.
Licensure grade levels vary from state to state. Students who are eligible for a specific grade range in Wisconsin may be licensed for a narrower grade range in another state. Each state determines grade ranges for licensing differently.
State licensure requirements may change at any time. Licensure questions should be referred to the Teacher Education Program Office (tep@uwec.edu).
The requirements of this program meet licensure in the following states: Wisconsin, Illinois, Iowa, Minnesota, Texas
The requirements of this program do not meet licensure in the following states: Not Applicable
It has not been determined whether the requirements of this program meet licensure in the following states: Alabama, Alaska, Arkansas, Arizona, California, Colorado, Delaware, Florida, Georgia, Hawaii, Idaho, Indiana, Kansas, Kentucky, Louisiana, Maine, Maryland, Massachusetts, Michigan, Mississippi, Missouri, Montana, Nebraska, Nevada, New Hampshire, New Jersey, New Mexico, New York, North Carolina, North Dakota, Ohio, Oklahoma, Oregon, Pennsylvania, Rhode Island, South Carolina, South Dakota, Tennessee, Texas, Utah, Vermont, Virginia, Washington, West Virginia, Wyoming, District of Columbia, American Samoa, Guam, Northern Mariana Islands, Puerto Rico, U.S. Virgin Islands
What can I do with a teaching - Spanish degree from UWEC?
Spanish teaching majors leave UW-Eau Claire ready to educate young minds. Upon completion of the program, you'll earn the licensure necessary to teach Spanish in elementary, middle and high school (PK-12) classrooms.
Where are Spanish teaching alumni now?
Spanish teacher, Oconto Falls High School, Wisconsin
Spanish teacher, McDonell Area Catholic Schools, Wisconsin
Spanish teacher, Boyceville Community School District, Wisconsin
Spanish teacher, Chippewa Falls High School, Wisconsin
UW-Eau Claire has helped me become a socially responsible, diverse thinker who wants to change the world one student at a time.
Teaching - Spanish bachelor's degree program curriculum
UW-Eau Claire sets you up for success through interactive learning and professional experience, including time spent assisting teachers and student teaching. An exciting and key component of this program is that students are required to study abroad in a country where Spanish is spoken. Whether you spend Winterim in Latin America or a semester in Spain, these immersive experiences will enhance your understanding of the language and help you to confidently teach Spanish.
What classes do teaching - Spanish majors take?
Your classes may cover topics like:
Contemporary Spain
Latin American civilization
Phonetics and pronunciation
Second language acquisition theory
Latin American literature
Learn more about the Teaching - Spanish major in the UWEC course catalog.
Learn more about the Teaching - Spanish minor (EC-A) in the UWEC course catalog.
Related programs at UW-Eau Claire
Thinking about a bachelor's degree in Spanish education? Here are other programs you may be interested in exploring.