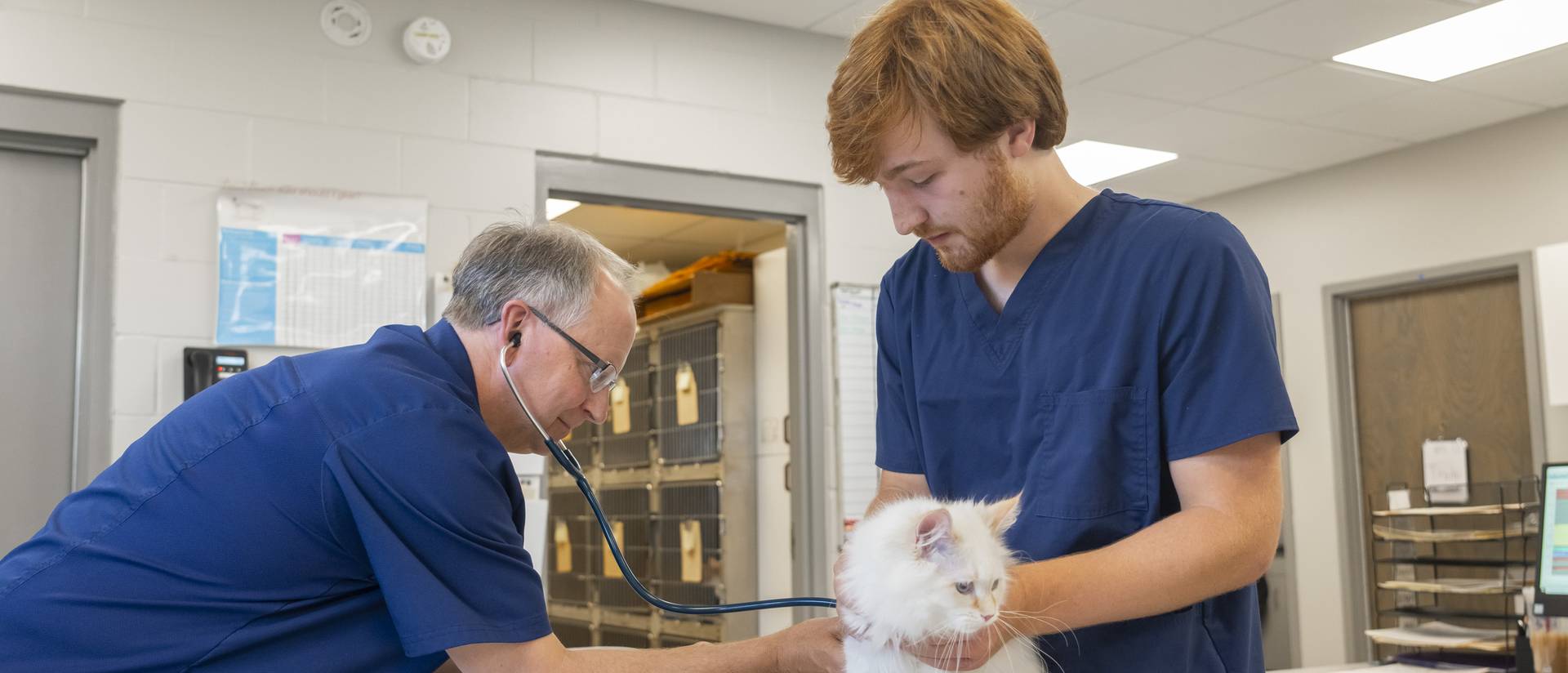 Explore pre-veterinary medicine at UW-Eau Claire
Pursue your passion for animal well-being by declaring pre-veterinary medicine at the University of Wisconsin-Eau Claire. Offering a thoughtfully designed curriculum and remarkable learning opportunities, you will be well prepared for a career as a veterinarian. Pre-veterinary medicine is not a major at UW-Eau Claire, but rather a declaration of your intention to enroll in a graduate-level veterinary program and become a veterinarian.
Careers in veterinary medicine deal with the prevention, diagnosis and treatment of disease, disorder and injury in animals. The scope of veterinary medicine is wide, covering all animal species, both domesticated and wild. A specific major is not required to get into veterinary school, but many UWEC pre-veterinary medicine students choose to major in biology, chemistry, biochemistry and molecular biology or biology - microbiology emphasis.
Entry into vet school is often based on a student's academic record, interviews, letters of recommendation and other criteria set by particular programs. Most schools of veterinary medicine also require applicants to obtain direct experience in the veterinary medical profession and in the care and handling of animals. This should include experience with both small animals and food-producing animals and is typically done through practicing veterinarians. Most vet programs also require a competitive Graduate Record Exam (GRE) score as well as a completed application with Veterinary Medicine Centralized Application Service (VMCAS).
Our exceptional faculty and career advisors are aware of these requirements and ensure you gain the knowledge and experiences necessary for acceptance into graduate school. Previous pre-veterinary medicine students have been accepted into the University of Wisconsin-Madison School of Veterinary Medicine, University of Minnesota College of Veterinary Medicine, Iowa State University College of Veterinary Medicine and Murdoch University in Australia.
Relevant student organizations
UWEC student organizations, like the Pre-Vet Club or Pre-Health Science Club, connect pre-veterinary medicine students with fellow Blugolds who are also interested in becoming veterinarians. These extracurriculars are an excellent way to network, hear from guest speakers and learn the latest techniques and trends in the animal care industry.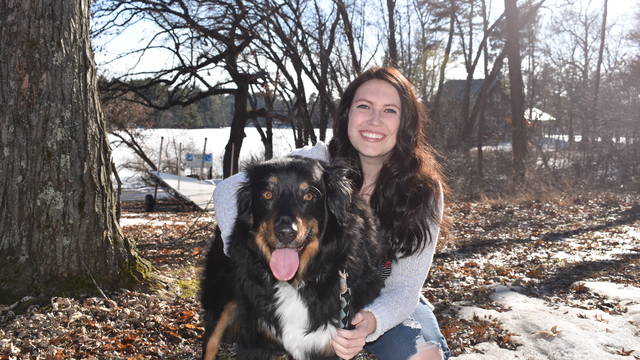 Why be pre-veterinary medicine at UW-Eau Claire?
Engaged faculty. Courses are taught by expert, engaged faculty who will take time to invest in you. Your professors will know you by name and will do all they can to support you in earning your bachelor's degree. Utilize them to get the most out of your education, whether it's through research collaborations, career advice or a letter of recommendation.
Innovative facilities. UW-Eau Claire is one of only a few schools of its size with a career center dedicated to supporting pre-veterinary medicine students. The William J. and Marian A. Klish Health Careers Center offers one-on-one advising, opportunities to meet with professional school admissions representatives, connections to health-related clinical research and volunteer opportunities, and workshops designed to build effective tools for career development and competitive applications.
Small, supportive cohort. While pursuing your undergraduate degree at UWEC, you'll learn alongside a small team of students who, like you, have a love for helping keep animals safe and healthy. You and your peers may find yourself volunteering at the humane society or Bob's House for Dogs, a local dog shelter, or swapping ideas on how to best prepare your application for veterinary school. Access to pre-veterinary medicine advisors help make planning out your semesters easy, as well as help you secure a major you are passionate about.
Pre-veterinary medicine program details
Offered: in person
Campus: Eau Claire
Students are able to choose a major and/or minor that best aligns with their career goals.
UWEC student organizations related to pre-veterinary medicine
Pre-Professional Health Club
Pre-Vet Club
Biology Club
American Chemical Society-Student Affiliate (ACS-SA)
Women and Gender Minorities in STEM
What's next after completing the pre-veterinary medicine program?
After earning your undergraduate degree from UWEC, your next step towards becoming a veterinarian is enrolling in a veterinary school. In the United States, there are approximately 28 universities that award the advanced professional degree of Doctor of Veterinary Medicine (DVM or VMD).
UW-Eau Claire's acceptance rate for students to veterinary schools is above the national average. More importantly, our students feel well-prepared for their professional school and do well once they're accepted.
What can I do with a DVM or VMD?
A Doctor of Veterinary Medicine (DVM or VMD) has the license and knowledge to make significant improvements to the health and wellbeing of animals. This may include helping animals heal, alleviating their pain or discomfort, preventing disease and contributing to necessary medical advancements. Most veterinarians tend to work in private medical practice, some pursuing a specialty field, such as marine biology, wildlife animal medicine or emergency animal medicine.
However, alternative career options within veterinary medicine are growing. You may also find yourself in corporate veterinary medicine; working within the federal government on public health initiatives, environmental improvements or the investigation of disease outbreaks; or helping military working dogs. Research, teaching and public policy are also career options.
Pre-veterinary medicine curriculum
The pre-veterinary medicine curriculum at UWEC will prepare you for the Graduate Record Exam (GRE), which is a standardized exam required for admission to most veterinary schools. The exam consists of three sections: verbal reasoning, quantitative reasoning and analytical writing. It is often taken in the spring semester or summer following your junior year.
What classes do pre-veterinary medicine students take?
Students interested in a career in veterinary medicine may focus on these topics during their undergraduate career:
Mathematics
Chemistry
Organic Chemistry
Biochemistry
Animal physiology
Physics
Business
Economics
Biology
Biology of microorganisms
Genetics
Infectious disease ecology
Topics in virology and immunology

Learn more about pre-veterinary medicine in the UWEC course catalog.
Related programs at UW-Eau Claire
Programs that would best support a career in veterinary medicine include: