Explore the political science bachelor's degree program at UW-Eau Claire
Study governing institutions, individual and group political behavior, and public policy with a political science bachelor's degree from the University of Wisconsin-Eau Claire. Throughout this rigorous program, you'll use a variety of methods to examine issues at the local, national and global levels, as well as learn how politics affect countless aspects of our lives.
While pursuing your degree at UW-Eau Claire, you'll learn from expert professors about topics like justice, security, peace, minority rights and privacy. You'll also have access to a wide variety of statistical databases that allow you to analyze real data in classes centered around public opinion and voting. Class sizes are kept small so that every student can receive individual attention and participate in discussions that are vital to learning.
Political science examines various systems of government within and among nation-states and the principles on which they are based. Through unique projects and discussions, you'll become familiar with political concepts and issues, their historical background and their relevance to the cultural systems in which they arise. Enhance this knowledge by joining one of our on-campus student organizations, such as the Pre-Law Club, Mock-Trial Team and Pi Sigma Alpha. Focusing on enriching and resume-building activities, these clubs directly connect you with students who are also interested in political science. They are also excellent ways to learn from guest speakers, participate in workshops and connect what you've learned in class.
Countless opportunities await you in the political science department: internships, research projects, study abroad experiences and so much more. Whether you're interested in pursuing law school or graduate school, or entering the workforce right away, you'll graduate well-prepared and ready to make an impact on the world of political science.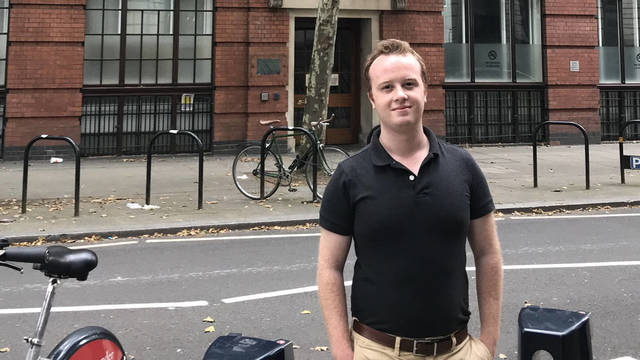 Why political science at UW-Eau Claire?
Unique internship opportunities. An advanced internship program within the political science major offers opportunities for on-the-job experience in an executive or legislative office, a nongovernmental agency, an Eau Claire city or county office, a political campaign for president, Congress, city council or with interest groups. Not only do internships provide you with real-world learning and valuable connections — but you'll also earn up to six college credits.
Innovative facilities. UW-Eau Claire is home to three incredible resource centers — the Center for Global Politics, the Political Research Institute (PRI) and the Center for Constitutional Studies — each with the goal of supporting you as you work toward your degree. The Political Research Institute, for example, is a nonpartisan organization dedicated to connecting local governments, nonprofit organizations and other groups to experts in political science and law. The PRI assists local governments in designing and implementing surveys, provides consulting contacts, and can help external and internal groups find and analyze data.
Fascinating, personalized curriculum. The political science major allows you to pursue multiple interests and study the topics that may be most relevant to your career goals. Explore courses in American politics, comparative government, international relations and so much more.
Research collaboration and real-world experience. Limitless research opportunities await you at UW-Eau Claire. The political science department's student-faculty research program has given students a chance to work on projects studying topics like cyberbullying, digital teen dating violence, and globalization and Islam. This strong education and valuable out-of-classroom experience has helped the political science department produce four Fulbright Award winners — and you could be next!
Relevant student organizations. As a political science major, you'll have access to fun and skill-building student organizations that can help take your learning to the next level. Many political science students find interest in the Society of Politics Club, a social and professional organization that can help you make connections and broaden the scope of your political knowledge.
Connection to local employers. Annual on-campus Career Conferences and a Non-Profit and Government Career Fair bring potential employers right to you. These events are excellent opportunities to network and submit your resume for current and future job openings.
Political science program details
Program length: four years
Offered: in person
Campus: Eau Claire
This major requires a minor or certificate.
This program is also available as a minor.
Students majoring in this program may choose either a Bachelor of Arts (BA) or Bachelor of Science (BS) degree.
Student organizations
Pi Sigma Alpha
Model United Nations Club (MUNC)
Pre-Law Club
The Society of Politics
Mock Trial Team
What can I do with a political science degree from UWEC?
Graduates of our political science degree have gone on to work for the U.S. government, public relations firms, law offices and more. The rigorous major provides a strong foundation in government and civic engagement, making it a great option for those who wish to declare a pre-law path or pursue law school.
Political science jobs
Political lobbyist
Legislative aid
Public sector administrator
Campaign manager
Public relations specialist
It was inspiring to work with so many intelligent and talented people who have incredible stories and experiences to share — and to know that each one of them is dedicated to making this country better.
Political science bachelor's degree program curriculum
Curriculum within the political science degree offers you the ability to choose courses from four main topics: American politics, international relations, comparative government and political theory. Coursework will explore global politics as well as public policy in the U.S. — and how politics influences aspects of our everyday lives, including film and media.
Students are strongly encouraged to develop a 15-credit topical theme as a part of their major course of study. You can create your own theme or choose from a recommended path such as constitutional studies, global human rights, electoral politics, global conflict resolution and American political development.
What classes do political science majors take?
Your classes may cover topics like:
Public opinion and political behavior
International organization and law
American national politics
Culture and politics
Political analysis
Film and politics
Political parties, elections and voting
Group and minority politics
Learn more about the political science major in the UWEC course catalog.
Learn more about the political science minor in the UWEC course catalog.
Related programs at UW-Eau Claire
Thinking about a bachelor's degree in political science? Here are other programs you may be interested in exploring.