Explore the physics bachelor's degree program at UW-Eau Claire
Study the deepest mysteries of our universe — from the smallest subatomic particles to our largest galaxies — with a bachelor's degree in physics from the University of Wisconsin-Eau Claire.
Exploring ideas of space, time, matter, energy, and radiation, a degree in physics serves as the basis for understanding the physical sciences. Curriculum throughout the major will provide you with a strong background in areas like mechanics, harmonic motion, wave motion, electricity, magnetism, optics, fluids, heat, thermodynamics, relativity and quantum physics. A variety of course electives allows you to study the topics that most interest you and align with your career goals.
Preparing you well for the real world is a critical focus of the major. Prior to graduation, you'll complete a capstone research project and develop your post-graduate plans. You'll also gain firsthand experience designing projects, conducting experiments, and working with state-of-the-art technology and equipment. Internships are strongly encouraged, and thanks to long-standing partnerships and the department's reputation for producing exceptional graduates, many opportunities are available to you.
Upon graduation, you'll have the knowledge, tools and skills to launch into a challenging and rewarding career in a variety of industries. Our tireless and dedicated faculty will help you find your niche, providing you with a solid base in critical thinking, the experimental process, research methodology and overall problem-solving. Whether you're interested in aeronautics, medicine, emerging energies, product safety, or research and development, a degree in physics from UW-Eau Claire will serve you well.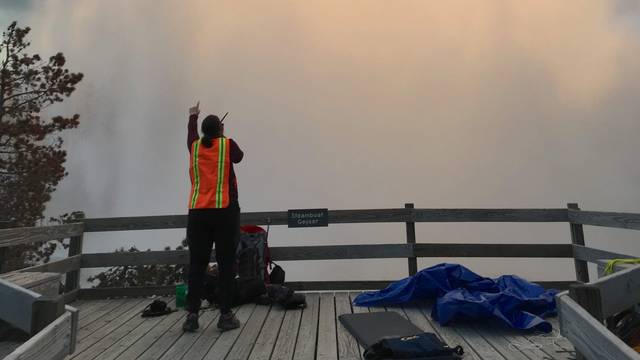 Why physics at UW-Eau Claire?
Innovative facilities and equipment. While pursuing your degree in physics, you'll have direct access to outstanding academic facilities, such as an optics research lab, the Materials Science and Engineering Center, an electron microscopy lab, an electronics lab, a machine shop and the Hobbs Observatory. There, you can use state-of-the-art technology such as a 24-inch reflecting telescope, an atomic force microscope, a scanning tunneling electron microscope and an X-ray diffractometer.
Collaborative research opportunities. Conducting collaborative research with any of our dedicated faculty members in physics and astronomy is a hallmark of the department. These are not typical undergraduate experiences, which is exactly why we offer them. Whether you choose to study our solar system, renewable energy, robotics or condensed matter physics, your work could lead to publication in peer-reviewed journals and presentations at regional and national conferences.
Outside-the-classroom learning. UW-Eau Claire prides itself on offering students the chance to learn and refine their craft in the real world. Be a part of a service-learning project over spring break, mentor an international student majoring in physics, hear from international experts and speakers, study abroad in Scotland or attend one of the 200 universities that participate in the National Student Exchange program. Here, you'll quickly find endless opportunities are available to you.
In-demand skills. Graduates of our physics degree gain critical skills, including the ability to effectively initiate new ideas, conduct research, analyze data, develop theories and solve problems. They also have experience using sophisticated technology and solving complex equations, and can apply physical and mathematical principles across disciplinary boundaries — making them extremely versatile employees.
Physics program details
Program length: four years
Offered: in person
Campus: Eau Claire
This major requires a minor or certificate.
This program is also available as a minor. 
Students majoring in this program may choose either a Bachelor of Arts (BA) or Bachelor of Science (BS) degree.
Student organizations
Society of Physics Students
Women & Gender Minorities in STEM
Materials Research Society
Sigma Pi Sigma
What can I do with a physics degree from UWEC?
The liberal arts physics degree is often seen as the best option for students planning to earn an advanced degree in physics. It is also ideal for students interested in a career in industry and business or students interested in our pre-medical, pre-dental or pre-veterinary programs.
Physics graduates go on to pursue successful careers in a variety of organizations and industries, typically working in the fields of science, engineering or education. Jobs available to you may include working at a school or university; working in state or federal government agencies; or positions in high-tech industries, optics technology companies, computer science companies, utility companies, weather bureaus, hospitals, airports, and professional and technical journals.
Physics jobs
Research scientist
Physicist
Astronomer
Electronic technician
Computational scientist
Computer programmer
Industrial hygienist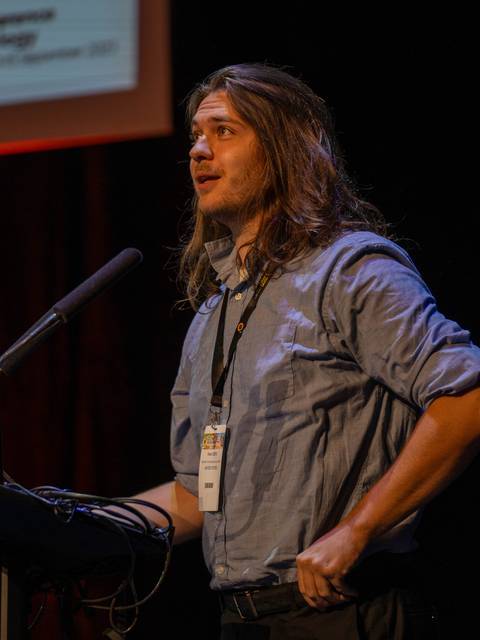 I have had a tremendous number of impactful experiences in my time here at UWEC, but research is and has been one of the greatest things I have chosen to do while on this campus. If you want to do research but don't think you're qualified enough, give it a shot anyway. So much learning happens in doing so.
Physics bachelor's degree program curriculum
Curriculum throughout the physics major will teach you how to solve quantitative problems and find relationships between physical factors. You'll learn how to analyze and interpret scientific data as well as effectively research, organize and arrange information — skills that are highly sought-after by employers.
What classes do physics majors take?
Your classes may cover topics like:
Differential equations and linear algebra
Computational physics
Electric and electronic circuits
Optics
Quantum physics
Theoretical mechanics
Learn more about the physics major in the UWEC course catalog.
Learn more about the physics minor in the UWEC course catalog.
Related programs at UW-Eau Claire
Thinking about a bachelor's degree in physics? Here are other programs you may be interested in exploring.