Explore the neuroscience bachelor's degree program at UW-Eau Claire
Study the brain, nervous system, behavior, communication and how they all work together in the University of Wisconsin-Eau Claire's neuroscience bachelor's degree program.
Our growing, interdisciplinary neuroscience major will immerse you in a rigorous and diverse curriculum. You'll explore courses in biology, psychology, chemistry, music, philosophy, mathematics and communication sciences and disorders. This well-rounded, multi-faceted approach to education is critical, because as rehabilitative techniques for stroke, brain injury and other neurogenic diseases expand, so does the need for professionals who are educated across disciplines and can work collaboratively.
Learning by doing is a large emphasis of the program. Neuroscience majors will be able to conduct research, work with leading healthcare organizations and grow their expertise through exceptional internships. These experiential learning opportunities allow for networking, career exploration and real-world problem-solving.
Upon graduation, you'll have the skills and knowledge needed to be successful in a number of high-demand fields, including academia, medical, pharmaceutical or medical equipment sales.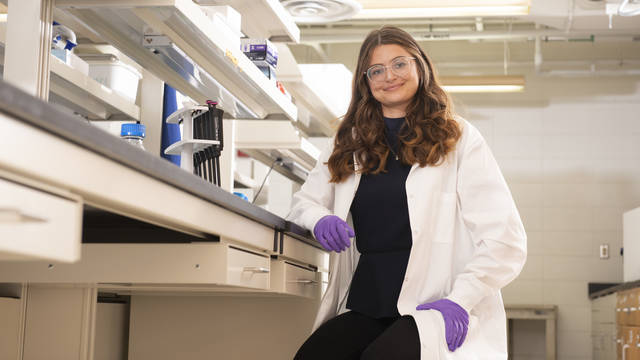 Why neuroscience at UW-Eau Claire?
Education and mentoring from diverse faculty. During your time at UWEC, you'll learn from biologists, psychologists, mathematicians, musicians, philosophers and speech pathologists. This multidisciplinary approach will surround you with different perspectives and new ways of thinking.
Growth of critical skills. There is an increased need for professionals who understand both basic neuroscience and everyday clinical practice — and can speak to both subjects clearly and effectively. This ability to speak both languages allows all teams to share information and advance new technologies, interventions and outcomes — and is highly valued by employers.
Conference and networking opportunities. Hear from industry experts, explore ongoing research and meet others in the field at the annual MidBrains Conference. Neuroscience majors attend every year, providing students with incredible learning and networking opportunities.
Fascinating research projects. Collaborations with renowned organizations, including Mayo Clinic, will give you direct access to research work with faculty and experts in the field. Many students choose to present their research at regional and national conferences, allowing for even more networking and growth opportunities.
Endless job possibilities. A strong set of mathematics and statistics classes will prepare you well for a variety of careers. In fact, graduates often leave more prepared in statistics than many Ph.D-prepared neuroscientists! This comprehensive background opens doors to jobs that involve genetics, gene mapping and public access data sets.
Neuroscience program details
Program length: four years
Offered: in person
Campus: Eau Claire
This major does not require a minor.
This program is also available as a minor. 
Students majoring in this program may choose either a Bachelor of Arts (BA) or Bachelor of Science (BS) degree.
Student organizations
Psychology Club
Biology Club
Women and Gender Minorities in STEM
What can I do with a neuroscience degree from UWEC?
Graduates with a neuroscience degree are in high demand, a trend that is expected to continue, especially as people continue to live longer. Alumni find plenty of opportunities to join the workforce or a clear path to continue their education in graduate or medical school.
Neuroscience careers
Clinical research assistant
Pharmaceutical sales
Laboratory technician
EEG technologist
Forensic science technician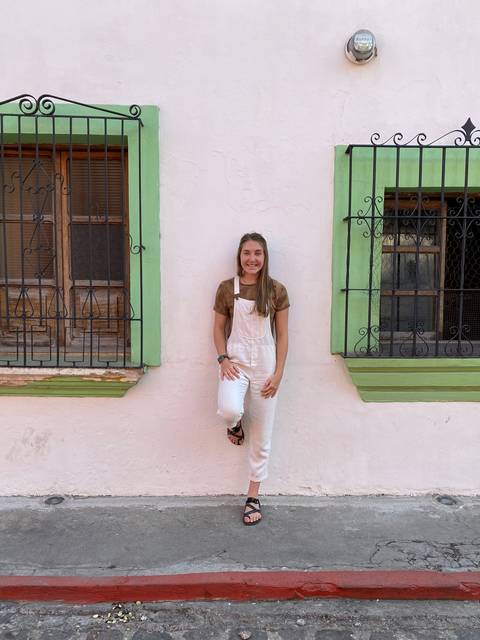 As a neuroscience major, I'm grateful for the many experiences I've had as a Blugold that will make me a more well-rounded future healthcare professional. Study abroad, faculty-led immersion programs, collaborative research, and volunteerism have all prepared me to treat future patients more holistically.
Neuroscience bachelor's degree program curriculum
Neuroscience students train in both basic neuroscience and clinical practice, as well as molecular biological science and behavioral sciences, so they know how to work collaboratively with colleagues across disciplines. The program is rooted in experiential learning, providing students with opportunities to gain professional experience both inside and outside the classroom.
What classes do neuroscience majors take?
Your classes may cover topics like:
Behavioral neuroscience
Philosophy of mind
Cellular and developmental neuroscience
Neurological aspects of communication and cognition
Cognitive psychology
Molecular and cell biology
Learn more about the comprehensive neuroscience major in the UWEC course catalog.
Learn more about the neuroscience minor in the UWEC course catalog.
Related programs at UW-Eau Claire
Thinking about a bachelor's degree in neuroscience? Here are other programs you may be interested in exploring.