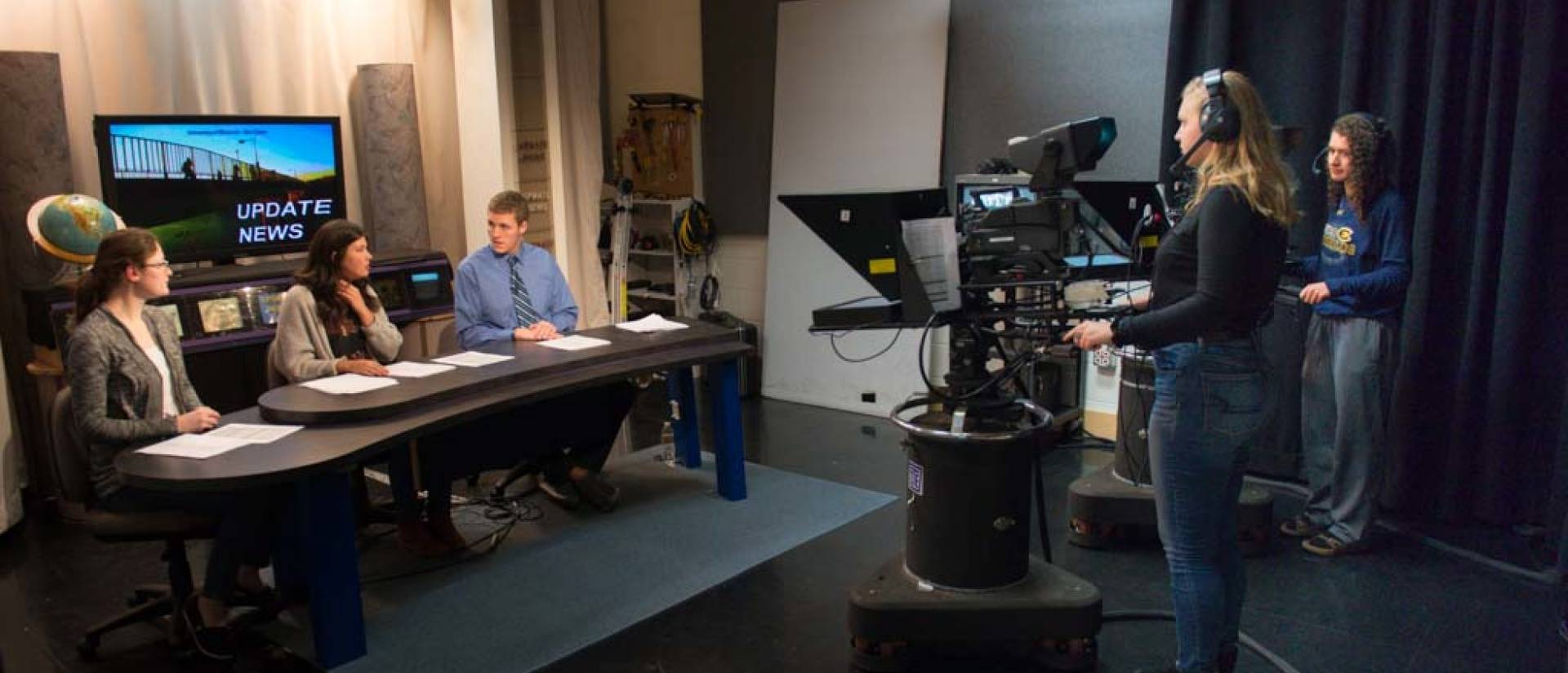 Explore the journalism bachelor's degree program at UW-Eau Claire
Discover the fast-paced world of communication, reporting and research with a bachelor's degree in journalism from the University of Wisconsin-Eau Claire.
As a journalism student, you'll learn how to communicate and report in a variety of formats, using print, sound, visual images and social media to tell stories. Projects and internships within the major will introduce you to the jobs and responsibilities of those who work in newspapers, magazines, television and radio, focusing on new and emerging platforms, delivery systems and technology in the process.
Courses here will give you a competitive edge, with firsthand, professional experiences beginning during your very first journalism class. You'll learn the tools of the trade, such as shooting video, recording audio, taking photos and editing media. And as you refine your skills and techniques, you'll begin to take on real-world assignments, such as completing public records requests, reporting on city council meetings and producing a twice-weekly news broadcast. As part of your capstone project, you and your peers will be responsible for managing and creating content for Inside Eau Claire — an online news portal serving the Eau Claire community.
At UW-Eau Claire, you'll quickly find that you earn so much more than a degree. You'll learn from supportive professors, develop critical skills and feel prepared to jump into an exciting and challenging field. Our graduates go on to pursue successful careers in a variety of roles and industries, making a positive impact wherever they go.
Why journalism at UW-Eau Claire?
Innovative facilities. The communication and journalism department is home to the Communication and Journalism Center, a state-of-the-art facility that includes TV and radio news studios and projection facilities, a visual communication studio and lab, and the offices of The Spectator and Blugold Radio (WUEC -FM, 89.7) — student media outlets. Here, you can take what you've learned in the classroom and put it into practice, all while gaining professional experience.
Skill-building curriculum. Courses throughout the journalism major will help you to develop your research and information skills while strengthening your capacity for critical and analytical thinking. These skills will help you become a more informed consumer and better understand communication processes in diverse cultural, social, legal and ethical contexts.
Real-world experience. Many journalism majors build their knowledge and skills as a communication professional through local and regional internships. Students have gone on to intern at both for-profit and nonprofit organizations, including Visit Eau Claire, Mayo Clinic Health System, Eau Claire Leader-Telegram and Milwaukee Journal-Sentinel.
Opportunities to take your studies to the field. Opportunities to practice your professional skills beyond the walls of the classroom are everywhere at UWEC. You may choose to take research trips, study abroad or participate in the National Student Exchange program. Through these opportunities, our Blugolds have had a chance to learn and report from all over the U.S. and beyond — including Peru and Moldova!
Supportive faculty and individualized learning. All UWEC classes are taught by passionate, enthusiastic professors who know and love their craft. With a variety of backgrounds, our faculty are prepared to share their insight into the industry and immerse you in the exciting world of journalism. Small class sizes help you form meaningful relationships and gain an even more personalized education.
Connection to local employers. Annual on-campus Career Conferences and a Client Communication and Management Career Fair bring potential employers right to you. These events are excellent opportunities to network and submit your resume for current and future job openings.
Journalism program details
Program length: four years
Offered: in person
Campus: Eau Claire
This major requires a minor or certificate.
This program is also available as a minor and certificate.
Students majoring in this program may choose either a Bachelor of Arts (BA) or Bachelor of Science (BS) degree.
Student organizations
Communication and Journalism Organization (CJO)
Forensics
The Spectator
TV10
WUEC-FM 89.7 Radio
Kappa Tau Alpha
Accreditation information
All communication and journalism degrees from UW-Eau Claire have been accredited by the Accrediting Council on Education in Journalism and Mass Communications.
What can I do with a journalism degree from UWEC?
Typical positions held by journalism grads include roles within news writing and reporting for broadcast or print media; corporate or political communication and administration; or internet communication. Our alumni have the education and skills to take their careers across the globe — or find jobs they're passionate about right here in Eau Claire. And because a degree in journalism enhances your oral, written and visual communication skills, skills employers actively look for, you and your degree will be in high demand.
Journalism jobs
Multimedia journalist
Copy editor
Page designer
Sports anchor
Content manager
Freelance writer
Media specialist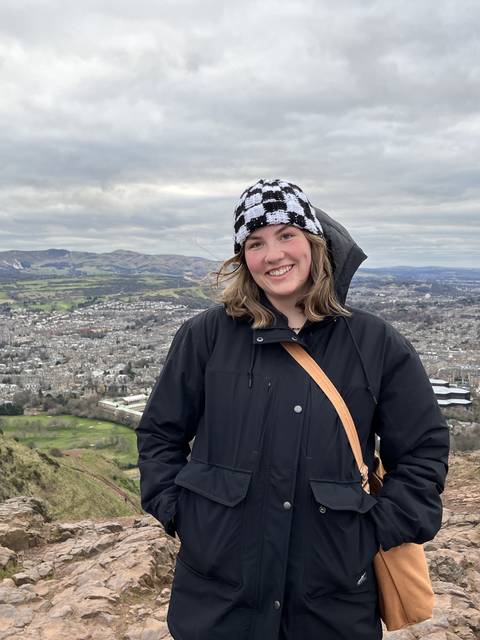 The biggest lesson I learned while studying abroad was how to improve my communication with others, which broadened my worldview. We live in a large world, and there are so many people out there with different stories to share.
Journalism bachelor's degree program curriculum
Courses within our journalism program focus on the traditional principles of ethically and effectively gathering and reporting information in the context of the rapidly evolving journalism industry. You'll become well-prepared to inform citizens and enhance democracy by gathering, writing, editing and delivering news across multiple platforms.
What classes do journalism majors take?
Your classes may cover topics like:
Reporting and editing
Audio and video production process
Intercultural communication
Media law and ethics
Multimedia communication
Visual communication design
Learn more about the journalism major in the UWEC course catalog.
Learn more about the journalism minor in the UWEC course catalog.
Learn more about the journalism certificate in the UWEC course catalog.
Related programs at UW-Eau Claire
Thinking about a bachelor's degree in journalism? Here are other programs you may be interested in exploring.