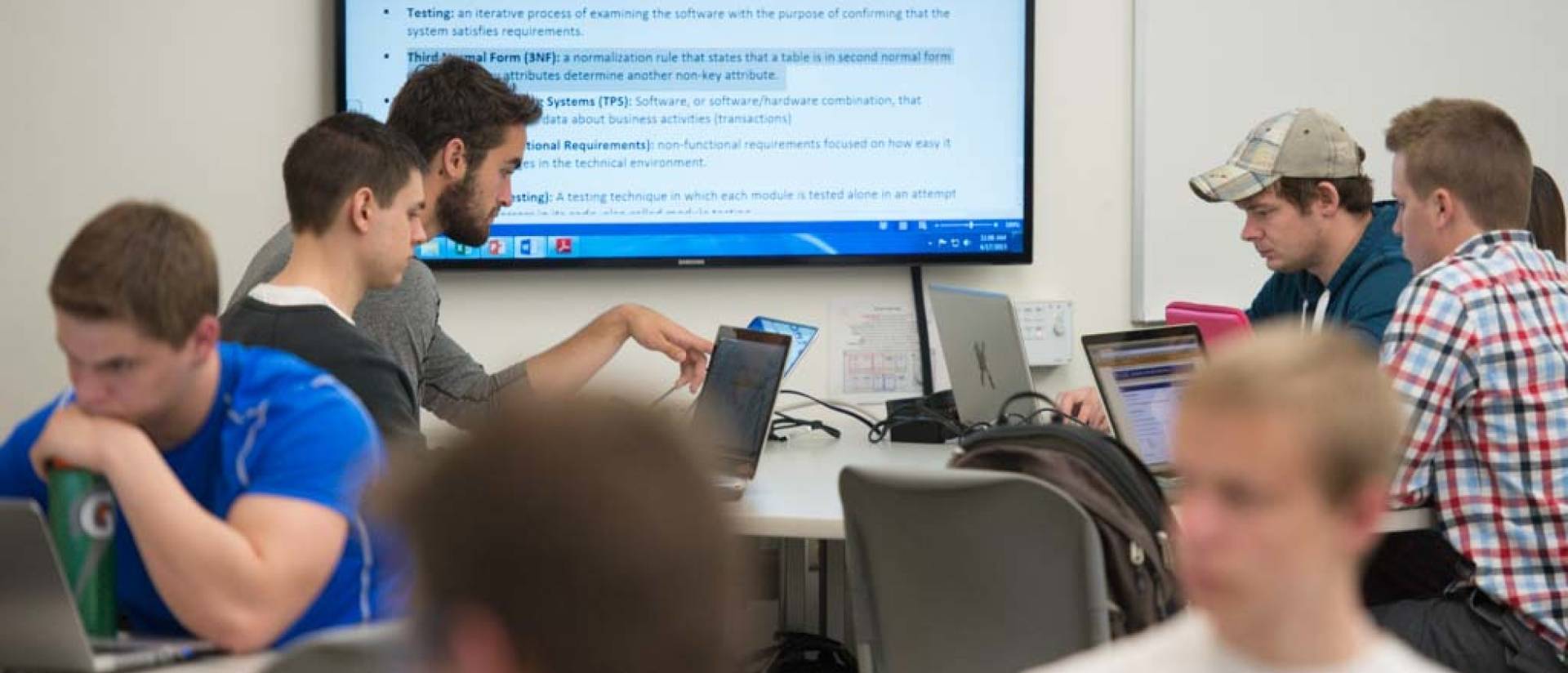 Explore the information systems bachelor's degree program at UW-Eau Claire
Enhance the interactions between people and technology with a bachelor's degree in information systems from the University of Wisconsin-Eau Claire. Accredited by AACSB International, our renowned program will help you to better understand how you can use technology to improve the daily performance of individuals and businesses.
Learn how to design, develop, deploy and manage computer-enhanced information systems and use them to solve modern-day challenges. Unique projects, competitions, study abroad, the National Student Exchange program and internships with businesses will provide you with professional experiences and the opportunity to build your skillset. You'll learn how to read, write, speak and listen effectively with both technical and non-technical audiences — and how to leverage this knowledge when working with diverse teams.
With the digital world playing a major role in today's society, good communication skills and a strong technical background are in high demand — as is your degree. According to the U.S. Bureau of Labor Statistics, information systems is one of the fastest-growing employment categories. Now is a great time to enter this field.
Why information systems at UW-Eau Claire?
Personalized curriculum. A wide range of information systems electives allows you to explore passions and specialize your studies. Dive into software development, project management, digital imaging, programming and more. Your foundational knowledge of how technology works to improve businesses will make you a desirable candidate for many employers.
Internship opportunities. Many internships are available for students pursuing a career in information systems — some of which are paid or count for credit. Through internships, information systems students have assisted in things like establishing software standards for companies, developing telecommunications systems, creating microcomputer applications, evaluating software packages for company adoptions and expanding database applications.
Relevant student organizations. UW-Eau Claire's Leadership and Technology student org is a great way to continue your learning outside the classroom. Participate in competitions, discuss industry trends, network with professionals and develop relationships with other students and mentors.
Outstanding faculty members. While at UW-Eau Claire, you'll learn from supportive, expert faculty who have a variety of business and industry experiences. Partner with your professors in research opportunities and utilize the program's growing network of local information systems professionals and employers.
Information systems program details
Program length: four years
Offered: in person
Campus: Eau Claire
This major does not require a minor or certificate.
This program is also available as a minor and certificate.
Students majoring in this program will earn a Bachelor of Business Administration (BBA) degree.
Student organizations
Leadership & Technology
Collegiate DECA
Beta Gamma Sigma Honorary (BGS)
Accreditation information
Our academic programs are among the best. We are accredited by AACSB International, a mark of excellence achieved by less than 5% of all business schools worldwide.
What can I do with an information systems degree from UWEC?
UW-Eau Claire has one of the largest information systems programs in the nation, with a long history of producing skilled graduates, including alumni now working at Microsoft and Google. Because of this reputation, recruiters from all over the Midwest hire our highly regarded Blugolds. Graduates enter a flexible, growing and well-paying field, pursuing a wide range of career paths.
Where are information systems alumni now?
Chief information officer (CIO), Menards
Quality assurance tester, Activision
IT business analyst, Kohl's
Database analyst, 3M
Onboarding specialist, JAMF
Engineer, Target
Business analyst, Dean Health Plan
Business operations analyst, Verizon
Information systems careers
IS product manager
IT analyst
Application developer
Database administrator
Deployment specialist
Technical development programmer
Security analyst
Business manager
My corporate internship, campus job in Learning Technology Services and professors have made a huge difference in my college career and have helped me to find a job in my major before graduation.
Information systems bachelor's degree program curriculum
The information systems bachelor's degree prepares you for success by pairing a strong liberal arts education with major-specific coursework. Explore business courses in accounting, communication, finance, management and marketing as well as information systems courses in database applications and management, systems analysis and design, and systems networking and security.
This broad background gives you the knowledge needed to bridge the gap between business professionals and computer technologists.
What classes do information systems majors take?
Your classes may cover topics like:
Business software engineering
Information systems in business
Microeconomics
Operations management
Production planning and control
Server-based networking and security
Systems analysis and design
Learn more about the comprehensive information systems major in the UWEC course catalog.
Learn more about the information systems minor in the UWEC course catalog.
Learn more about the information systems certificate in the UWEC course catalog.
Related programs at UW-Eau Claire
Thinking about a bachelor's degree in information systems? Here are a few other programs you may be interested in exploring.