Explore the human resource management bachelor's degree program at UW-Eau Claire
Equip yourself with the knowledge and expertise necessary for a career in HR with a human resource management bachelor's degree from the University of Wisconsin-Eau Claire.
Through unique projects, work-study assignments, competitions, internships and study abroad, you'll gain real-world experience, make connections and learn best practices in the world of business and management. You'll also feel supported. Our expert faculty care about you and your future, and they work hard to create a supportive community where you'll feel motivated to do your best.
Program curriculum is intentionally designed for you to be able to immediately enter the HR field upon graduation. Not only will you leave UW-Eau Claire with 500 hours of relevant HR experience, you'll also have passed the Society for Human Resource Management (SHRM) Certified Professional (SHRM-CP) exam. This certification proves your knowledge of — and competency within — HR practices and demonstrates your ability to do your job well.
Combine these achievements with your strengthened communication, teamwork, interviewing, time management and problem-solving skills, and your resume is sure to stand out in today's competitive job market.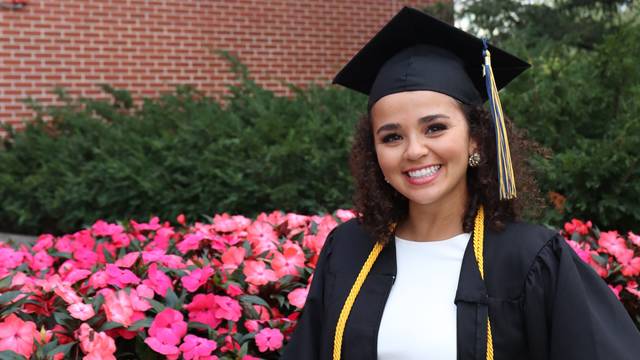 Why human resource management at UW-Eau Claire?
Relevant student organizations. UW-Eau Claire houses one of the largest SHRM chapters in the area. This club meets regularly for learning, networking and volunteering opportunities. Explore the ingredients for a strong resume, identify what skills employers are looking for and learn how to create a positive brand for yourself.
Regional and national competitions. Demonstrate your expertise at the Wisconsin SHRM Student Conference and HR Games Competition, events HR students regularly participate in and win awards at. These competitions are excellent ways to meet other HR professionals and sharpen your presentation, negotiation, demonstration, and problem-solving skills.
Internship opportunities. UWEC students are highly encouraged to participate in internships — some of which even count for credit. Through internships, human resources students have assisted in things like conducting interviews and reference checks for prospective employees; creating salary surveys; and developing HR policy manuals, salary structure and employee training programs.
Opportunities to work with local businesses. Through coursework and student organizations, you'll have opportunities to meet and work with potential mentors and employers. These experiences can help you get your foot in the door at places where you might be interested in working.
Exceptional career preparation. In order to graduate, HR majors are required to obtain 500 hours of practical experience as well as pass the SHRM-CP exam. This ensures you are ready to hit the ground running and immediately excel in your chosen career.
Connection to local employers. Annual on-campus Career Conferences and a Client Communication and Management Career Fair bring potential employers right to you. These events are excellent opportunities to network and submit your resume for current and future job openings.
Human resource management program details
Program length: four years
Offered: in person
Campus: Eau Claire
This major does not require a minor.
Students majoring in this program will earn a Bachelor of Business Administration (BBA) degree.
Additional management majors
Student organizations
Society for Human Resources Management (SHRM)
Beta Gamma Sigma Honorary (BGS)
Collegiate DECA
Accreditation information
Our business programs are among the best. We are accredited by AACSB International, a mark of excellence achieved by less than 5% of all business schools worldwide.
What can I do with a human resource management degree from UWEC?
Your human resources degree from UW-Eau Claire will inspire you to make organizations better. You will be ready to help companies find top talent and assist in creating a healthy work environment for their employees. Because many organizations need HR professionals, graduates find employment in a variety of industries and fields. Explore careers in staffing (recruitment and selection), training and development, labor relations, compensation and benefits, employee relations and many more.
Where are human resource management alumni now?
Corporate recruiter, U.S. Bank, Minnesota
Senior human resources assistant, Amazon, Minnesota
Operations specialist, Gander Mountain, Wisconsin
Global HR manager, R.J. Reynolds, North Carolina
Recruiting coordinator, Anheuser-Busch, Texas
Human resources careers
Human resource coordinator
Human resources assistant
Recruiter
Training and development coordinator
Payroll specialist
Human resources generalist
Manager
Employee relations specialist
Benefits specialist
Being a member of the Society for Human Resource Management (SHRM) has opened up doors to so many opportunities for me. I've been able to develop my leadership skills and participate in high-impact conferences, mentor programs, networking events and volunteer opportunities. My involvement in SHRM helped me get both my internship and my job after college.
Human resource management bachelor's degree program curriculum
The human resource management program prepares you for success through a curriculum that includes a strong liberal education core and major-specific coursework in management, HR and business. A required student professional development program will also cover topics in career planning, professional image, interviewing, etiquette and networking.
What classes do human resource management majors take?
Your classes may cover topics like:
Business communication
Human resource development
Compensation and benefits
Industrial relations
Managerial accounting
Human resource management
Production planning and control
Risk management and insurance
Learn more about the comprehensive human resource management major in the UWEC course catalog.
Related programs at UW-Eau Claire
Thinking about a bachelor's degree in human resources? Here are other programs you may be interested in exploring.