Explore the geography bachelor's degree program at UW-Eau Claire
The University of Wisconsin-Eau Claire's geography bachelor's degree is designed for those interested in understanding people and places, their cultures and environments, and the relationships within.
The curriculum within the major will provide you with a solid foundation in human geography, physical geography, regional geography and nature-society relationships. Rich in field-based courses, the program could take you to places like Hawaii, New York City, New Zealand, Turkey or the Great Lakes region. Through these experiences, unique projects and internship opportunities, you'll learn a wide variety of field, laboratory and social/natural science research methods, tools and techniques — giving you real-world experience before you even graduate.
Known for offering unparalleled research opportunities to undergraduate students, UWEC offers plenty of ways for geography majors to take their learning to the next level. Alongside faculty, you'll have a chance to participate in groundbreaking research, bringing your findings back to labs equipped with top-notch tools and industry-standard software. Many students go on to present their discoveries at both regional and national competitions.
Graduates of our geography department leave with valuable experience solving real-world problems, gathering and analyzing data, interpreting earth surface processes, functioning as part of interdisciplinary research teams, and producing professional presentations and reports. Upon graduation, you'll have the knowledge, skills and experiences necessary for a successful career in dozens of different industries.
Why geography at UW-Eau Claire?
Inspirational world travels. Take what you learn from our expert professors and experience it firsthand. Countless opportunities to explore the world are available to you at UWEC. Study physical geography in Hawaii, regional geography in Oregon, human and environmental geography in Texas Hill Country or biogeography in Honduras. Take it from our grads: These travels will change your perspective of the world and stay with you for the rest of your life.
State-of-the-art tools and technology. At UW-Eau Claire, you have the chance to work with the same technology professionals use out in the field today. Learn how to operate equipment like unmanned aerial systems (UAS), global positioning system (GPS) and ground-penetrating radar (GPR). It's experiences like these that set you apart from other candidates when applying for jobs.
Innovative facilities. The university library is also a federal map depository, with a collection of over 92,000 maps in its Simpson Map Library, which can be used for research and study. In addition, the geography and anthropology department has two computer labs dedicated to geospatial science (cartography, GIS and remote sensing) and is well-regarded for its interdisciplinary work with departments across campus.
Fascinating, personalized curriculum. A variety of electives within the geography major allows you to pursue multiple passions and study the topics that most interest you. Explore courses in climatology, environmental hazards, the geography of food, cartographic design and the geography of Western Europe. This flexibility gives you the chance to become an expert in multiple areas and opens doors to even more career paths.
Geography scholarship opportunities. First-year students interested in majoring in geography are eligible to apply for the George Simpson Incoming Student Scholarship. Six scholarships ranging from $1,000 up to $1,500 are awarded each year, and there is potential for recipients to receive an additional second-year scholarship if all academic requirements are met.
Geography program details
Program length: four years
Offered: in person
Campus: Eau Claire
This major requires a minor or certificate.
This program is also available as a minor.
Students majoring in this program may choose either a Bachelor of Arts (BA) or Bachelor of Science (BS) degree.
Student organizations
Geography and Anthropology Club
Gamma Theta Upsilon
What can I do with a geography degree from UWEC?
Geographers are everywhere in the public, private and nonprofit sectors. Explore careers in education, environmental engineering and consulting, land-use planning, resource management, emergency management, public utilities, infrastructure management, travel, international business or the retail sector.
As an integrative discipline, geography connects the local with the global, providing the tools and knowledge that allow graduates to be flexible and adapt to a dynamic job market.
Where are geography alumni now?
Senior geospatial analyst, Xcel Energy, Wisconsin
UX designer, Epic, Wisconsin
Chief data officer, HazardHub, Wisconsin
Senior planner, Waukesha County, Wisconsin
Land use technician, St. Croix County, Wisconsin
Transportation specialist, MN Department of Transportation, Minnesota
Analytics project manager, City of Boston, Massachusetts
GIS specialist, Pacific Crest Trail Association, California
Geography career paths
Geographic Information Systems (GIS)
Environmental hazards
Climate science
Natural and cultural resource management
Community and regional planning
Emergency management
Geospatial data (UAS/drone, LiDAR, satellite imagery) analysis
Infrastructure (transportation and utilities) planning and management
Demography
Tourism
UW-Eau Claire has helped me to identify what I want my mark to be on the world and has given me the tools to make it happen.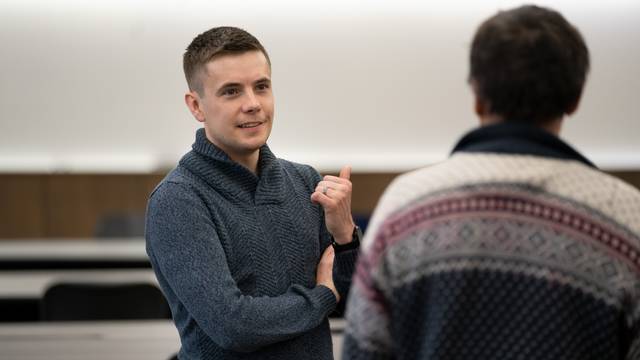 Geography bachelor's degree program curriculum
The curriculum within the geography major is interdisciplinary and all-encompassing. In addition to core classes, students will choose multiple electives in advanced geography approaches. Areas of emphasis include physical geography, human-environmental geography, human geography, geography techniques and regional geography.
A required capstone seminar integrates theory and methodology, quantitative and cartographic techniques as well as fieldwork. Students can expect to enhance their skills in literature review, research design, data collection and presentation.
What classes do geography majors take?
Your classes may cover topics like:
Biogeography
Cartographic design
Conservation of the environment
Cultural and transnational dynamics
Environmental hazards
Human geography
Native geographies
Learn more about the geography major in the UWEC course catalog.
Learn more about the geography minor in the UWEC course catalog.
Related programs at UW-Eau Claire
Thinking about a bachelor's degree in geography? Here are other programs you might be interested in exploring.