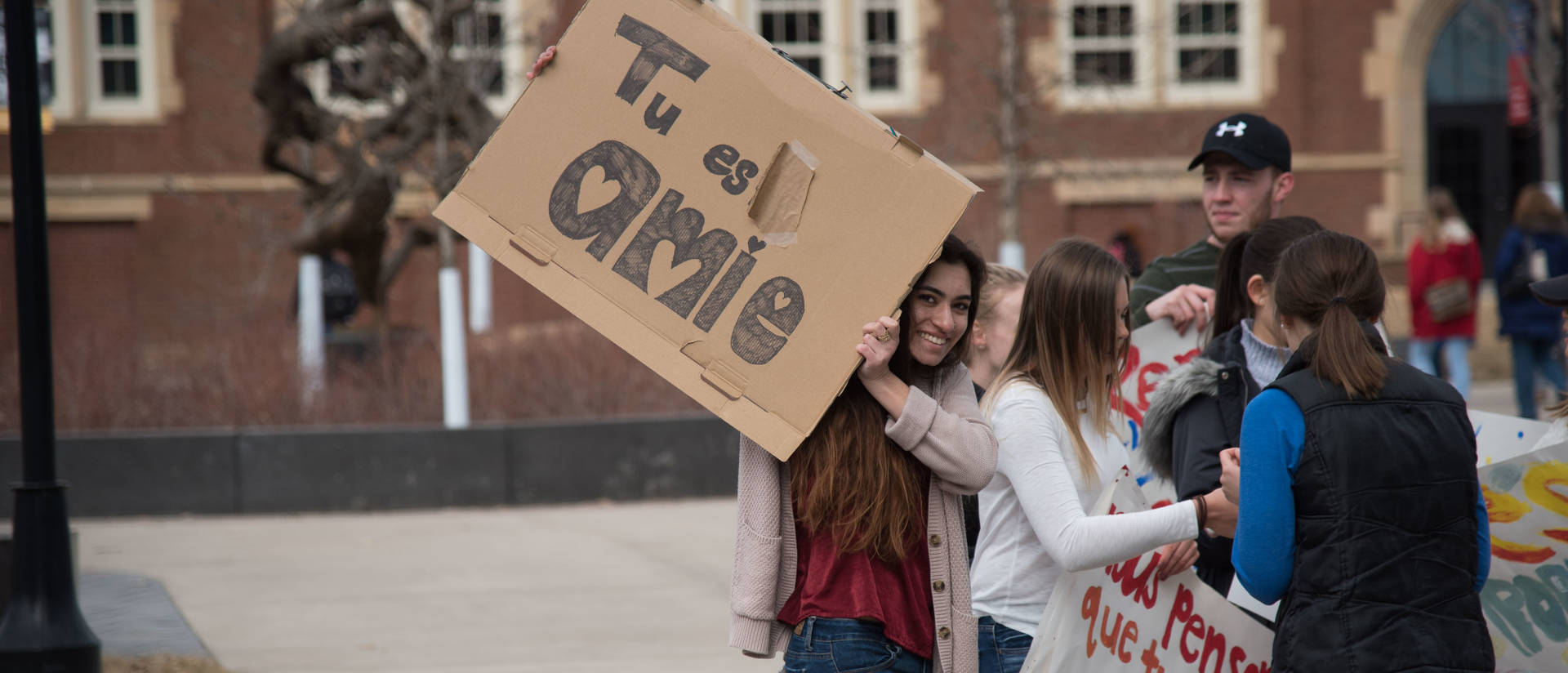 Explore the French bachelor's degree program at UW-Eau Claire
Take your career opportunities to the next level with a bachelor's degree in French from the University of Wisconsin-Eau Claire.
Recently designated as an Exemplary Program with Honors by the American Association of Teachers of French for the second time, UW-Eau Claire's French degree is known for its top-notch curriculum. In fact, the prestigious award was given to only 10 programs in the nation in 2020 and recognizes UWEC's use of innovative and creative methods in teaching language and culture.
Coursework within the French bachelor's degree explores a variety of topics, from grammar and pronunciation to the history of French civilization, to literary analysis, contemporary societal issues, and roles of French-speaking institutions and individuals.
Rooted in experiential learning and travel, our renowned program provides countless opportunities for you to grow your language skills and cultural competency. Enroll in a cultural immersion program, study abroad or participate in a local or international internship. The chance to conduct undergraduate research alongside your professors is available to all UWEC majors and is highly encouraged. Recent language majors have collaborated with faculty in linguistics, history and politics, and have presented their findings at regional and national research conferences.
In a global society where roughly 5.4 billion people do not speak English, studying an additional language helps create endless possibilities for your future.
Why French at UW-Eau Claire?
Explorative, skill-building curriculum. The majority of the French major is made up of courses chosen by you. Explore Francophone cultures across the globe or conduct an in-depth study of a theme relevant to the French-speaking world. Coursework and related projects will prepare you for meaningful travel experiences and help you develop empathy through insights into other cultures. Our graduates leave ready to stand out in the job market and continue their lifelong journey of learning and speaking French.
State-of-the-art technology. Outside-the-classroom learning opportunities at UWEC are endless. For example, our language lab and the Roma Hoff Instructional Resource Center are filled with sound and video programs, films, games and computer software to help you apply what you've learned in class.
Outstanding faculty. Our French program has gained national recognition for the quality of its teachers and their courses. Here, our talented professors make it a priority to create an impactful learning environment where you come first. Faculty have an abundance of experience in the subjects they teach and go out of their way to help you find a career path you love.
French program details
Program length: four years
Offered: in person
Campus: Eau Claire
This major requires a minor or certificate.
This program is also available as a minor and certificate.
Students majoring in this program may choose either a Bachelor of Arts (BA) or Bachelor of Science (BS) degree.
Student organizations
Le Salon Francais (French Club)
What can I do with a French degree from UWEC?
Knowing multiple languages is highly valued by employers in a variety of industries and fields, making this degree a versatile one. Our grads go on to work for the French government, become bilingual project managers, teach in other countries and travel across the globe. No matter what your future career aspirations are, majoring or minoring in another language opens doors.
French jobs
Translator/interpreter/guide
Travel counselor
Bilingual sales support
Museum curator
Travel writer/reporter
Language and cross-cultural consultant
Bilingual educator
Flight attendant
Government official
Professors at UW-Eau Claire are passionate about providing the full French experience in language and culture. Thanks to my time here and my study abroad experience, I've developed a deep appreciation for this beautiful, complex language and for the rich cultural personality behind it.
French bachelor's degree program curriculum
Curriculum within our French program will help you master speaking, writing and communicating in French. A wide range of electives, including directed studies and independent study classes, allow you to personalize your studies and explore the topics that most interest you.
What classes do French majors take?
Your classes may cover topics like:
Pronunciation
Environmental and linguistic diversity
French grammar
French literature
History of French civilization
Professional communication
Second language acquisition theory
Learn more about the French major in the UWEC course catalog.
Learn more about the French minor in the UWEC course catalog.
Learn more about the French proficiency certificate in the UWEC course catalog.
Related programs at UW-Eau Claire
Thinking about a bachelor's degree in French? Here are other programs you may be interested in exploring.