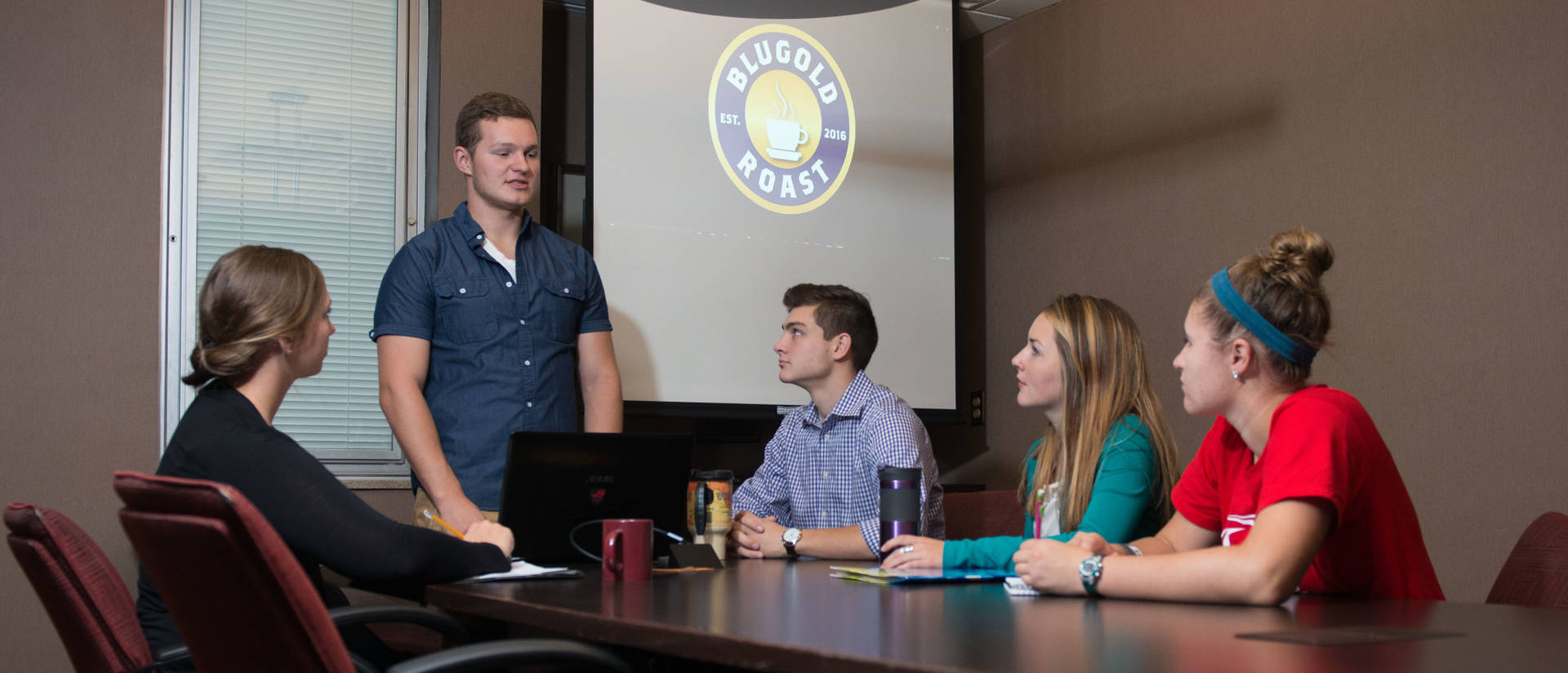 Explore the entrepreneurship bachelor's degree program at UW-Eau Claire
Find creative and inventive ways to make the impossible possible, with a bachelor's degree in entrepreneurship from the University of Wisconsin-Eau Claire. Here, we won't just support you in your dreams to start your own business — we'll help make it happen. And we have the students and alumni to prove it.
Accredited by AACSB International, our business school houses the tools, resources and knowledge necessary to succeed in the business world. Diverse course curriculum will provide you with a strong, well-rounded foundation of business knowledge. Through projects, internships and competitions, you'll learn the different components of a business plan, how data can drive strategy, and best-practices when managing and responding to change.
You'll also get real-world experience. Through a semester's worth of classes, you will have the opportunity to develop your own unique business idea. Partnerships with local community entrepreneurs and presentations with business owners will allow you to improve your business plan and work toward your goals on a regular basis.
Our entrepreneurship program is one of the most comprehensive programs in the state. Rich in scholarship, study abroad and resume-building opportunities, the entrepreneurship major will provide you with what you need to make your ideas a reality.
Why entrepreneurship at UW-Eau Claire?
Regional and national competitions. Demonstrate your expertise at the Wisconsin Big Idea Tournament, Swim with the Sharks, or the UW-Eau Claire Perfect Pitch, events entrepreneurship students regularly participate and place in. These competitions are excellent ways to sharpen your skills, build confidence and jump-start your career.
Access to start-up funds. The Blugold Angel Fund reserves dollars for students interested in starting their own business. Graduates can compete for these funds and use them to get their business up and running. This is just one of the many barriers UW-Eau Claire tries to eliminate for promising entrepreneurs.
Real-world learning. Unique assignments and projects in the entrepreneurship major will give you real, tangible experience. Much of the coursework also offers opportunities to network and meet potential employers. Guest speakers frequently present to students on how they got to where they are today.
Connection to local employers. Annual on-campus Career Conferences and a Client Communication and Management Career Fair bring potential employers right to you. These events are excellent opportunities to network and submit your resume for current and future job openings.
Valuable student organizations. UW-Eau Claire's College of Business offers more than 20 student organizations, all aimed to provide you with new experiences, skills and opportunities. One unique organization, UW-Eau Claire's Collegiate Entrepreneur's Organization, helps students get their business ideas off the ground. It's how Blugold Roast, a successful coffee business (now an LLC), landed a location right here on campus.
A community of go-getters. The community of entrepreneurship students and professors will inspire you to go after your dreams. Faculty are always willing to lend a helping hand and strive to provide you with unique opportunities to meet other successful business professionals.
Entrepreneurship program details
Program length: four years
Offered: in person
Campus: Eau Claire
This major does not require a minor.
This program is also available as a minor and certificate. 
Students majoring in this program will earn a Bachelor of Business Administration (BBA) degree.
Additional management majors
Student organizations
Collegiate Entrepreneurs' Organization (CEO)
Beta Gamma Sigma Honorary (BGS)
Collegiate DECA
Accreditation information
Our business programs are among the best. We are accredited by AACSB International, a mark of excellence achieved by less than 5% of all business schools worldwide.
What can I do with an entrepreneurship degree from UWEC?
With an entrepreneurship degree, you will have the confidence to go out into the real world and succeed in your business ventures. You'll learn practical skills in communication, leadership and planning — all of which you can leverage during job interviews. You will also work with businesses right here in Eau Claire to further develop your connections and grow your network.
Where are entrepreneurship alumni now?
Content creator, Youtube, Wisconsin
Program manager, MatrixCare, Minnesota
Owner, Durahome Painting Plus, Minnesota
Owner, Next Level Soccer, Minnesota
Entrepreneurship careers
Business consultant
Recruiter
Business owner
Sales person
Mid-level management
I have to credit all the wonderful individuals who are part of the entrepreneurship program. They inspired the confidence and motivation needed to build a business while still in school. Because of them and all of UWEC, I will forever be a Blugold and entrepreneur.
Entrepreneurship bachelor's degree program curriculum
In addition to the required business core classes you will take during your time at UWEC, you will also experience a series of classes focused specifically on entrepreneurship. These classes will allow you to develop a business concept from start to finish, learn the inner workings of how to create your own business and give you the tools you'll need to succeed in your future endeavors.
What classes do entrepreneurship majors take?
Your classes may cover topics like:
Marketing for entrepreneurs
Business law
Managerial accounting
Finance
Managerial decision modeling and analysis
Business writing
Operations management
Microeconomics
Learn more about the comprehensive entrepreneurship major in the UWEC course catalog.
Learn more about the entrepreneurship minor in the UWEC course catalog.
Learn more about the entrepreneurship certificate in the UWEC course catalog.
Related programs at UW-Eau Claire
Thinking about a bachelor's degree in entrepreneurship? Here are other programs you may be interested in exploring.