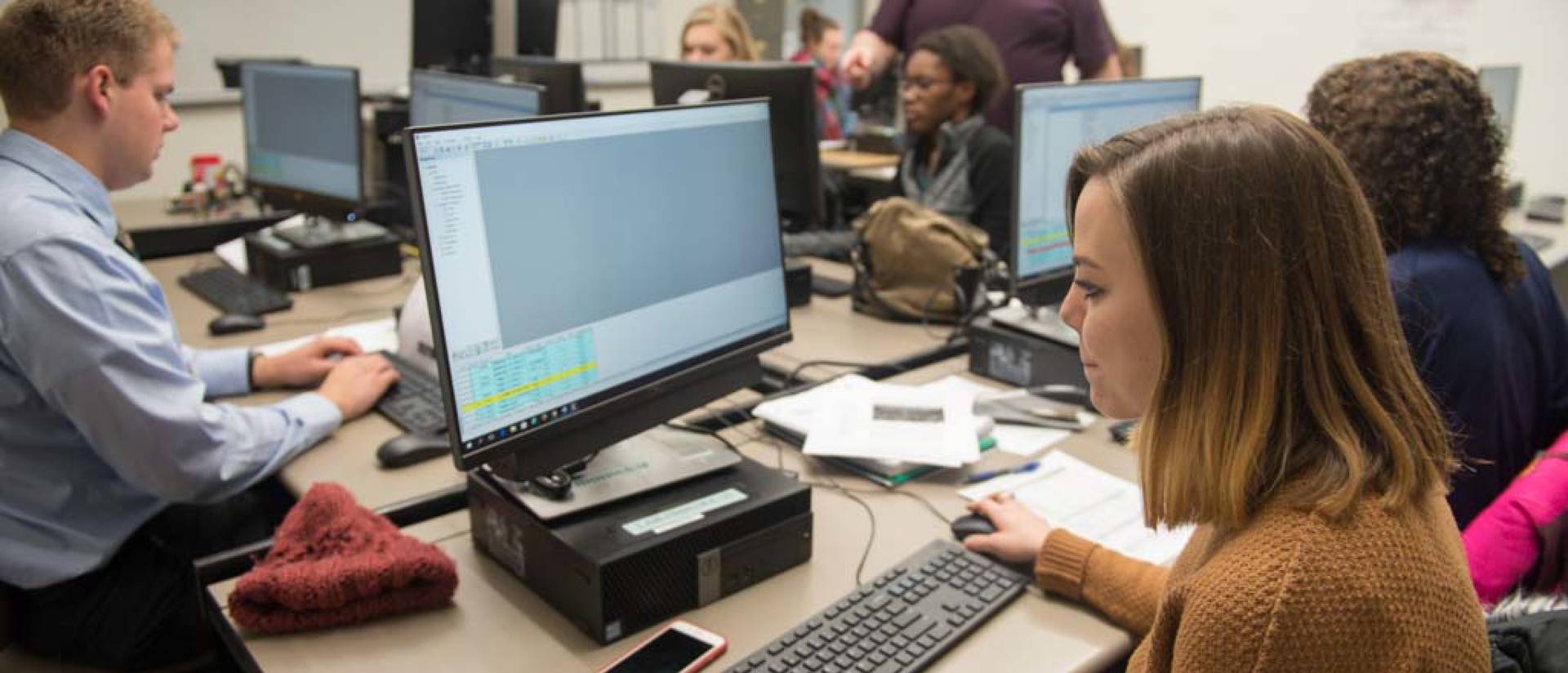 Explore the communication - communication studies emphasis bachelor's degree program at UW-Eau Claire
Learn how to analyze and improve human communication through theory, research and practice with a bachelor's degree in communication - communication studies emphasis from the University of Wisconsin-Eau Claire.
Here, you'll find countless opportunities to develop your leadership abilities as well as your skills in communication, writing and persuasion. From local internships and student organizations to working with your peers on a student-faculty research project, our program is designed so that you not only feel prepared to enter the workforce — but will make an impact when you do.
Curriculum within the communication studies major is intentionally built to provide you with firsthand experience in a variety of communication-related areas. Explore classes in interpersonal communication, organizational communication, small group communication, professional communication and mass media. Coursework will look at how people communicate in interpersonal relationships, how messages influence individual and group behavior, and how messages can be used to improve both individual and community life. Unique projects and assignments will give you opportunities to speak publicly, analyze media and craft strategic messages, allowing you to identify areas of interest and strength.
Job possibilities with a degree in communication are endless. Our graduates go on to work in industries such as event planning, social media, politics and writing. No matter your path, our communication studies program will give you the knowledge, tools and confidence to find your niche and launch into a career you love.
Why communication - communication studies emphasis at UW-Eau Claire?
Skill-building facilities. The communication and journalism department is home to the Communication and Journalism Center, a state-of-the-art facility that includes TV and radio news studios and projection facilities, a visual communication studio and lab, and the offices of The Spectator and Blugold Radio (WUEC FM 89.7) — student media outlets. Here, you can take what you've learned in the classroom and put it into practice, all while gaining professional experience.
Supportive learning. All classes are taught by passionate, enthusiastic professors who know and love their craft. They bring real-world experience into the classroom through creative projects and guest presentations, going out of their way to immerse you in the complex world of communication. Small class sizes help you form meaningful relationships and gain an even more personalized education.
Collaborative research opportunities. At UWEC, you will have the opportunity to participate in exciting research projects, such as examining groupthink or students' knowledge of sustainability on campus within our student-faculty collaborative research program. In addition to building your resume and portfolio, these projects will help you network throughout the community and introduce you to potential employers.
Relevant student organizations. Groups such as the Communication and Journalism Organization and the International Association of Business Communicators (IABC) can help you connect with your peers, professors and alumni, as well as develop your professional skills. Our forensics team has been awarded more than 15 national titles and 32 state championships and is an excellent way to improve your public speaking abilities.
Real-world experience. With so many career paths available to those with a communication studies degree, communication students are highly encouraged to pursue one or more internships. And because of the program's strong reputation, many students have no problem finding one. Previous students have interned at Visit Eau Claire, Big Brothers Big Sisters of Northwestern Wisconsin, UW-Eau Claire athletics and the Eau Claire Leader-Telegram. Often, these internships are paid and/or count for credit.
Connection to local employers. Annual on-campus Career Conferences and a Client Communication and Management Career Fair bring potential employers right to you. These events are excellent opportunities to network and submit your resume for current and future job openings.
Communication - communication studies emphasis program details
Program length: four years
Offered: in person
Campus: Eau Claire
This major requires a minor or certificate.
This program is also available as a minor.
Students majoring in this program may choose either a Bachelor of Arts (BA) or Bachelor of Science (BS) degree.
Student organizations
Communication and Journalism Organization (CJO)
Forensics
International Association of Business Communicators (IABC)
The Spectator
TV10
WUEC-FM 89.7 Radio
Kappa Tau Alpha
What can I do with a communication - communication studies emphasis degree from UWEC?
A degree in communications studies offers endless career opportunities and now, more than ever, organizations are looking for employees with excellent oral and written communication skills. Students graduating from this program are prepared to work in a variety of fields, including community development, environmental or social activism, ministry, politics, government and higher education.
Communication jobs
Digital marketing coordinator
Marketing specialist
Business development representative
Digital and broadcast program manager
Copywriter
I am so lucky to have been surrounded by a world of options — both scholastic and extracurricular — during my time at UWEC. I've been able to gain experience in the business world in addition to strengthening my skills as a multimedia creator. UWEC has given me so many life skills for life after college.
Communication - communication studies emphasis bachelor's degree program curriculum
Core classes within the communication studies major will give you the experience and know-how to develop, refine and analyze messages, as well as the skills to become an excellent public speaker. Building on that foundation, a variety of electives offer you the opportunity to study effective communication tactics and strategies, including those that influence political and popular culture. A Communication Research Seminar capstone course will round out your studies and require you to investigate current research issues in interpersonal, group, intercultural, organizational and public communication.
What classes do communication - communication studies emphasis majors take?
Your classes may cover topics like:
Communication and gender
Fundamentals of speech
Human communication theory
Intercultural communication
Mass media and popular culture
Organizational communication
Professional communication
Learn more about the communication - communication studies major in the UWEC course catalog.
Learn more about the communication - communication studies minor in the UWEC course catalog.
Related programs at UW-Eau Claire
Thinking about a bachelor's degree in communication studies? Here are other programs you may be interested in exploring.