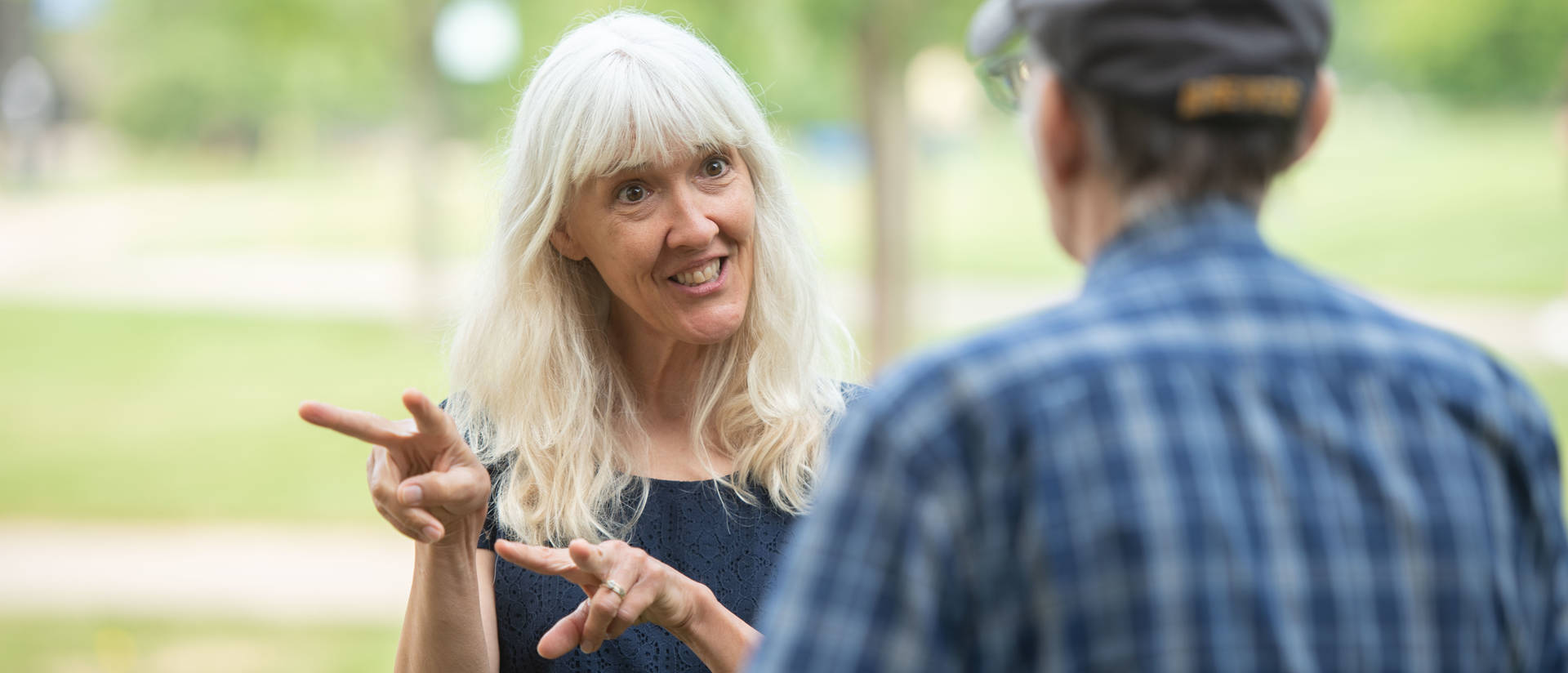 Explore the American Sign Language studies certificate at UW-Eau Claire
The University of Wisconsin-Eau Claire American Sign Language (ASL) studies certificate allows you to gain a deeper understanding of language and culture within the Deaf community.
Throughout the program, you'll develop a depth of knowledge and skill in the use of ASL, apply semantic and linguistic elements of ASL in your use of the language, appreciate the distinct culture of the Deaf community, and behave according to the social norms of Deaf culture. Courses cover grammar, dialogue, and narrative, including receptive and expressive skills, as well as Deaf culture and historical influences and impacts on the Deaf community through political activism, laws, information access, educational philosophies, and communication systems.
Opening doors to more opportunities and connections, the certificate is available to all UWEC students and is an excellent complement to any major.
Why American Sign Language studies at UW-Eau Claire?
In-demand skills. Did you know ASL is the third most widely used language in our country? The skills you gain through learning ASL are invaluable in almost any career and can help enhance your life, both professionally and personally.
Access to the American Sign Language Honor Society. While pursuing the ASL studies certificate, you'll have the opportunity to join the UW-Eau Claire American Sign Language Honor Society (ASLHS). This is an excellent way to join other students and community members as you work on your expressive/receptive ASL skills while meeting the needs of your local community.
American Sign Language studies certificate curriculum
While completing the American Sign Language studies certificate, your courses will expose you to the key grammatical features, narratives, target vocabulary and cultural norms of ASL. Your studies will focus on nearly every aspect of the language — from the specific grammar and mechanics to the cultural perspectives of the Deaf community. Through this work, you will gain sensitivity and understanding of Deaf culture and Deaf history perspectives within a global society, which will benefit you in your future career while communicating with others.
What classes do American Sign Language studies students take?
Your classes may cover topics like:
American Sign Language
Cultural perspectives of the Deaf
American Sign Language linguistics
Learn more about the American Sign Language studies certificate in the UWEC course catalog.
American Sign Language (ASL) placement screening is used to determine the appropriate course level for students who have prior experience with ASL. The information obtained through the placement screening interview will be used to help determine which level will best meet your ASL skills and support your learning. Please keep in mind, even if you took an equivalent course at another institution, there are different course outcomes, number of credits and ASL curricula, so placement screening is necessary to determine the best course for you at UW-Eau Claire.
Students who are successful at the placement exam are those who have recently taken a formal ASL class, were taught in a voices-off environment or learned the language from a Deaf family/community member and are willing to do self-review prior to taking the next course.
If you are interested in a placement screening, please fill out the e-form below. An interviewer will then contact you to set up an interview. It will take approximately 20 minutes and will be completed either in person or via a video interface. You will be asked a series of questions in a conversational style. It will be conducted in ASL only, with no vocalizing or speaking allowed.
You will be assessed on:
Fluency in use of ASL.
Comprehension abilities of conversation in ASL.
Proper use of ASL grammar.
Use of ASL vocabulary in discourse.
Articulation (clarity of sign production, flow and cadence between signs).
Cultural norms in conversation.
Related programs at UW-Eau Claire
Thinking about earning a certificate in American Sign Language studies? Here are other programs you may be interested in exploring.