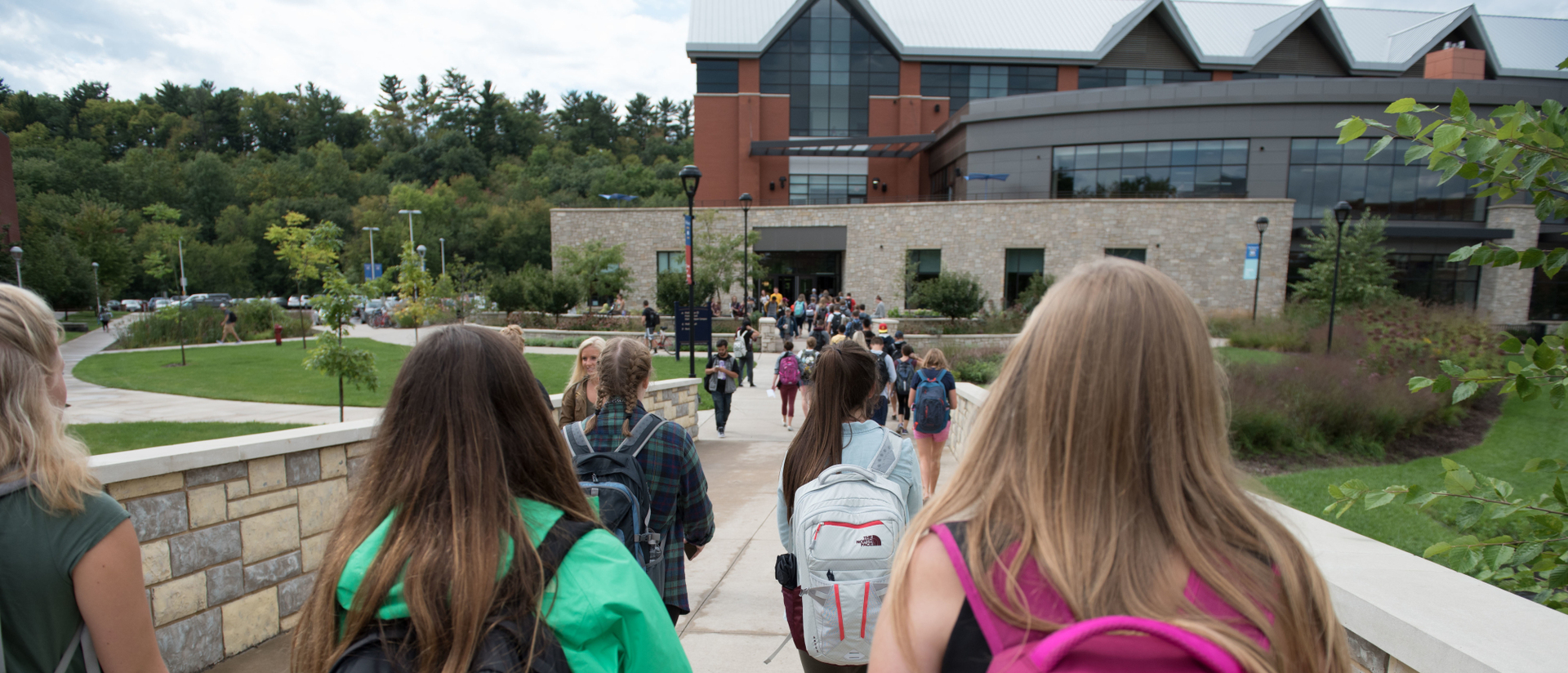 UW-Eau Claire's host friend program is an excellent opportunity to be involved with the university atmosphere, learn about a new culture, and build life-long international friendships!
As a Host Friend, you can expect to:
Connect with an International Student and welcome them to our community
Assist international students through their periods of transition and cultural adjustment to daily life in America
Introduce students to Eau Claire and American culture - show students where the locals like to go and what they do for fun
Give support during their student's first semester at UW-Eau Claire
Ask questions and learn about your student's culture
Host Friend Handbook
Looking for a detailed outline of what you can expect if you become a Host Friend? Download THE HANDBOOK for all the details!
Frequently Asked Questions
How do I become a Host Friend?

It's simple! To start the process, an online profile (application) must be completed. The profile asks for general information in addition to preferences, attributes, characteristics, common interests, hobbies, likes, dislikes, etc. of which are all reviewed and considered in the matching process. Also, part of the acceptance process is a phone interview, background check, and two reference checks. After the online profile has been submitted, the Community Outreach Coordinator will contact you via email for the next steps.

You can apply to the Host Friend Program here:
Do I have to be married or have children?

Host Friends may be single, married, domestic partners, retired, or families with children. Host friends live in the Chippewa Valley community and are volunteers. The only exception is that host friends cannot be current, traditional UW - Eau Claire students.
How long do students stay with Host Friends?

The required homestay is typically 2-4 days and is the weekend before international student orientation week. To review semester homestay dates, please refer to the website. After the homestay weekend, it is the responsibility of the student and host to stay in contact with one another for the first semester the student arrives. We highly encourage students and hosts to maintain contact at least once a month.
What if we have a vacation planned?

Once the students have settled into their life in Eau Claire, they generally become very independent. We encourage hosts and students to maintain contact at least once per month during the student's first semester at UW-Eau Claire, but you should continue to go about your life as you normally would, including vacations.
Can we host more than one student at a time?

Yes! Some Host Friends host two or more students at once. Many who have continuing students will host additional new students in subsequent semesters.
Can I request a student from a certain region?

Yes. The Center for International Education encourages interaction between host and students of all cultures. However, if there is a particular region you have a connection to we will try to match you with a student from that region.
Do I have to provide a separate bedroom?

No, we do not require that the student to have a separate room during the homestay. We do require the student has a place to sleep and still be able to maintain some privacy. If they will be sharing a room with a household member or another student, we require a single gender room.
Do I have to pick my student up at MSP?

No. Students are required to make their own travel arrangements to Eau Claire. You are asked to meet them when they arrive in Eau Claire, either at the Chippewa Valley Airport or at the Chippewa Valley Airport Service shuttle van terminal.

*Fall 2021 Homestay dates are after the first week of New International Student Orientation and before the first week of classes. For the Fall 2021 semester, Host Friends will not be expected or required to pick up students from the Chippewa Valley Regional Airport or the Eau Claire Shuttle.*
Should I help my student move into the dorms?

Host Friends are expected to bring their student(s) to the student's specific UW - Eau Claire campus residence hall on move-in day and may need to help the students move their items into the residence halls. Upon arriving to the residence hall, the student will go to the front desk of the residence hall to obtain key code and residence hall assignment.
How long do students attend UWEC?

International students study at UW-Eau Claire for varying lengths of time. Some students are on a semester or year exchange, and others are degree seeking students who will be in Eau Claire for two or more years. Other students come for the Intensive English Program (IEP) specifically to learn English.
Which countries are represented?

The international students at UW-Eau Claire represent over 40 different countries and from regions all around the world.
What can I do with my student?

The possibilities are endless! Here are a few ideas to get you started:

Downtown Eau Claire Farmers Market
See a movie
Visit Oakwood Mall
Go to the Chippewa Valley Museum
Take the sculpture tour
Make an American meal
Have your student cook a traditional meal from their home country
Play American board/card games
Go grocery shopping
Tour upper campus
Visit Big Falls/Little Falls.

Remember that what may seem like a simple activity to you could be a very memorable and impactful experience to a student. For example, grocery stores are so unique to each country and students love seeing how we live our typical daily lives!

Also, keep in mind many students may be anxious to purchase toiletries or other miscellaneous school items they may not have had room for in their suitcase, so taking time for them to go purchase these items at an area store may be a good idea!
Do I need to provide housing during breaks?

No. You are not required or obligated to house students nor their visiting family members after the initial homestay weekend. Select residence halls are open on campus during holidays and extended breaks that students are welcome to stay at. Host Friends also receive information on this in the monthly Host Friend Newsletter. Students should contact the Housing office or their Hall Director for additional information.