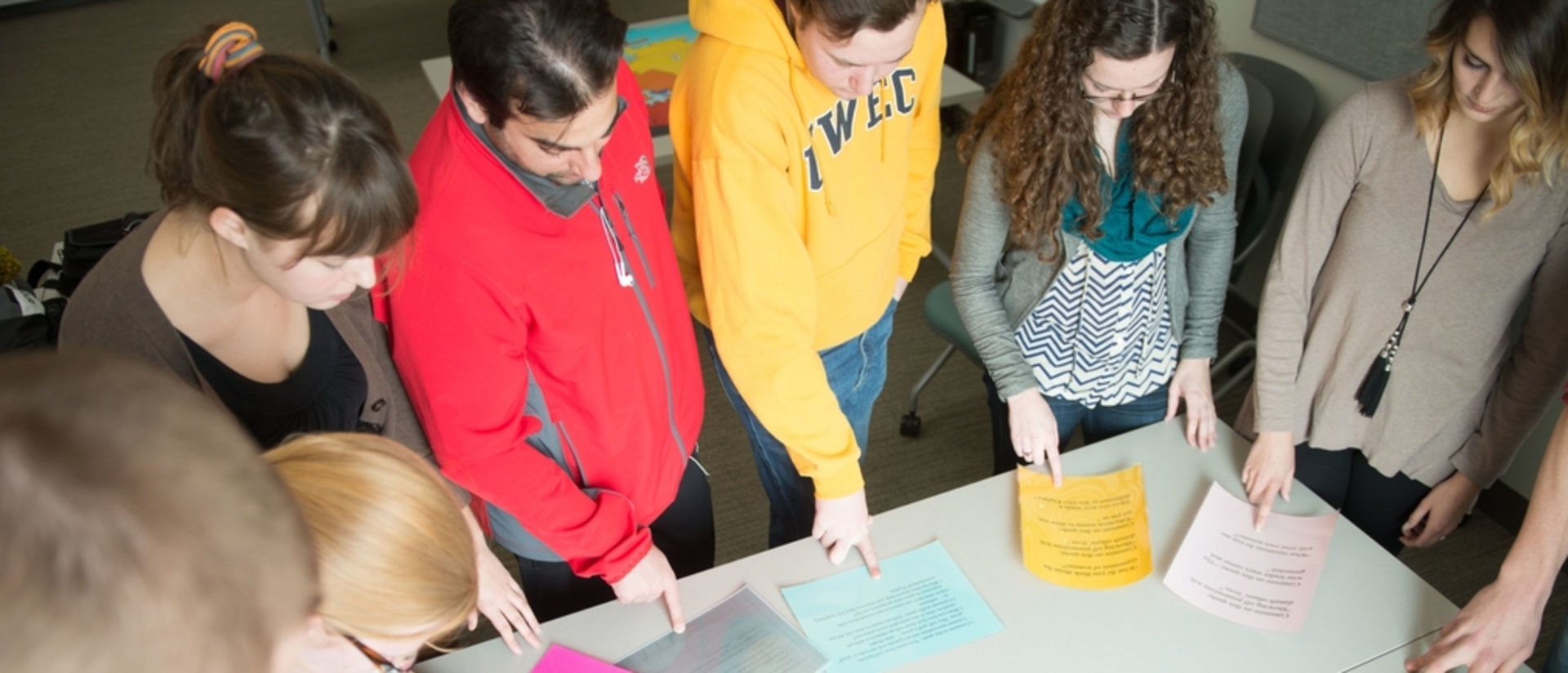 Getting certified to teach
Do you have a degree in a subject area that you are passionate about and want to get certified to teach that subject? Maybe you have a degree in one area and want to become certified to teach a new area of interest or one that is in high demand. If this is you, we may have a program for that!
Whatever your specific situation, you need to start by applying for admission to UW-Eau Claire as an undergraduate post-baccalaureate student seeking a teaching certification or second degree. The steps are spelled out on our admissions site. Click the admissions box below or read through our Frequently Asked Questions about post-baccalaureate certification.
Do I need to apply if I'm already accepted?

Yes; admission into the Teacher Education Program (TEP) is a separate process from admission to UWEC. Admission into the TEP is selective and competitive, with no guarantee of acceptance. All students compete on an equal basis for admission. You must complete any prerequisite requirements prior to applying for admission to the Teacher Education Program. Students apply to the program after first successfully completing the pre-program field experience course (ES 203, ES 212, or SPED 205).
How far in advance should I apply?

We recommend you apply at least one full semester or more prior to your desired entrance term. The sooner you apply, the more likely you are able to enroll in the classes that you need. If you apply after our registration period has occurred for the next semester, then your class selection may be limited.
Requirements for admission into TEP

You are required to complete the CORE or PPST/Praxis I with passing scores or have achieved passing scores on the ACT or GRE or SAT and enroll in the first field experience course prior to application to the Teacher Education Program. A minimum GPA of 2.75 is also required. When passing exam scores or the minimum GPA is not achieved, you may need additional time to complete your degree and certification requirements. Due to the competitive nature of the program, we recommend a higher GPA than the required minimum at the time of application to the program.
What is the Praxis CORE exam?

The Praxis CORE exam is the CORE Academic Skills Tests for Educators in mathematics, reading, and writing. It is not required for admission to UWEC. However, you must have passing scores on record prior to completing the first teacher education course, ES 212, for the secondary programs (grades 6-12 and K-12). The Special Education and Elementary/Middle Education certification program require you to pass the test prior to application to each program. If you have achieved a composite ACT score of 23 with minimum sub-scores of 20 on English, 20 on Math, and 20 within 10 years of applying to the program, you may not be required to pass the CORE.
What transcripts are required?

You must submit official transcripts from each college or university you attempted or earned prior credits. You are not required to submit high school transcripts. The application is available online.
How soon will the certification letter come?

You will receive your letter in approximately 4 weeks following admission to the university.
Can I receive an evaluation before admission?

We strongly suggest that you follow our application process and seek official admission, as it is in your best interest. If you are accepted to UWEC, your credits will be evaluated against the certification requirements and an official certification letter indicating your remaining coursework, field experiences, and exams will be issued to you in 3-4 weeks. You should seek out an advisor in the department of your subject area at that time.
Certification Program Option Questions
Does UWEC offer alternative certification?

We do not have any certification programs that are strictly evenings only, weekends only, or distance learning at this time. While you may be able to enroll in selected classes in the evening, summers, or online, most courses are offered during the day over the course of our regular academic year. To find out about alternative certification programs in the state of Wisconsin, please see this section of the Department of Public Instruction's website.
Can a part-time student get certified?

Yes, you may be able to take some of the initial coursework on a part-time basis for several semesters. However, during specific semesters (i.e. BLOCK and Student Teaching) you would need to attend classes on a full-time basis due to the required field experiences in a school setting.
Does UWEC offer any "fast-track" programs?

Unfortunately, we do not offer any "fast-track" programs at this time. You would need to enroll in the traditional undergraduate program and follow the sequence of coursework.
Can I complete a master's at the same time?

Unfortunately, we do not currently have a full graduate program which enables you to become a certified teacher simultaneously. There are some courses which have the option of graduate credit.
Do I have to complete any gen-ed's?

Your previous credits will be evaluated against the teacher education requirements. If your transcript does not show specific general education requirements that are required by the Wisconsin Department of Public Instruction, you may have to complete some lower division coursework (100/200 level) required for teaching certification.
Certification Timing Questions
How long will certification take to complete?

The amount of time it will take you to complete a teaching certification will vary by student. The amount of time is dependent on the number of credits you need to earn in order to become certified, based on your previous coursework. If you are able to enroll full time, you will be able to finish the program more quickly.

If you have completed the coursework for the subject/major completed by your previous degree it will take you 2 - 2 ½ years to complete your coursework. This timing includes one semester of full-time student teaching assuming you are enrolled full time.

If you have completed a similar minor in a previous degree, you are still required to complete a major in a subject area which UW-Eau Claire offers for teaching certification. Your minor credits may count towards a major in that subject area, which would reduce the amount of credits you need to take. In order to be certified to teach, you ultimately need to complete a major in a subject area.

If your previous degree is unrelated (Example: want to teach English, but degree is in business.) In general, it may take up to 3-3½ years of full time.
Elementary/Middle education certification

Elementary education or MCEA (Middle Childhood through Early Adolescence) has very specific coursework requirements to enable you to teach a variety of subjects in the classroom. This means even some of the general education course requirements may not be met by a previous degree. Depending upon previous coursework, it is generally 2-3 years of full-time study to complete the program for elementary education. Students with some prior education coursework may be able to finish sooner.