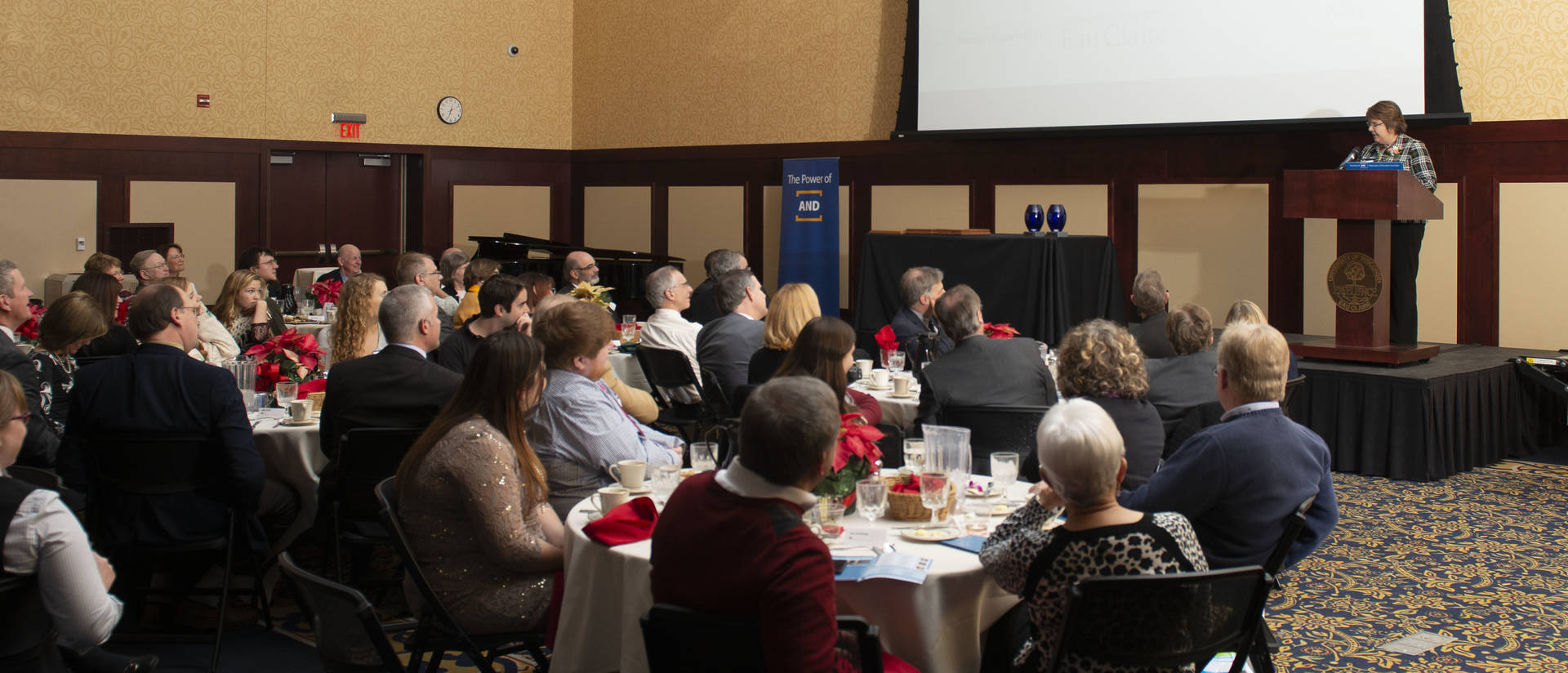 Our special education grads take with them a comprehensive set of skills and methods, an understanding and appreciation for all students, and a desire to transform lives through dynamic teaching. And guess what? Schools around Wisconsin have taken notice. With a placement rate over 90 percent, our grads are being scooped up by elementary, middle and high schools looking for teachers who know how to help all children succeed at their highest potential.
Award-winning alumni are also not hard to find, like special education alumna Lynne Kohlhepp in the photo above. Not only did Lynne earn recognition from the UW-Eau Claire Foundation as an Alumni Award recipient, she was also presented with the Wisconsin Special Services Teacher of the Year award in 2014 by the state's Department of Public Instruction. She is just one shining example of Blugolds making lives better for children, families and communities.
Blugolds teaching far and wide
It's hard to speak about a service profession like teaching purely in terms of marketability, because those seeking to become special education teachers are driven by so much more than market stats. It takes compassion, determination, desire to give back to the community, and above all a need to help others succeed. You can't really summarize those outcomes in job numbers, but ours speak for themselves.
When we say that finding work in special education will not be hard, we aren't exaggerating. For instance, the class of 2014 saw 57 special education grads landing jobs in 54 different districts throughout Wisconsin and Minnesota, one in Pennsylvania, one in Utah and one in Ecuador. Your skills will be in high demand no matter where you choose to seek a job, and your impact on children will be personally fulfilling and rewarding.
What are Blugolds doing with their special education degree?
In addition to traditional classroom teaching, your special education degree or minor can prepare you to work in other fields, such as our alumni in the following careers:
Special education paraprofessional – Eau Claire, WI
Mental health retreat director – Minneapolis, MN
Personal care assistant – Milwaukee, WI
Life coach – Chicago, IL
University accommodation specialist – Madison, WI
Transition coordinator – Chippewa Falls, WI
Middle school principal – Woodbury, MN