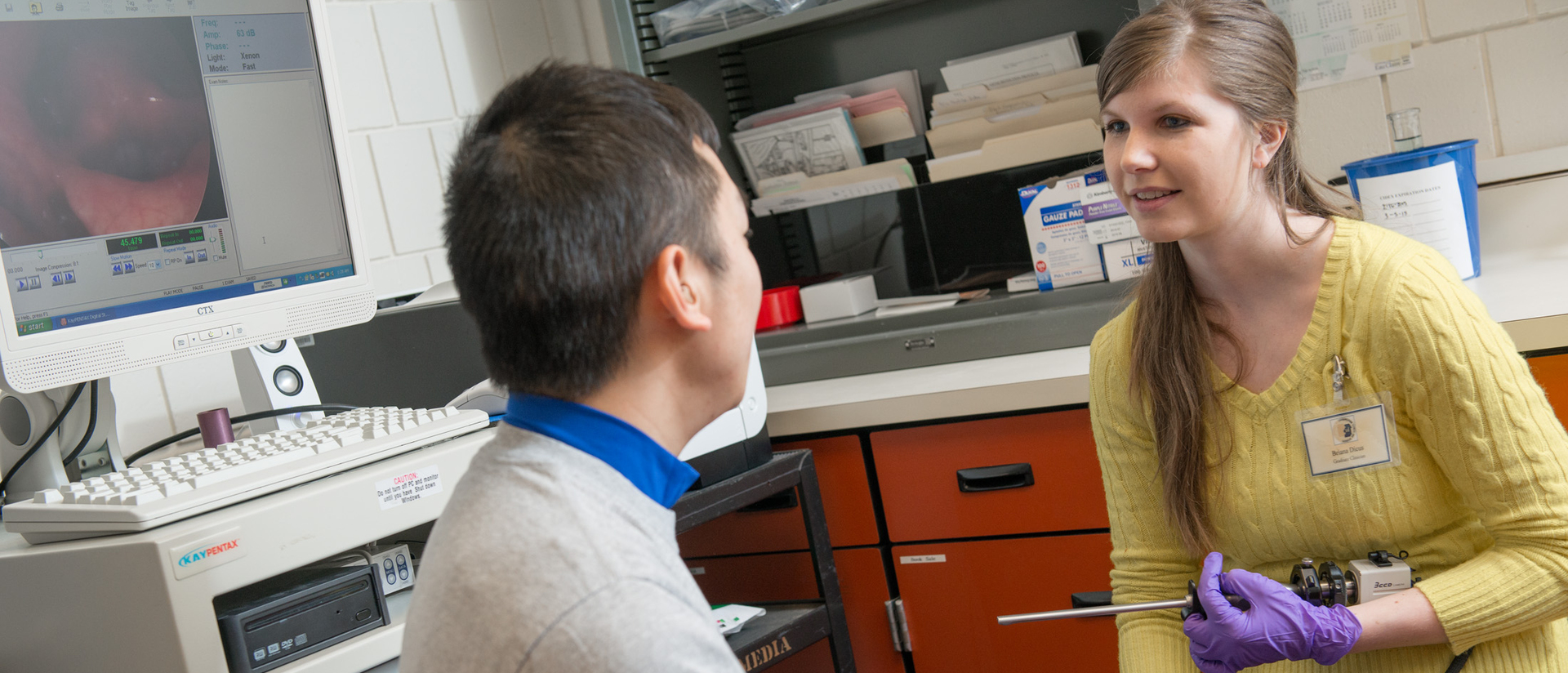 Not your typical classroom
Within the communication sciences and disorders department our students have many opportunities for learning outside of the classroom. Our on-campus lab facilities allow undergraduate and graduate students invaluable experience and the opportunity to work with clients while under supervision of a licensed clinical supervisor. These experiences give our students the knowledge and skills they need to be successful during their externship experiences and in their professional careers.

Center for Communication Disorders (CCD)
The Center for Communication Disorders is an integral part of the department of communication sciences and disorders (CSD). The CCD serves as a clinical training site for undergraduate and graduate students who plan to pursue a career in speech-language pathology or audiology. It is a regional resource for individuals of all ages who struggle with communication challenges.
Our clinic houses 20 treatment rooms equipped with video technology and facilities for observation. Evidence-based speech and language services are provided by our students under the supervision of CSD clinical supervisors who carry certification of the American Speech-Language-Hearing Association.
Mobile Audiology Lab
Our Mobile Audiology Lab features diagnostic instruments for testing clients' hearing and middle ear function. Students work under the direct supervision of licensed speech-language pathologists or audiologists to provide this testing in the CCD or at sites throughout the community.
Augmentative and Alternative Communication (AAC) Lab
Our augmentative and alternative communication (AAC) lab houses a variety of communication supports, assistive technology, and resources to support service delivery to our clients with complex communication needs and their families. The lab is equipped with a video recording system and includes informal seating to support social and conversational group sessions.
The CSD graduate program provides its students with phenomenal opportunities to enhance their academic knowledge and skills, clinical practice, as well as pertinent dispositional skills for working with diverse families and individuals.
Mobile Voice and Speech Lab
Our Mobile Voice & Speech Lab houses state-of-the-art tools for evaluating voice and speech function for clinical and research purposes. Students receive specialized training in acoustic voice analysis, aerodynamic voice analysis, and videostroboscopy, which is a technique to view the vibrating vocal cords.
Adult and Pediatric Large Group Labs
Two spaces within the CCD are designated for large group therapy sessions. Each room is equipped with a video recording system. The adult group space facilitates work with adults with a variety of communication challenges in a naturalistic setting. The pediatric group space provides a fun, functional space for children to learn and practice their skills in small groups while our students gain experience in a classroom-type space.