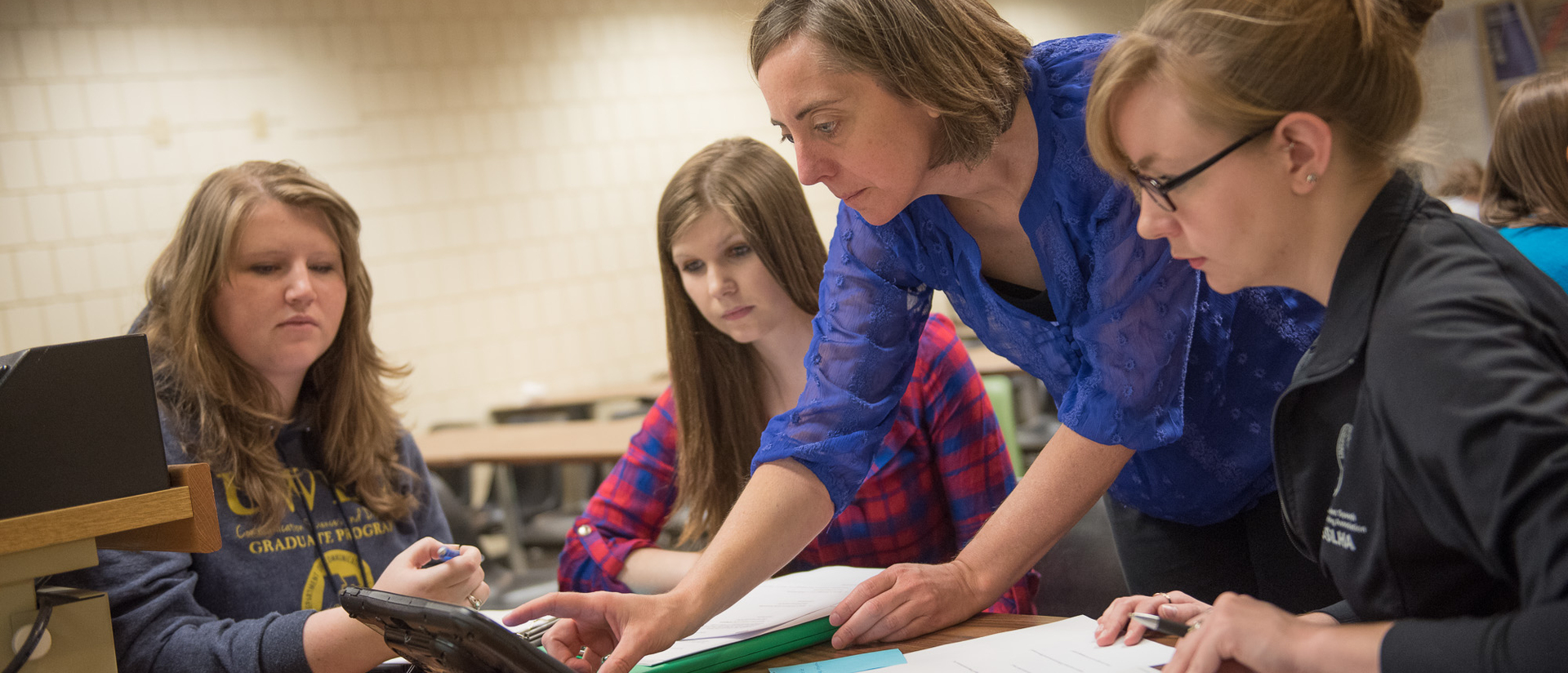 Let's talk career opportunities
The UWEC Communication Sciences and Disorders program is dedicated to developing critical thinking, knowledgeable, and compassionate professionals. The high standards we expect from our students means our graduates are highly sought after professionals even before graduation. Our graduate program boasts 100% of graduates obtaining a job in the field within one year of graduation!
Find out what our graduates are doing now
Did you ever wonder what you can do with a degree in Communication Sciences and Disorders? There are many different options and opportunities for graduates of our undergraduate and graduate programs.
Our undergraduates pursue one of two paths

Continue their education

Master's degree in speech-language pathology
Master's degree in special education, early childhood education, social work, vocational rehabilitation, family services
Audiology doctorate
Sign language interpreter

Enter the workforce

Speech-language pathology assistant
Classroom paraprofessional
Medical supply representative
Hospital unit clerical support
Nonprofit agency staff or administration
Autism line therapist
Graduate students have a number of options

Pursue a doctoral degree in speech-language pathology/sciences
Pursue a career as a speech-language pathologist
Job Opportunities for Alumni
We are happy to share job openings and opportunities with our graduates! Please see the opportunities and contacts below. Check back frequently, as we post new opportunities as we receive them.
Stockton Schools - Illinois

Stockton Schools
Illinois
Job Posting Date: 6/2/2023

Job Description / Summary

Speech Language Pathologist opening in Stockton school district.
Stockton is a wonderful community in Northwest Illinois about 30 minutes from Galena.

Benefits

We provide 80% full family insurance and a competitive salary.

About Us

Additional Information / To Apply
Points Of Stillness - Hudson, Wisconsin

Points Of Stillness
Hudson, Wisconsin
Job Posting Date: 5/30/2023

Job Description / Summary

Is it your dream to be part of a dynamic pediatric clinic that provides the highest quality therapy and support to clients and families?

Points of Stillness, a dynamic OT and Speech clinic is seeking a Speech and Language Pathologist CCC/SLP to join our passionate team.

CFY therapists are encouraged to apply.

Our clinic offers quality cutting-edge occupational and speech-language therapy and is in need of a speech and language pathologist to serve children and young adults.

We have a beautiful building with light-filled treatment spaces and a highly supportive cohesive team that offers excellent, experienced mentorship and continuing education opportunities on and off site.

Each staff member completes the Strengths Finder© assessment to identify their personal strengths and is encouraged to find their passion in service to clients. This lends insight into personal strengths as well as the strengths of others on the team and fuels our drive for excellence and supportive teamwork.

Pediatric experience and a passion for helping children is required.

Benefits

All staff are treated to a health and wellness program to enhance personal growth and potential. This program is valued at over $2,000 and is offered at no charge as a bonus to new hires!
We believe strongly in work/life balance, do not have stressful productivity requirements, and offer flexible schedules.
Competitive hourly pay based on experience.

About Us

Additional Information / To Apply
Speech-Language Pathologist Employment Opportunity- Part-time

Speech-Language Pathologist Employment Opportunity- Part-time
Chippewa Falls, Wisconsin
Job Posting Date: 5/23/2023

Job Description / Summary

We are looking for a part-time SLP to partner with our current SLP 2-3 days/week with an established, hard-working and fun team in the Chippewa Falls area! The position is based in a skilled-nursing facility and will include occasional assisted living and home health visits.
The position would have set days and include a BCAT membership, MedBridge subscription and be eligible to participate in our retirement plan with a match up to 3%.

About Us

We are a privately owned by a Physical Therapist, we have been serving our clients in West-Central Wisconsin for just over 20 years! We provide comprehensive rehabilitation services to include physical therapy, occupational therapy, and speech therapy. We offer our clinicians a positive work environment, flexibility, and set realistic performance expectations to ensure our patients receive the highest quality of care possible.

Additional Information / To Apply

Kristy Bina, Human Resources Manager, Midwest Physical Therapy
Phone: 715-568-4669
Mobile: 715-450-2204
Fax: 715-568-4673
www.midwestpt.net
Spring Lake Park School System - Minnesota

Spring Lake Park School System
Northpoint Elementary School, Minnesota
Job Posting Date: 5/23/2023

Job Description / Summary

This position will work with students district wide and their families, servicing students in General and Special Education settings within Northpoint Elementary School, grades K-4.
The ideal candidate will provide excellent instruction and case management skills to students with speech/language and other types of disabilities. This includes:

Providing direct instruction to students
Working collaboratively with school staff and family homes, while managing all aspects of due process procedures and mandates
Communicating with parents to provide regular updates on student successes and challenges.
Collaborating with principals, special education coordinator and staff, and professional learning communities, to ensure student needs are being met
Maintaining student records of services provided, following Due Process best practices and compliance.
Firmly believes:

All students can and will learn, and that their learning can be directly influenced by focusing on factors over which we have control.
In the need to work in partnership with staff to continuously improve practices to enhance student and family engagement, creating the conditions for equity, excellence and student success.
In personalizing learning for students, meeting academic, social, and emotional needs and aspirations so that each student feels valued and has a sense of belonging, leading to academic success.

Qualifications

M.A./M.S. or Ph.D. degree
Current Minnesota State Licensure in Speech Language Pathology
Creative planning and organizational skills,
Highly effective interpersonal skills
We will consider and support clinical fellows who are looking to gain authentic school speech experience.

Salary

Highly competitive salary and benefit package for the region

About Us

Welcome to Spring Lake Park Schools! We are a vibrant school community serving about 6,200 students from the suburbs of Blaine, Fridley and Spring Lake Park, in the northern Minneapolis-St. Paul metropolitan area. Our district purpose -- "High expectations, high achievement for all. No excuses" – provides our focus to meet the unique and varied needs of each student.

Spring Lake Park Schools is recognized for our commitment to personalized learning, creating a culture of innovation and creativity through human-centered design thinking. We are working to create a system – a culture with a methodology and set of processes – where teachers and staff have the freedom, flexibility and invitation to design new ways of learning centered around deepening student engagement to continuously improve student success.

Additional Information / To Apply
Osseo-Fairchild School District, Wisconsin

Osseo-Fairchild School District
Wisconsin
Job Posting Date: 5/18/2023
Job Vacancy ID: 174764

Job Description / Summary

The O-F School District is hiring one Speech and Language Pathologist. Our district has two SLP's that work closely together.
Start Date: August 15, 2023

Qualifications

Degree Required: Master
License: Speech/Language Pathologist

Additional Information / To Apply
Malama Speech Therapy - Maui, Hawaii

Malama Speech Therapy
Maui, Hawaii
Job Posting Date: 5/16/2023

Job Description / Summary

Malama Speech Therapy is hiring SLPs for school & outpatient positions in Hawaii (on Maui).

Additional Information / To Apply
Clinical Fellows -New Hampshire & Maine Placements 2023-2024 School Year

Clinical Fellows
New Hampshire & Maine Placements
2023-2024 School Year
Job Posting Date: 5/12/2023

Job Description / Summary

Boothby Therapy Services provides a unique Clinical Fellowship experience. Support is the foundation of our program. Each Clinical Fellow is placed with an experienced and highly-qualified Related Services Manager who provides hands-on support customized to their needs. When you join our team, you're immersed in a network of experienced professionals that foster a culture of empowerment, honesty, and excellence.
We are now offering a $20,000 sign-on bonus for Clinical Fellows, but spots are limited.

Additional Information / To Apply
Watertown School District - Watertown, South Dakota

Speech Language Pathologist
Watertown, South Dakota
Job Posting Date: 5/10/2023

Job Description / Summary

The Watertown School District is looking for a Speech Pathologist to provide speech/language therapy services for individuals from birth to twenty-one years who are identified with communications disorders.
Responsibilities include:

Plan and prepare for students on caseloads.
Develop written IEPs for each student.
Follow state regulations regarding continuing education requirements.
Remain up-to-date with current research and therapy techniques.
Administer and interpret appropriate diagnostic testing, identify students' areas of strength and need, and monitor student progress on a regular basis.
Manage and/or collaborate in conferences covering student eligibility, placement, IEP development, and annual reviews.
Develop and maintain an environment conducive to effective learning
Utilize effective methods and employ a variety of techniques appropriate to the maturity, interests, and needs of the student.
Maintain accurate and complete records as required by law and by Watertown School District guidelines.
Assess, diagnose, treat, and advise on the prevention of communication disorders related to language, cognitive-communication, voice, fluency, swallowing, speech articulation, and hearing.
Collaborate with appropriate professional staff regarding student educational and therapy programs.
Participate in and observe classroom activities of students on caseload.
Work to establish and maintain open, positive lines of communication with students, parents, and staff concerning speech/language therapy.
Perform other duties as assigned by the Watertown School District.

Required Qualifications

MA or MS in Speech Language Pathology and South Dakota specialist certification.

Additional Information / To Apply
Long-Term Sub Opportunity - Marshfield School District, Marshfield, WI

Long-Term Sub Opportunity
Marshfield School District, Marshfield, WI
Job Posting Date: 5/10/2023

Job Description / Summary

The Marshfield School District is looking for a long-term SLP substitute.
Tentative dates: September 13th-December 6th.
Work with 4K-6th grade students at one elementary school in Marshfield.

Additional Information / To Apply
Speech Language Pathologist - School District of Maple, WI

Speech Language Pathologist - School District of Maple
Wisconsin
Job Posting Date: 5/3/2023
Job ID: 173457

Job Description / Summary

The School District of Maple is seeking a full-time Speech/Language Pathologist (CCC or CFY) to serve students district-wide.
Contract is for 188 days which includes 7 staff development days and 3 paid holidays.
Start date of the contract is August 24, 2023.

Required Qualifications

Candidate must possess or have the ability to obtain Wisconsin Department of Public Instruction Speech/Language Pathology License (#1820).
Ability to evaluate and program for students who exhibit a full range of communicative disorders including language, articulation (speech sound disorders), fluency, and voice/resonance that affect educational performance.
Plan and implement appropriate services and collaborate with parents, teachers, and other professionals.
Implement a variety of service delivery models such as direct speech and language therapy within an individual or small group setting as well as within the general education classroom.
Ability to create Individualized Education Plans (IEPs) and have the ability to monitor a student's progress in regard to meeting IEP goals.

Salary & Benefits

Minimum base starting salary is $55,000.
Full-Time position with great health, dental, and life insurance benefits
Hires who possess or have the ability to obtain Certificate of Clinical Competence (CCC-SLP) from American Speech-Language-Hearing Association (ASHA) are eligible for a $2,000 annual stipend.

About Us

The District of Maple is located in the northernmost part of Wisconsin along the beautiful south shore of Lake Superior. It includes the Towns of Amnicon, Brule, Cloverland, Hawthorne, Highland, Hughes, Iron River, Lakeside, Maple, and Oulu, and the Villages of Lake Nebagamon and Poplar. Including parts of Douglas and Bayfield Counties, the District covers a rural area of approximately 500 square miles and is home to more than 8,000 people.
The District features many beautiful lakes, rivers, forests, and parks. The Tri-County Corridor, a trail extending 65 miles from Superior to Ashland, attracts those who enjoy snowmobiling, cross-country skiing, horseback riding, four-wheeling, hiking, running, and biking. You will find that the greater Maple area offers an exceptional quality of life with a below average cost of living.
We are located approximately 30 minutes southeast of the Twin Ports area of Duluth, MN and Superior, WI. This is a metropolitan area of approximately 115,000 people and has many amenities of a big city without the congestion. The area includes four colleges and universities: UW-Superior, UM-Duluth, St. Scholastica, and Duluth Business University, along with two technical colleges: WITC-Superior and Lake Superior College. The Twin Ports area offers many parks, museums, shopping centers, recreational facilities, and endless opportunities along the shores of Lake Superior.
The School District of Maple has an excellent reputation locally, regionally, and statewide. The students excel in both academic and co-curricular activities. We achieve a high level of expectations and excellence as a result of effective, quality staff members and programs.

Additional Information / To Apply
Speech Language Pathologist - Pinecrest Elementary - Hastings, MN

Speech Language Pathologist - Pinecrest Elementary
Hastings, MN
Job Posting Date: 5/2/2023
Job ID: 1292

Job Description / Summary

Start Date: August 2023
Responsibilities & Duties

Participate in a multidisciplinary team for evaluation/assessment of children, working closely with a child's family, and in the development of integrated goals and outcomes for IEPs.
Deliver specialized speech/language services as outlined in IEPs and IFSPs
Implement a variety of service delivery models including:

Small group
Individual in-person
Indirect/consultation

Educate parents and others regarding the provision of services
Utilize a variety of materials and teaching techniques including evidence-based practices
Consult with general education teachers, parents, other service providers to ensure the effective provision of services
Provide indirect and direct services to individual students on IEPs for students to receive meaningful benefit in the general ed. curriculum
Collaborate with educational staff about student needs and progress
Plan and conduct a system of continuous progress monitoring for each student on you caseload
Encourage and instruct parents and educational staff in appropriate methods to assist their child
Participate in meetings including IEP for the purpose of developing plans and/or providing information regarding student's goals/outcomes
Prepare documentation (evaluation, observations, progress reports) and maintain records as required and for compliance with district administrative policies, state and federal rules and regulations
Provide and maintain Third party billing documentation for eligible students
Provide IEP case management
Maintain confidentiality
Responsible to Director/Assistant Director of Special Services
Other duties as assigned

Required Qualifications

Licensed as a Speech Language Pathologist by the Minnesota Professional Educator Licensing and Standards Board (PELSB)
Master's Degree in Speech-Language Pathology
Experience working with a wide variety of communication needs
Experience in due process procedures and paperwork including conducting evaluations/assessments, writing IEPs, progress monitoring and meeting facilitation
Excellent oral and written communication including report writing and family interview skills.
Ability to be flexible based on program and student needs
Knowledge of all due process requirements and strong computer skills
Ability to adapt equipment and materials for children with disabilities
Strong organizational skills
Ability to work with students, families, professionals and staff of various cultural and ethnic backgrounds
Ability to interact with and maintain cooperative relationship with all levels of staff and the public

Preferred Qualifications

Experience working with elementary age students as a Speech Language Pathologist
Experience working in a school or education setting
Current Certificate of Clinical Competence (CCC-S/LP)

Salary & Benefits:

Per Teacher's Master Agreement 2021-2023 (found on Hastings Public Schools Website)

Additional Information / To Apply
Speech/Language Pathologist - Cadott Elementary School - Cadott, WI

Speech/Language Pathologist - Cadott Elementary School
Cadott, WI
Job Posting Date: 5/2/2023
Job ID: 167886

Job Description / Summary

Cadott Community School District is seeking a full-time Speech Language Pathologist for the 2023-2024 school year.
The successful candidate will possess the ability to assess speech and language needs based upon eligibility criteria, plan and implement IEP goals based on individual student needs, effectively facilitate the IEP process, communicate effectively with parents, staff, and students, work collaboratively with general education teachers in IEP implementation, integration and transition, and develop programming for students with varying degrees of abilities.
The candidate must be able to provide a variety of service delivery models to students with speech and language needs.
Knowledge of various communication devices, as well as formal/informal speech/language assessments, and the ability to develop reports and IEP's is required.
This position may entail working with students in grades pre-kindergarten through 12th grade. However, the position currently serves students ages 3-9.

Qualifications

Applicants must hold a Wisconsin Department of Public Instruction (DPI) certification as a Speech/Language Pathologist (1820).
Degree Required: Master
License: Speech/Language Pathologist

Additional Information / To Apply
Southern Minnesota Education Consortium - Austin, MN

Southern Minnesota Education Consortium
Austin, MN
Job Posting Date: 4/27/2023


Job Description / Summary

Speech Language Pathologist 1.0FTE
SMEC is an education district made up of seven member districts that offers special education services and programming.
The SLP will be responsible for providing services to qualifying students in grades PreK-12 amongst various locations throughout the SMEC Consortium.

Qualifications

MN Licensure in speech therapy and an MA or MS degree in Speech and Language.

Pay and Benefits

Competitive pay based on skills and experience.
Insurance benefits are available to full-time employees and part-time employees who work at least 30 hours per week.

Additional Information / To Apply

TO APPLY FOR THIS POSITION, PLEASE SUBMIT COVER LETTER, APPLICATION, AND RESUME TO:
Southern Minnesota Education Consortium
Attn: Human Resources
21697 State Hwy 56
Austin, MN 55912
Applications can be found at www.smec.k12.mn.us under "Employment".
UP Rehab Services - Various Locations, MI

UP Rehab Services
Various Locations - MI
Job Posting Date: 4/26/2023


Job Description / Summary

Join our UP Rehab Family! As a growing rehabilitation service provider with many locations and healthcare settings, there are always new career opportunities available.
Our team of licensed Speech-Language Pathologists provide expert care to patients of all ages with patience and compassion.

Current Positions Open

Houghton, MI - Speech Language Pathologist
Iron River, MI - Speech Language Pathologist

Additional Information / To Apply
Speech-Language Pathologist, Clinical

Speech-Language Pathologist, Clinical
The Valens Group, Chicago, IL
Job Posting Date: 4/25/2023


Job Description / Summary

The Valens Group is currently seeking clinical fellow speech-language pathologists interested in joining a team of passionate and caring clinicians. The Valens Group is a multidisciplinary team that offers family-centered services to children within the home and clinic setting. We are currently looking for compassionate and enthusiastic therapists who would like to truly make a difference in the lives of families and their children. At The Valens Group you will receive ongoing support, guidance, and mentorship throughout your clinical fellowship year and beyond! If this position resonates with you and you think you would be a valuable asset to our team, please apply below. We look forward to hearing from you!

Qualifications

Passion for working with the pediatric population
Ability to collaborate with a variety of disciplines, families, and community members
Ability to foster meaningful connections with children and their families
Commitment to learning about evidence-based practices
Excellent written and oral communication skills
Experience working with children with a variety of communication disorder types and delays
Ability to obtain IL Early Intervention credentialing upon hire
Consistent and reliable transportation
Master's Degree Required

Benefits

Flexible scheduling
Opportunity to provide on-site and teletherapy services
Competitive compensation
Continued education reimbursement
Health insurance contribution
Paid time off
Paid holidays
Monthly team gatherings
Toy and material stipends
Job Types: Full-time, Part-time, PRN Pay: $37.00 - $41.00 per hour

About Us

What sets The Valens Group apart: A caring, responsive, and supportive management and administrative team.

Additional Information / To Apply
Independence School District - Independence, WI

Independence School District
Independence, WI
Job ID: 171097

Job Posting Date: 4/20/2023


Job Description / Summary

The Independence School District seeks candidates for a full time Speech and Language Pathologist.
The primary teaching responsibilities include speech and language instruction in a pull out or inclusionary settings.
We are seeking a candidate who would thrive in a professional learning community that uses student results to inform instruction.
We are seeking a candidate who would find success working in diverse small school district community.

Additional Requirements

Speech/Language Pathologist License.
Bachelor's Degree.
Must be Wisconsin DPI certified with a teaching degree.
Ability to work well with students of varying abilities and diverse populations within small group and individual settings.
Ability to differentiate instruction.
Ability to manage numerous classes at different grade levels. Must possess strong technology skills.

About Us:

The Independence School District is a strong advocate of best practice. Our District educational goals are centered on a Professional Learning Community model. We further support our PLC process with Positive Behavior Intervention and Supports (PBIS), Response to Intervention (RtI), and 21st Century Skills.
Successful candidate(s) for employment in our District need to have a strong working knowledge of the above listed best practice concepts and the Common Core State Standards that are the centerpieces of our District goals.

Additional Information / To Apply
Family Health West Fruita, CO

Family Health West
Fruita, CO
Job Posting Date: 4/18/2023


Job Description / Summary

Family Health West is actively seeking a passionate Speech and Language Pathologist who is eager to continue cultivating our family culture while lending their gifts to our successful Rehabilitation Program. You'll work daily with an extensive rehab team of more than 100 that encourages professional growth and enjoys a genuine connection within our community. We expect a healthy dose of fun, fresh ideas, and diverse approaches to patient care in our pursuit of growth within Family Health West!

Essential Functions

Reliable and punctual attendance is essential; expected to be at job as scheduled each scheduled day.
Communicate necessary information to others as appropriate.
Perform patient evaluations, upon physician referral, to determine problems and goals.
Prepare reports related to speech-language pathology activities, including performance improvement activities.
Document appropriately, on the medical record, all speech-language pathology treatments, assessments and evaluations performed for the inpatient and outpatient population.
Formulate a teaching plan based on identified learning needs and evaluates effectiveness of learning; family is included in teaching as appropriate.
Develop and implement effective treatment program in consultation with physicians. Treat patients in accordance with speech-language pathology standards of care and practice.
Treat patients and their families with respect and dignity; demonstrate sensitivity to psychosocial, cultural, ethnic and religious or spiritual needs of patients and family.
Confer with the individual most closely associated with the patient and keep them informed on patient.
Treat patients of all ages (i.e., pediatric to geriatric), race, gender and disability without bias.
Perform examinations such as swallowing examinations accurately and communicate results in a timely manner to all appropriate members of the health care team. Interact professionally with patient/family and involve patient/family in the formation of the plan of care.
Intercede for the patient, when dietary revisions are necessary to prevent aspiration.
Coordinate and direct patient care to ensure patient's needs are met and facility policy is followed.
Maintain records pertinent to the personnel and operation of the department.
Provide information related to departmental budget considerations associated with speech-pathology needs for optimum patient care and services.
Demonstrate an ability to be flexible, organized and function under stressful situations.
Maintain a good working relationship both within the department and with other departments.
Consult other departments, as appropriate, to collaborate in patient care and performance improvement activities.
Communicate appropriately and clearly to physicians, staff and administrative team.
Participate and maintain performance improvement activities for the department. Complete competency assessments related to personal performance. Participate in CQI activities.
Ensure compliance with policies and procedures regarding departmental operations, hospital fire, safety, and infection control. Maintain medical staff rules/requirements, as well as regulatory body standards.
Participate in departmental education on performance improvement. Attend departmental orientation and in-service training for department staff members. Participate in guidance and educational programs.
Train personnel utilizing on-the-job training for nursing and other facility staff, as well as departmental staff.
Report to work on time and as scheduled. Complete work within designated time.
Maintain standards of professional speech-language pathology society procedures and ethical behavior.
Perform SLP services off campus as directed by Rehabilitation Services Director. Comply fully with FHW Driver policies, processes and procedures.
Willingness to work rotating weekends for inpatient hospital care as assigned.
Willingness to fill in at all rehabilitation department facilities when staffing patterns require.
Maintains patient/resident/employee privacy and confidentiality at all times.

Benefits

Wage Range: $34.46 - $47.31Employee Assistance Program
403 (B) with 4% match from FHW and zero-day vesting schedule
FOR FULL TIME EMPLOYEES WORKING AT LEAST 30 HOURS A WEEK
Medical Plan Options:
PPO plan with copay/coinsurance and lower deductible
High Deductible Health Plan with the option for a Health Savings Account.
Telemedicine includes in both plan options.
Dental
Vision
Life Insurance/ Accidental Death and Dismemberment Insurance
Disability Insurance with a Short- and Long-Term Option.
Critical Illness and Accident Plans
Cafeteria Options: Health Reimbursement/ Flex Savings / Dependent Childcare
A host of other options to include: Pet Insurance, Identity Protection, Travel protection, etc.

Qualifications

Education - Masters or better.
Experience Preferred

Two (2) or more years' experience in Pediatric Therapy.
Prefer ASD, pediatric feeding and/or AAC experience.

Licenses & Certifications Required

License - SLP
Cert – BLS
You may be asking what Fruita and our surrounding areas have to offer. Let me introduce you to your
new, potential home! The Western slope is surrounded by 1.2 million acres of public land and has easy
access to the Rocky Mountains and western Colorado's incredible landscape to enjoy any outdoor
recreation that makes your heart soar.

Immunizations required for employment, including COVID-19.

About Us

At Family Health West, our rural hospital goes beyond what corporate hospitals deliver. Not only are we a physician led hospital, we've created a culture of prosperity where warmth, passion, and care flourishes. As we focus on continually improving outcomes for patients, our network of healthcare providers includes a 25-bed critical access hospital, outpatient surgical services, specialty clinics, emergency services, skilled nursing, and assisted living communities. FHW has one of the largest and most comprehensive Therapy Departments focusing on all PT, OT and SLP therapies. Our comprehensive rehab team provides services to all at our Pediatric Clinic, TAG (the Autism Group) as well as in-patient and outpatient for adults and children.

Additional Information / To Apply

From our Family to yours, what are you waiting for?? Click the Link below to apply now!

https://recruiting.ultipro.com/FAM1007FHW/JobBoard/cd7d40fb-cb7e-4508-99bc-f7fd7aaa9d32/OpportunityDetail?opportunityId=cf05ab73-241a-41e0-aab2-ab9385ff2c03
Anoka-Hennepin School District, MN

Anoka-Hennepin School District
Anoka, MN
Job Posting Date: 4/14/2023


Job Description / Summary

Come be a part of a growing and thriving district! As the largest district in Minnesota, we have over 110 Speech Language Pathologists who each bring their own unique strengths, experience, and expertise to our team. With opportunities to meet as a department and in speech-specific Professional Learning Communities, our SLPs always have a community of support!
We have a Transition Program, 5 High Schools, 6 Middle Schools, 25 elementary schools, 3 early childhood centers, and a thriving Birth-2 program.
We offer a 3:1 Service Delivery Model consisting of 3 weeks of direct service with one week of indirect/collaboration time.
We offer competitive pay and caseloads: Comparable pay to other districts in the metro area. Caseloads based on workload and head count considerations.
Strong teacher contract with opportunities for advancement.
Find out more by reading the information in the documents below:
Top 11 Reasons for Anoka Hennepin
Top 11 Reasons for Anoka Hennepin Brochure

About Us

It is the vision of the Anoka-Hennepin School District to be a public school system of excellence, with high-quality staff and programs and successful graduates. All Anoka-Hennepin staff play a role in preparing students for life - and we are always looking for professionals, parents, volunteers, or community members to join us in providing students a future without limit.

Additional Information / To Apply
SLP - Pueblo School District - Pueblo, CO

Pueblo School District
Pueblo, CO
Job ID: 8975
Job Posting Date: 4/14/2023


Job Description / Summary

We are seeking a Speech Language Pathologist for the 2023 - 2024 School Year.
The primary responsibility of the Speech Language Pathologist is to screen, evaluate, and identify eligible students for speech and language services; design and implement appropriate intervention strategies; collect student performance data and establish and maintain a daily schedule. Provide information relative to communication disorders to students, parents, teachers, etc.

Qualifications

To perform this job successfully, an individual must be able to perform each essential duty satisfactorily. The requirements listed below are representative of the knowledge, skill, and/or ability required. The physical demands, work environment factors, and mental functions described below are representative of those that must be met by an employee to successfully perform the essential functions of this job. Reasonable accommodations may be made to enable individuals with disabilities to perform the essential functions.

REQUIRED:

Valid Colorado Special Services License with a Speech/Language Pathologist endorsement
Master's Degree
American Speech and Hearing Association assessment certification or willing to obtain appropriate ASHA certificate
Employee must complete a fingerprint-based criminal background check and must be cleared by the Office of Human Resources
Must be able to communicate effectively in English, both orally and in writing, using proper grammar and vocabulary


PREFERRED:

Previous experience in a public school setting


SKILLS AND KNOWLEDGE:

Thorough understanding of the principles and practices surrounding speech/language and hearing pathology
Knowledge of the state education code as it applies to general education and the specific accountability of this position.
Knowledge of treatment documentation methods and privacy requirements for data
Ability to write specific learning goals, objectives and outcomes
Ability to analyze and use multiple data sources to make sound instructional decisions
Ability and willingness to collaborate with colleagues and actively participate in professional learning communities
Ability to use technology and incorporate/teach 21st century skills
Computer expertise or an expectation to learn Infinite Campus
Positive public relation skills, professionalism, strong work ethic, ability to develop positive relationships with school and community
Ability to demonstrate the communication skills with students, parents, and teachers to enhance the educational, personal, and social aspect of each student
Strong commitment to system change and strong evidence of being a "team player"
Ability to be flexible

Essential Job Duties and Responsibilities

Screen, evaluate and identify eligible students for speech and language services
Design and implement appropriate intervention strategies, including a broad array of service delivery model including application of technology
Provide information relative to communication disorders to students, parents, teachers and others as appropriate
Collaborate with teachers and parents regarding program content and intervention services
Collect student performance data and establish and maintain a daily schedule
Monitor the effectiveness of the intervention
Implement requirements of Federal and State regulations
Maintain records and reports required by District, State and Federal agencies
Cooperate with various agencies in referring and providing appropriate reciprocal services
Analyze and forecast need for services
Provide services either directly or through consultation as listed on the students IEP
Write IEP goals and objectives as necessary for the student on an IEP who has speech and language disabilities
Train, schedule, and direct assigned assistants to maximize delivery of services
Cultivate and model a respectful working and learning environment
Perform any and all other duties as assigned by ESS Administration

About Us

Our mission is to provide a high-quality education that assures each student the knowledge, skills, and dispositions to lead a life of purpose and impact. Employees support the community and thrive in connecting with our students by embracing the core values of the district, which state:

We believe that the success of every student is our most important commitment.
We believe that collaboration and engagement with our community, parents, staff, and students are essential to our success.
We believe that we must act with integrity, celebrate diversity, and promote equity.
We believe that each individual must be treated with dignity and respect.
We believe that the social and emotional well-being of our students is as important as their academic needs.
We believe that it is our responsibility to provide a safe, positive, and supportive environment for our students and staff
We believe that our community heritage, traditions, and history should inform our response to future student and district needs.

As we embrace these values and consider their impact, we will achieve our vision of being a high performing school district that inspires community confidence. Each employee plays a part, and that contribution should bring us closer to helping each student achieve their dreams.

Additional Information / To Apply

Instructions for Applying:
All applicants interested in and qualified for the posted position must submit an online application at this site: Pueblo School District 60 - Frontline Recruitment (applitrack.com)
The following will need to be uploaded with the application: current cover letter for the posted position; current resume; copy of principal/administrative license; copy of transcripts conferring required degree; copy of Place/Praxis test and any other materials requested on the application to verify that individuals are eligible for a Colorado License from the Colorado Department of Education.
Faribault Public Schools, Faribault, MN

Faribault Public Schools
Faribault, MN
Job ID: 4367
Job Posting Date: 4/12/2023


Job Description / Summary

We have two openings for full-time Elementary level Speech/Language Pathologists.
This position commences on approximately 8/21/23 with the start of the 23-24 school year.

Qualifications:

Knowledge and experience providing speech/language services to students.
Ability to administer assessments to determine qualification based on Minnesota Criteria for speech/language services.
Ability to write IEP/IFSP goals and keep accurate records.
Knowledge of due process procedures.
Ability to collect, interpret and report data.
Excellent communication skills.
Ability to work in a highly collaborative model.
Ability to collaborate with general and special education teachers regarding students' communication needs.

Licensure:


Licensure by the Minnesota Department of Education in Speech/Language Pathology.
Master's Degree preferred.
ASHA Certificate of Clinical Competence preferred.
Clinical Fellowship Year supervision available.

Compensation/Benefits/Perks:

Faribault Public Schools provides a competitive salary commensurate with education and experience.
Other benefits include:

Substantial personal and sick leave days
Fully paid single health insurance
Annual stipend of up to $1000 for national certifications
Enticing retirement package
Our district educational positions qualify for federal loan forgiveness program
State of the Art Fitness Center open to staff
1:1 Technology for staff use
Work-life balance culture
Ongoing professional development opportunities
Strong mission and vision statements
Numerous before/after school and summer programming for additional income and/or volunteering opportunities.
Solid Community Education programs offering opportunities to create and/or participate in unique programming

About Us:

The historic community of Faribault offers adventure, fun, unique dining, history, shopping and entertainment. Once you arrive you will experience historic landmarks, cultural and artistic gathering places in downtown, 10 lakes within 10 miles with many resorts and campgrounds, 39 beautiful parks within the city, an outdoor aquatic center, miles of bike, walking and snowmobile trails, great lodging and restaurants; enjoy year-round recreations such as biking, kayaking, cross-country skiing, snowmobiling, fat tire biking and so much more.

The town of Faribault has a number of unique characteristics:

Commutable from Twin Cities, right off I35
Centrally located and driving distance within an hour of Mankato, Rochester, Twin Cities
Lots of lakes and good fishing
New downtown revitalization project
Small town feel with many shopping, restaurants & recreational opportunities

Additional Information / To Apply
Devon Health Care Group - Multiple Locations

Devon Health Care Group
Multiple Locations
Job Posting Date: 4/11/2023


Job Description / Summary

Devon provides therapy-related services to students attending virtual schools.

Our specialties include but are not limited to, psychological evaluations, Speech, Physical and occupational therapy.

We work with schools in Alabama, Wisconsin, Ohio, Michigan, Oklahoma, Tennessee, Indiana, North Carolina, Utah, Georgia, Missouri, West Virginia, and Minnesota.

Most of our contractors have full-time positions and work 2 to 5 hours a week with our firm after school/work or on the weekend.

We pay every two weeks via direct deposit.

Rate: $85.00 PER HOUR PLUS MILEAGE

Location: Face-to-face services are provided either at the clients/child's home or in a location agreed upon by all parties (caretaker and contracted therapist) such as a library, community center, or clinic.

WE PROVIDE TRAINING FOR TELETHERAPY

Find us on the web: www.devonhealthcaregroup.com
PACT Institute - Hopkins, MN

PACT Institute
Hopkins, MN
Job Posting Date: 4/11/2023


Job Description / Summary

We are seeking a positive and creative speech-language pathologist who is looking for a unique opportunity to provide therapeutic interventions within an activity-based social curriculum. PACT's therapeutic model integrates a multidisciplinary approach among speech and occupational therapists, offering valuable and rewarding opportunities for collaboration and enhanced service provision. For our therapy staff, PACT provides a balanced schedule allowing time for administrative duties, continuing education opportunities, teaming, consultations with families and outside professionals, as well as general flex time.
We are offering a flexible start date between spring and summer of 2023. We are looking for a full-time speech pathologist or CF candidate who is highly interested in PACT's service model and joining our team.

About Us

PACT Institute is a pediatric therapy clinic in Hopkins, MN. What is distinctly different about PACT Institute's programming is how it threads an individualized developmental social curriculum throughout a variety of specialized services for each child. Our mission is to enhance the acquisition and functional use of developmental skills related to speech-language, social pragmatics, sensory processing, motor development, cognition, and social interactions.

Additional Information / To Apply
School District 197 - West St. Paul, Mendota Heights, Eagan MN

School District 197
West St. Paul, Mendota Heights, Eagan MN
Job Posting Date: 4/11/2023


Job Description / Summary

We have two openings at ISD 197 (West St. Paul, Mendota Heights, Eagan) for next school year. Please share this with your upcoming grads.

Additional Information / To Apply
Focus Therapy - Fort Myers, FL

Focus Therapy
Fort Myers, Florida
Job Posting Date: 4/6/2023


Job Description / Summary

FOCUS is hiring and offering relocation bonuses if anyone is interested in working with us here in beautiful SWFL!
Every session is 1:1 in a private pediatric practice setting with experienced speech language pathologists alongside you everyday!

About Us

FOCUS Therapy is a Fort Myers pediatric clinic offering speech therapy, occupational therapy, physical therapy, ABA therapy, and feeding/swallowing therapy to children with a wide range of disabilities, delays, injuries, and other challenges. FOCUS also provides initial screenings and comprehensive evaluations - including the ADOS test for autism spectrum disorder.

Additional Information / To Apply
SLPs needed - Douglas County School District, Colorado

SLPs needed - Douglas County School District
Colorado
Job Posting Date: 4/4/2023


Job Description / Summary

Join the Douglas County School District Team!

Spanning over 850 square miles, Douglas County School District offers a variety of communities ranging from small rural farm towns to large and fast-growing suburban neighborhoods. But at the heart of it all is a love and dedication to family and a unity of purpose around ensuring that each and every one of our community's 64,000 students receives the education needed to have the brightest future possible.

Information and job postings can be found here: Careers - Douglas County School District (dcsdk12.org)
Join our team of professionals
Are you interested in joining our team of dedicated faculty and staff here at UWEC? We are passionate about communication disorders and are committed to making a difference in the lives of our students and our clients. If you are interested in joining our department, check out the employment opportunities we currently have available.