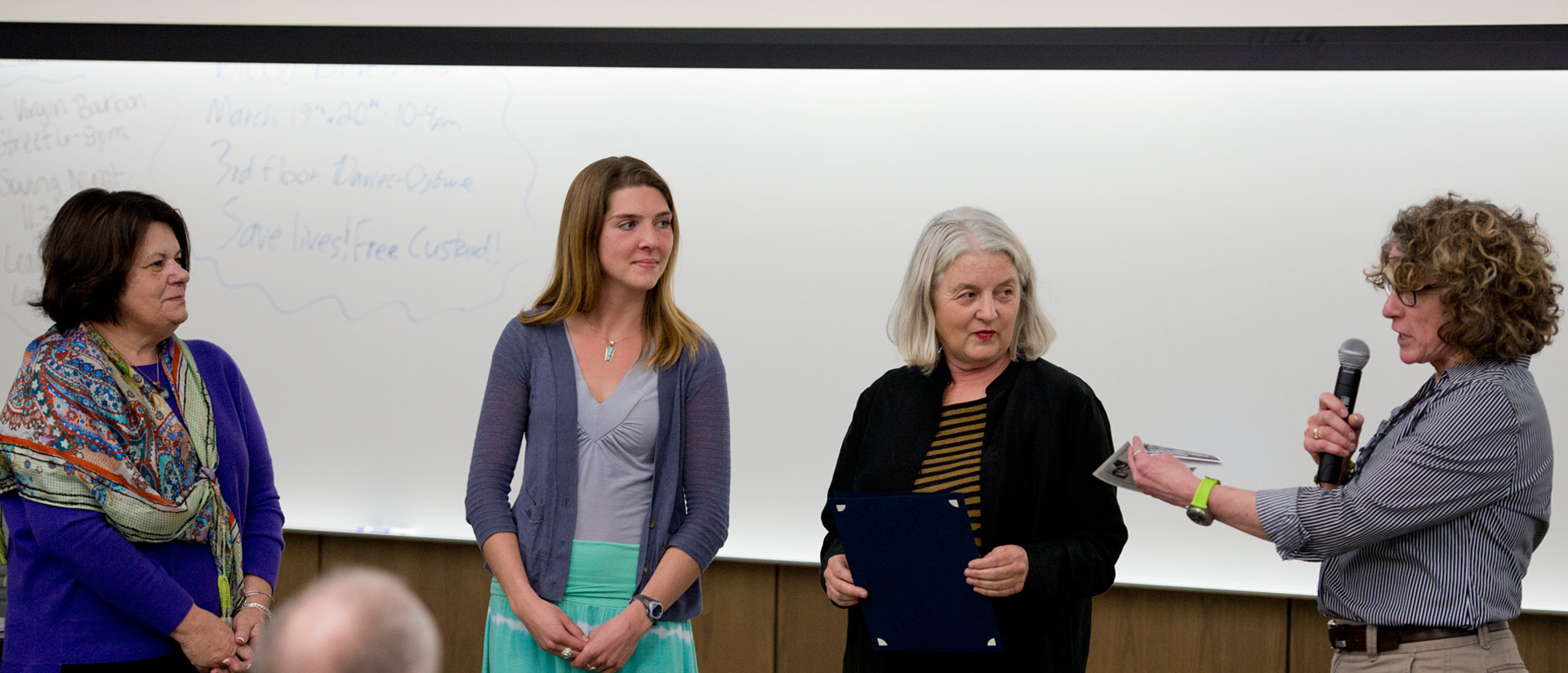 We want to invest in your education
You're going to do great things in life, and we want to invest in your success. Thanks to the UW-Eau Claire Foundation and other generous donors, the College of Education and Human Sciences has a wide range of scholarships for all majors. Visit the scholarship search page to see all available scholarships.
Welcome to the College of Education and Human Sciences 2021 Scholarship and Awards Virtual Ceremony
The College of Education and Human Sciences is proud to bring you our 2021 scholarship and awards presentation virtually. Due to Covid-19, we are unable to gather and celebrate in person with all our generous donors, recipients and their families. For all of us, this is one of the most joyous events to celebrate as our students have an opportunity to be recognized for their accomplishments and celebrate with our faculty, staff and donors. Since you are not able to attend in person, we are bringing the celebration to you. Thank you for celebrating with us virtually. We hope to resume our tradition of celebrating in person next year!
You can watch the video for the department of your major or view the the entire ceremony by clicking on each of the videos. Enjoy!
Welcome to Communications Sciences and Disorders
Welcome to Teacher Education
Communication Sciences and Disorders

Communication Disorders
Vicki Lord and James Roy Larson Research Award
Mayo Clinic Health System Foundation Speech, Language, Pathology
Jennifer Marks Memorial
Nancy McKinley
National Student Speech, Language, and Hearing Association
Dylan Jaehnke Bravery Scholarship
Irene West Solberg Memorial Scholarship
Abigail Joy Stellmacher Graduate CSD
Charles and Rochelle Szews Graduate
Kinesiology

Mary Mero Excellence in Human Performance
Jeff Oliphant Memorial
Jeff Oliphant Athletic
Jason Schluter Memorial
Chris Winkler
Hanke Family
Tessa Pecha Pre-Professional
Arlyn & Sandra Gravunder
Donald and Sarah Bredle
Social Work


Leonard Gibbs Scientific Reasoning
Julie Guite Social Work
Jean Klein Memorial
Elwood and Virgelee LeDue
Madeleine Lieffring
Riverfront Scholarship
Teacher Education

The Teacher Education Scholarship Committee takes responsibility to match applicants to scholarship criteria. For application and instructions for all Teacher Education Scholarships, please go to Blugold Insider.

For more information, please contact:
Linda Brunner
Email: brunnel@uwec.edu

George & Marie Badman Education
Ruth L. Baker Education
Faye Davis Berg Teacher
Mae Bertelson
Donald Birr Memorial
Marian A. Boatman
Mildred O. Burcalow Memorial
Delta Kappa Gamma
Grace Brown Dole Elementary Education
Ursula Emery
Eleanor Eddis & Theodore R. Fults Memorial
Winnie R. Gibson Memorial
Charlotte L. Grinsel
Margaret Gunderson Memorial
Hanke Family
Howard O. Johnson Secondary Education
Arnold A. & Eleanor D. Lamberg Teacher Education
Milton & Lorraine Larson
Daisy Longren
Eugene & Frances McPhee Memorial
Martin Mogensen Education
MRK Teaching
Reed & Barbara Newton Elementary Education
Axel & Ellen Peterson Memorial Education
Rakstis Social Studies
Rakstis Teacher
Roger, Dixie, Amy Rasmussen Teacher Education
Irene Reed Elementary Education
The Patricia Arts Rinaldi Memorial
Dylan Jaehnke Bravery
Marian Running Memorial
Lisa Siegenthaler Memorial
Cora & Louis Slock Memorial Education
Mary Snudden Memorial Education
Dr. Juanita Sorenson Education
Jerry & Jean Strop Excellent Teacher
Laura E. Sutherland Memorial
F.H. & Gertrude Conway Thompson
Maxine Marion Otis Trimberger
Gretchen Vanden Bloomen Special Education
Jewell Mickelson & John H. Walters Memorial
Anna M. White Elementary Education
Raymond E. & Doris C. White Family
Elmer Winters Undergrad Professional Development
Sabra J. Yule Memorial Education
Alida Hurc Anderson Special Education
Amy & Murray Snodgrass
Bertelson Education
Brett and Nick Erickson Family
David Page Teaching and Education
Mary Ellen Gmeiner Hutterli Memorial
Twila Duxbury Jacobson Educational