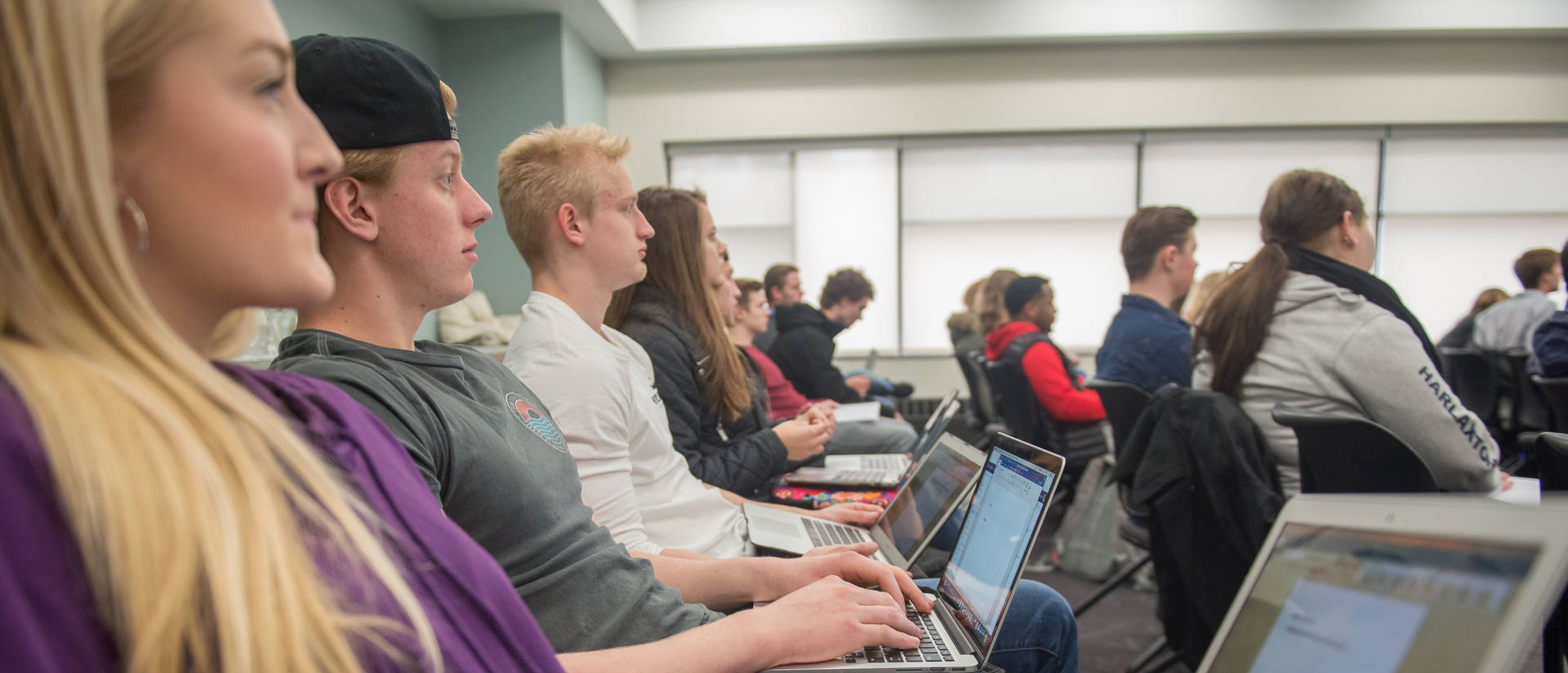 The College of Business has a Windows-based laptop requirement. All business students need consistent access to a laptop that runs Windows, meets the listed minimum specifications, and can be brought to class when there is in-class computer usage. The College of Business wants to ensure all students have a capable computer for their courses and that it meets the minimum laptop requirements to run the business software that we use.
Processor

Intel Core i5 or AMD Ryzen 5

Display

13" or larger with at least Full HD (1920 x 1080) resolution

Operating System

Windows 11

Software

Microsoft 365, with Windows security turned on
Use the free download from Microsoft 365—not the limited capability Web apps.

Memory

16 GB RAM or higher

Hard Drive

256GB Solid State Drive or higher

Wireless Capability

Wi-Fi 5 or newer

Webcam

Integrated or external webcam required

HDMI

To use projection systems on campus laptops should have a HDMI port or adapter
(current model machines typically use a USB-C to HDMI)

Battery

Extended life battery
At least 6-8 hours of capacity, since not all classrooms have electrical plug-ins
Business Courses Requiring Laptop Access
BUSCORE Courses

IS 240 Information Systems in Business
Accounting Courses

ACCT 201 Introduction to Accounting
ACCT 214 Managerial Accounting
ACCT 313 Auditing
ACCT 321 Individual Federal Income Taxation
ACCT 314 Cost Accounting
ACCT 417 Governmental and Nonprofit Organization Accounting
ACCT 423 Corporate, Partnership, and Other Entity Tax
ACCT 460 Accounting Information Systems and Technology
ACCT 470 Accounting Data Analytics
Finance Courses

FIN 322 Investments
FIN 326 Short Term Financial Management
FIN 327 Long Term Financial Management
FIN 328 Introduction to Derivative Securities
FIN 337 Financial Modeling
FIN 420 Corporate Valuation
FIN 424 Portfolio Management
FIN 428 Advanced Derivative Securities
Information Systems Courses

IS 304 Fundamentals of Business Programming
IS 307 Introduction to Business Analytics
IS 308 Business Analytics Programming
IS 310 Business Process Modeling
IS 314 Advanced Business Programming
IS 324 System Development Methodologies
IS 344 Database Management Systems
IS 345 Networking with Client Operating Systems
IS 365 Information Assurance
IS 375 Server-based Networking & Security
IS 460 Seminar in Information Systems
Management Courses

MGMT 343 Purchasing Management
MGMT 344 Managerial Decision Modeling and Analysis
MGMT 443 Process Simulation and Analysis
MGMT 471 Entrepreneurship Capstone
Marketing Courses

MKTG 338 Marketing Analytics and Technology
MKTG 434 Advanced Marketing Analytics
MKTG 438 Marketing Management
UW-Eau Claire Discount Packages
Dell
UW-Eau Claire has negotiated educational pricing on Dell computers for faculty/staff/student personal purchases.

Special pricing on Dell products
HP
HP is also an affordable windows-based laptop option. Currently, UW-Eau Claire does not partner with HP to offer a discount.
Apple
Apple offers standard academic discounts to UW-Eau Claire for faculty/staff/student personal purchases. However, Apple versions of many Microsoft applications (notably Excel and other Office 365 applications used extensively in the college) do not have the same features as the Windows versions. This means that Windows versions are required in the college. Fortunately, many Macs can run Windows and will meet the college's minimum computing requirements. Almost all Apple computers can run Windows via a virtual computing platform such as Parallels Desktop or VMware Fusion

Special pricing on Apple products
Already Own a PC?
Do you already own a laptop PC? Make sure it meets the College of Business's minimum computing specifications.
Want to upgrade an already purchased PC? We suggest you first purchase additional RAM, then increase the size of the hard drive. These upgrade items will most affect enhanced performance.
Mac users have access to Microsoft Windows via UW-Eau Claire's virtual environment:
The virtual environment simulates a general access lab, enabling you to access software applications such as SAP, Oracle, Visio, and Office.
College of Business students who already own an Apple laptop, but are required to have access to a laptop running Windows, have the option of installing either VMWare or Parallels. Please note: It will be the student's responsibility to have either of these options pre-installed before they begin their classes. The College of Business will not install Windows on Macs.
VMware / Parallels
VMware Fusion and Parallels are two products that an Apple user can purchase to install on the Mac operating system. Both applications allow users to run Windows within an application through the Mac OS.
NOTE: Running the Windows OS through the Mac OS, this process is very a hardware intensive process. Users may experience slow performance.
Requirements: Intel Processor, Minimum 4GB of RAM, and 400MB of Free Disk Space
Printers
While printers are available on campus, the College of Business recommends that you purchase a desktop printer for added convenience.
Need Software?
The College of Business recommends you use Microsoft Office 365 Professional Plus software. You can purchase this software and other popular software packages at substantial discounts through the Wisconsin Integrated Software Catalog. You can also download Microsoft Office free via Microsoft 365. Other options are available by registering through the Microsoft Dev Tools for Teaching website for installing free software on your personal computers
Questions?
Contact David Nesvacil, College of Business Technical Services Coordinator.