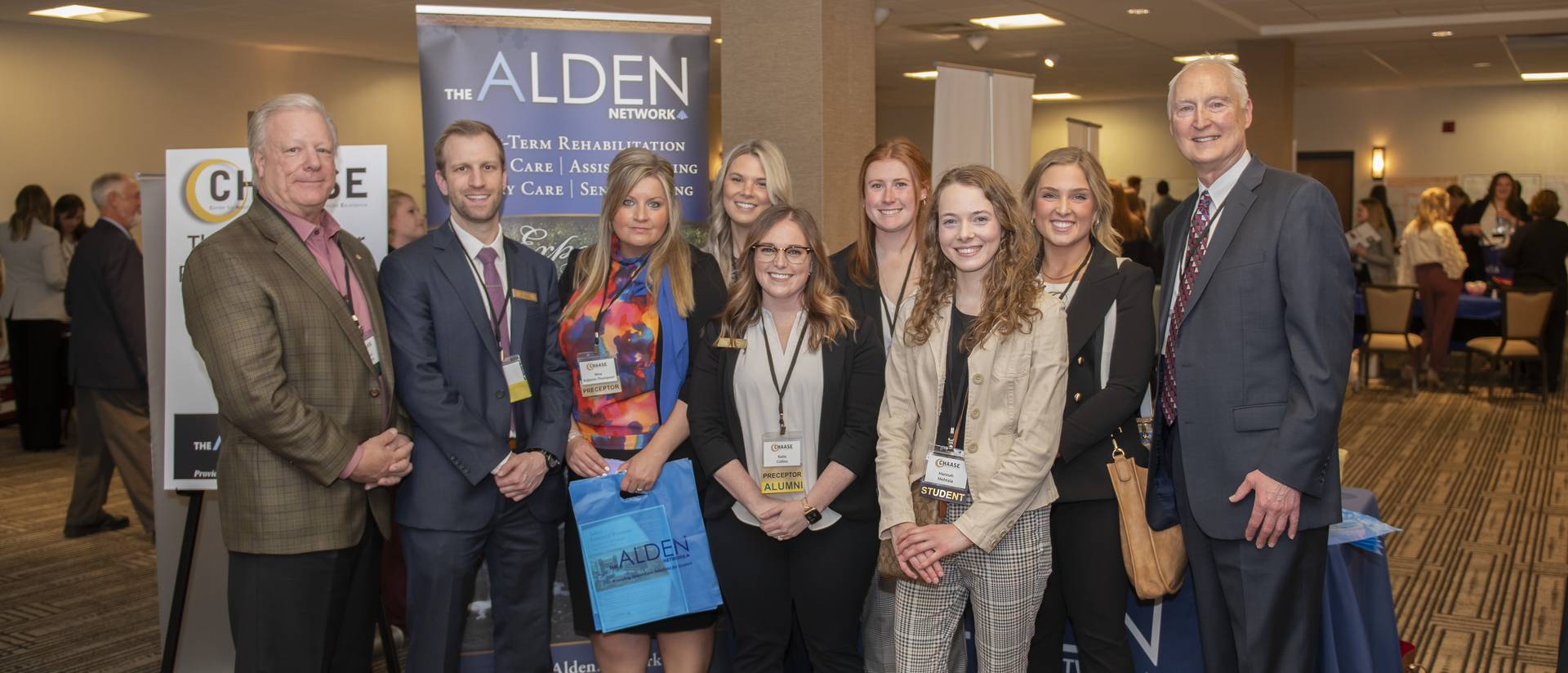 Thank you to our CHAASE Partners and Sponsors
We want to extend our heartfelt thanks to our generous partners and sponsors for their support and collaboration to CHAASE, allowing the UWEC Health Care Administration program to expand student experiences. Their commitment to the shared goals of the University of Wisconsin - Eau Claire and the Health Care Administration program have been instrumental in student success and empowering the leaders of tomorrow.
CHAASE PARTNERS
ALDEN NETWORK
ILLUMINUS
LIFE CARE SERVICES (LCS)
PRESBYTERIAN HOMES
NORTH SHORE HEALTHCARE
DIRECT SUPPLY
M3 INSURANCE
CARRIAGE HEALTHCARE COMPANIES, INC.
2023 CHAASE Spring Banquet Sponsors
Every year outstanding students, preceptors, and friends of the University of Wisconsin - Eau Claire Health Care Administration Program are recognized at the annual spring banquet hosted by CHAASE. It Starts with Us was this year's banquet theme inspiring students, mentors, and attendees to recognize, celebrate, and encourage their contributions to the long-term care profession and lives of all they care for. This year's keynote speaker was LaShuan Bethea, Executive Director of the National Center for Assisted Living (NCAL) – the assisted living voice of the American Health Care Association (AHCA).
Thank you to our banquet sponsors!
PLATINUM
Alden Network
Illuminus
LCS Foundation
GOLD
Azura Living
Carriage Healthcare Companies, Inc.
Ebenezer
Health Dimensions Group
Heritage Senior Living
Lifespace Communities
Marquis Companies
Monarch Healthcare Management
North Shore Healthcare
Pathway Health
SILVER
Eden Senior Care
Evangelical Lutheran Good Samaritan Society
Jones-Harrison Senior Living
Oak Park Place
Presbyterian Homes & Services
MatrixCare
Mayo Clinic Health System
M3 Insurance
RM Management
The Vision Centre
BRONZE
American Lutheran Home - Mondovi
Benedictine
Bethany St. Joseph Care Center
BHI Senior Living
Brewster Village
Cassia
Direct Supply
Dove Healthcare
Edgewater Haven Nursing Home
Lifespark
Luther Manor
Minnesota Masonic Home
Rennes Health & Rehab Centers
St. Paul Elder Services, Inc.
Wisconsin Assisted Living Associated (WALA)