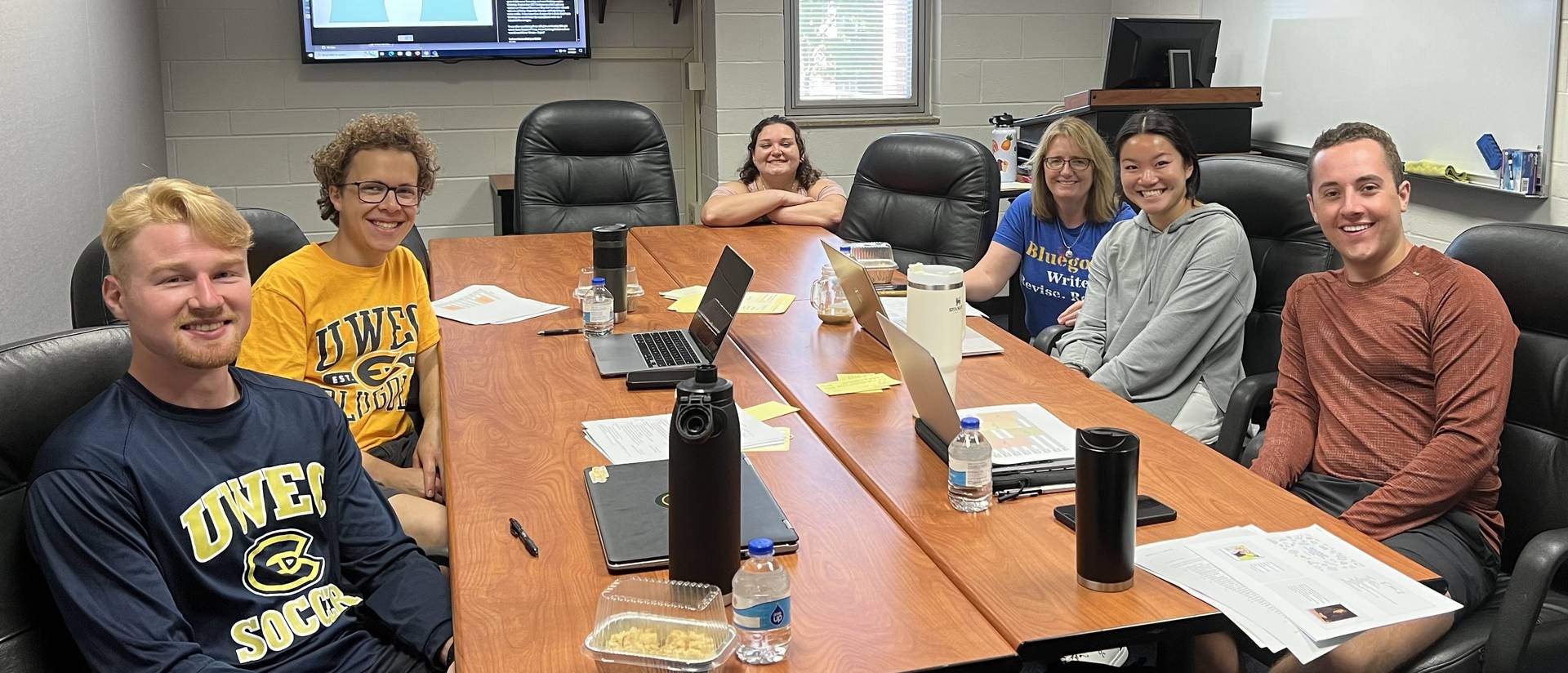 You will be writing and speaking a lot during your time in the College of Business and in your career, so why not become an expert at both? Enhance and strengthen your skills by taking advantage of the Business Writing and Presentations Studio in the College of Business. Our communication consultants can help you organize your ideas, and they will stick with you until you put the finishing touches on your work.
We offer both virtual and in-person appointments
Make an appointment by selecting the "Schedule an appointment now" button at the bottom of this page. When you are in the appointment software, pay special attention to the titles of the appointments as you can choose from either virtual or in-person appointments.
Review "Tips for getting the most from your visit" (below) to prepare for an appointment with a consultant.
In-Person Appointment Details

Come to the Business Writing and Presentations Studio in Schneider Hall 221 at the date and time you've selected in the appointment software. Bring the following items:

Assignment
Rubric
Your progress so far
Paper and pen
Virtual Appointment Details

You will find your MS Teams meeting link in the email confirmation you receive after making an appointment. That confirmation will also contain important information that will help you prepare for your appointment.

Prior to the meeting, email your documents (assignment, rubric, your current draft) to the BCOM Studio Tutor group at bcomstudiotutors@uwec.edu. Be sure to include your name in the file names of the documents you send.
Just ahead of the scheduled time of your appointment, simply click on the link in the body of the confirmation email to join the consultant in MS Teams. Be sure to have the documents you emailed to the BCOM Studio Tutor group in front of you for the meeting. Note: you do not need to have MS Teams downloaded to use this feature.
We're here to help
Walk-ins are welcomed, but to make sure you get in, schedule an appointment. If you think you need more time, schedule back-to-back meetings or a time later in the week. Students are limited to two sessions per week. Group appointments are welcomed for group projects or assignments. The Studio is located in Schneider 221.
Business Writing Studio Appointment Options
E-mail messages
Formal letters
Press releases
Cover letters
Resumes
Reports for business courses
Business Presentation Studio Appointment Options
Elevator speeches/pitches
PowerPoint slides
Small group meetings
Round-table discussions
Interview practice
Individual and group presentations.
Tips for getting the most from your visit
Tell the consultant what you need help with prior to your meeting.
Come prepared to work by bringing your assignment, paper and pen, the hard or electronic copy of your work so far, and anything else you may need.