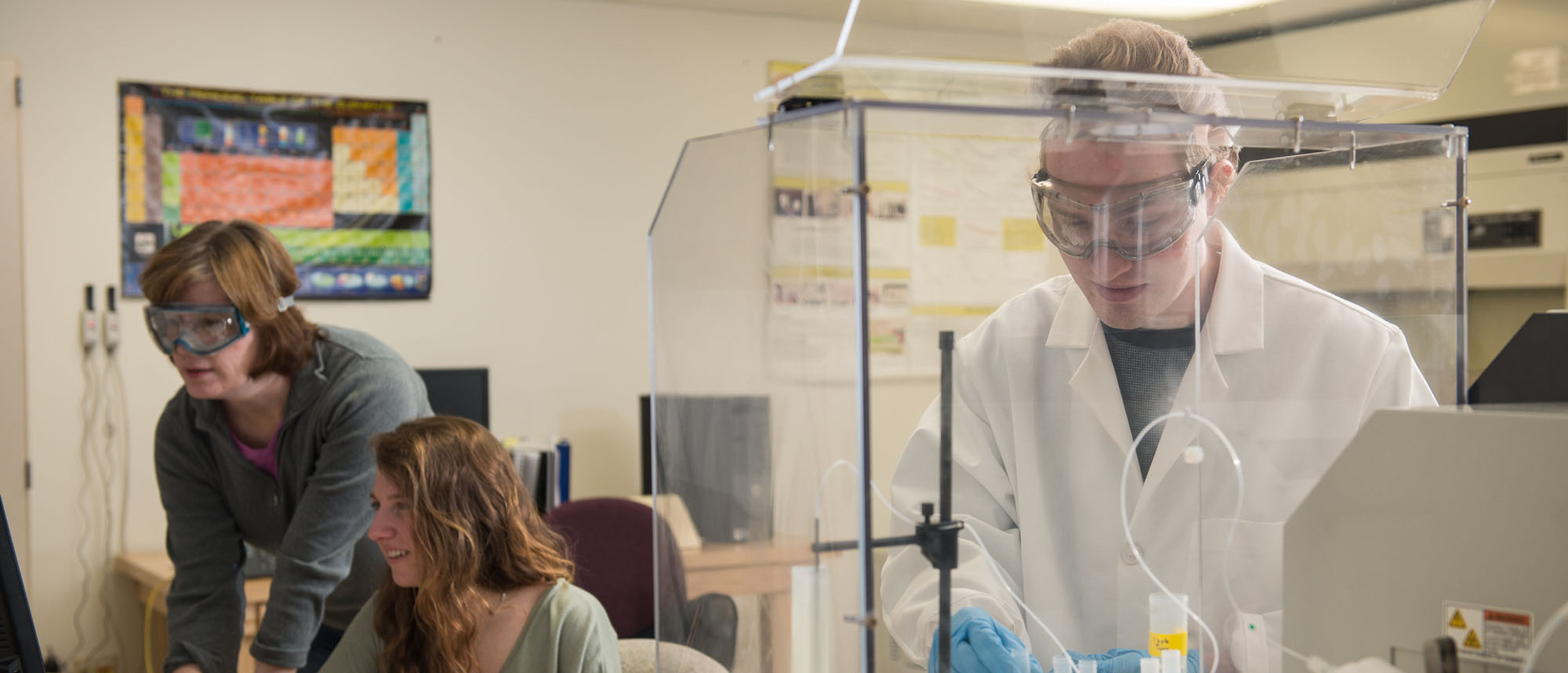 The geology department at UW-Eau Claire, along with the Materials Science Center, houses state-of-the-art analytical equipment that is rarely found at undergraduate institutions. Blugold geology students gain the kind of hands-on experience with the professional techniques that will truly enhance their employment or graduate school opportunities.
In addition to extensive instrumentation, our campus's physical location provides the perfect field study opportunities just steps from the Phillips Science Hall doors. The Chippewa River and Little Niagara Creek flow through our lower campus, and Big Falls County Park is just 12 miles away, all offering unique options study. The department owns three SUVs to safely transport students to off-campus field areas. UWEC is bordered by a nature preserve known as Putnam Park, with 230 acres of terrain for studying soils and other learning opportunities.
In other words, when we say "field-based curriculum," that is literally just minutes from the classrooms.
A look at our instrumentation
With nearly 100 unique pieces of high-tech instrumentation on campus, you can analyze your field samples in Phillips Science Hall — a huge advantage for Blugolds. Please see the categories below for the inventory, and we dare you to look for one you can't find.
We are equipped for your future.
Analytical Geochemistry Equipment

Thermo-Finnigan Element 2 Inductively-Coupled Plasma Mass Spectrometer (HR-ICPMS)
JEOL 2010 Analytical Transmission Electron Microscope (200kV) (HR-TEM)
Hitachi HS-9 Transmission Electron Microscope
Hitachi S510 Scanning Electron Microscope with Thermo-Noran system six EDS
Bruker Analytical SRS3000 Sequential X-ray Fluorescence Spectrometer (XRF)
Rigaku Biplanar automated powder x-ray diffractometer (XRD)
Isotope separation laboratory
J2-MC refrigerated centrifuge with rotors
Labline Model 3476M mechanical convection oven
Edwards FTM6 sputter coater
FISONS SC502 Au sputter coater
FISONS CA508 C sputter coater
Microwave oven for chemical digestion
Atomic absorption spectrophotometer w/Graphite furnace
Corning Model 610A pH meter
YSI Model 32FI specific conductivity meter
Digilab FTS-3500 Fourier Transform Infrared Spectrometer with UMA 600 microscope (FTIR)
Mineralogy and Petrology equipment

Rapid-quench cold-seal pressure vessels (8)
Deltech one atmosphere gas mixing furnaces (2)
ThermoLyne one atmosphere gas mixing furnace
SPI-53 mineral standards
Braunsonic Ultrasonic Cell Disruptor
Clay preparation equipment
Panasonic GP-KS102 Microscope Video Camera System
Mitsubishi 26" Video Receiver/Monitor/SVHS CS-2610
Olympus Research Petrographic Microscope (transmitted and reflected light)
Automatic Petrographic Point Counter
Olympus Petrographic Automatic Camera System
Nikon SMZ-1B Stereomicroscopes
Sedimentology and Hydrogeology equipment

Soil sampling equipment (augers, lysimeters, etc.)
Photo Ionization Detector
Gilson SS-15 Sieve Shaker and Sieves
Mettler BB-1300 Electronic Balance
Mettler PM200 Electronic Balance
Branson Model B5200RA 2.5 gal. Ultrasonic Bath
GilSonic Autosiever Model GA-1
Gilson Hydrometer Test Apparatus with Bath
QED Air Bladder Groundwater Sampler
Geotech Peristaltic Pump/Timco Bailer
Blue M Gravity Convection Oven
Franz Magnetic Separator
RediFlo 2 Pump (well sampling)
Slope Indicator Water Level Indicator
Brainard-Kilman t-125 Hand Pump Set
Corning Checkmate Modular Meter pH and Conductivity
On-Campus Well Nest with piezometer
ABEM SAS 300C Terrameter
ABEM SAS Log 200 Well Logging Unit
Solinist Model 3001 Levelogger Edge (M10/F30) pressure transducer s/datalogger
Masterflex E/S Portable Samplers (water sampling)
Oakton Con 10 Multi Parameter Meters (pH, T, SC)
Masterflex Easy-Load L/S 25 Pump Head
Geophysics and Survey equipment

GISCO MMTD-60 Thermal Demagnetizer
ASC IM-10 Impulse Magnetizer
Spinner Magnetometer
Magellan Model NAV5000 Global Positioning System
Bison Magnetic Susceptibility Meter
Gravity Meter
Magnetometer
Digital Altimeter
Bison 8012 Seismograph
Bison 2365 Resistivity Accessory
Keck GR-86 Gamma Ray Logger
Geonic EM34 Ground Conductivity Meter
Leitz TM6 Theodolite/tripod/rod
Earth Resistivity Meter SAS300
Autohelm Digital Compass
Sample preparation equipment

BICO Chipmunk Jaw Crusher
BICO Enclosed Ring Mill Shatter Box
Hillquist Diamond Flat Lap
Polimet Polisher/Grinder
Hot Plates (12" x 24")
Buehler 3 Position Polishing Table
Rock Pulverizer
Hillquist Thin Section Machine
Covington Diamond 16" Rock Saw
MK Diamond 12" Rock Saw
Gemeni Mineral Separation Table
Computer equipment

22-station Dell High-End Computer Modeling Laboratory
HP Laser Printers
HP Color Scanner
MacIntosh Computers
Networked HP Color LaserJet 4550Dn Printer
Two Networked HP Color Plotters
12-station Dell high-end ground water modeling laboratory
Software

ESRI ArcMap GIS mapping packages
IgPet
RockWorks geological software
MinPet 2.0
GeoGraphics (Landmark) Integrated Geological Mapping/Geophysical
Processing Packages
CorelDraw and Adobe illustrator software
Modflow and other hydrogeology programs
Surfer
Grapher
Vulcan (3D mine/well log visualization software by Maptek)
Stereonet
GeoCalculator
Geochemist's Workbench
Local field areas

Chippewa River (river discharge measurements)
Little Niagara (river process studies)
Putnam Park (soil and rock description)
UWEC ground water well nests (water sampling, slug tests, pumping tests)
Mt. Simon Park in Eau Claire (earth history, type locality of the Mt. Simon Formation)
Big Falls County Park (earth history)
Little Falls (earth history)
Dells Dam (hydroelectric power facility)
Eau Claire Wells (water supply for the City of Eau Claire)
Eau Claire Waste Water Treatment Plant