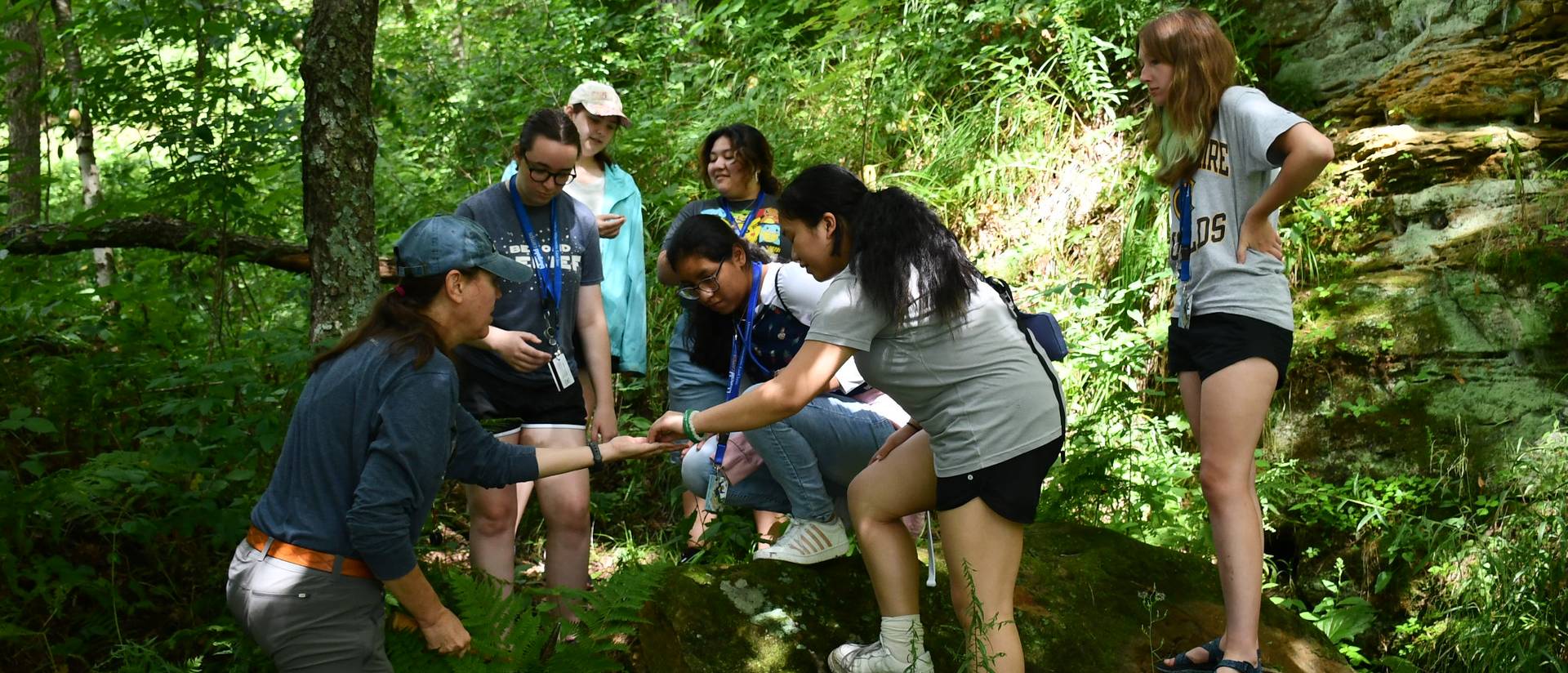 Summer Institute in Applied Geoscience
This is a unique opportunity for high school students between their junior and senior year who are interested in learning about geological science. Geology faculty and students from UW-Eau Claire invite high school students to spend a week exploring Geoscience in Wisconsin and learning about the exciting pathways to a rewarding career in Geoscience.
We will explore:
Geologic evolution of the Upper Midwest
Surface water hydrogeology of the upper Mississippi River
Groundwater challenges and progress
Metallic and non-metallic mineral resources
Environmental sustainability and the Green Revolution
Analytical techniques in Earth Science
University opportunities and exciting careers in the Geosciences
| | | |
| --- | --- | --- |
| Module | Theme | Activities |
| Geology of the Upper Mid-Continent | Geologic evolution of western Wisconsin | Exploration of metamorphic basement rocks, the Great Uncomformity, and Cambrian strata |
| Hydrogeology of the Upper Mississippi watershed | Water resources and societal impacts | Introduction to ground water; tour of EC water + wastewater treatment plant; examination of lake eutrophication, Menomonie |
| Earth Resources | Responsible use of earth resources | Tour of Covia sand mine, Menomonie; Tour of Cardinal Glass, Menomonie; Introduction to Economic Minerals |
| Sustainability Practices in the Upper Midwest | The need for sustainability | Tour of Seven Mile Creek Landfill; Tour of Wissota Hydroelectric Dam; Reclamation activities at Badger Mine |
| Laboratory Experiences | Introduction to analysis of earth materials | Introduction to Analytical Techniques (X-Ray Fluorescence Spectroscopy, Scanning Electron Microscope and High Resolution ICPMS) |
Eligibility and Application Information
GEOPAths is an NSF-sponsored program designed to encourage students from historically underrepresented groups (based on race, ethnicity, or gender) and first-generation college students to explore careers in the Geosciences.
Dates: June 19-23, 2023
Eligible participants: High school students between junior and senior year, wanting to learn more about careers in Earth Science
Covered expenses: All in-workshop transportation, lodging, and meals plus a stipend are paid for by the National Science Foundation
Application deadline: May 15, 2023
Optional course Credit: This program has an option to be taken as one-credit course, where students pay 50% of the tuition, and the program pays 50%. Please contact us if you are interested in receiving credit but paying 50% is a financial burden.
If interested in this program, please email Scott Clark at clarksco@uwec.edu with the following materials attached:
A letter of interest
A letter of support from a high school teacher
A completed program information packet with parent/guardian signature
After these materials are received, if you are tentatively accepted into the program, Admissions will reach out with your next steps.
Program Instructors
Meet the UWEC geology faculty and students who are part of the GEOPAths program.