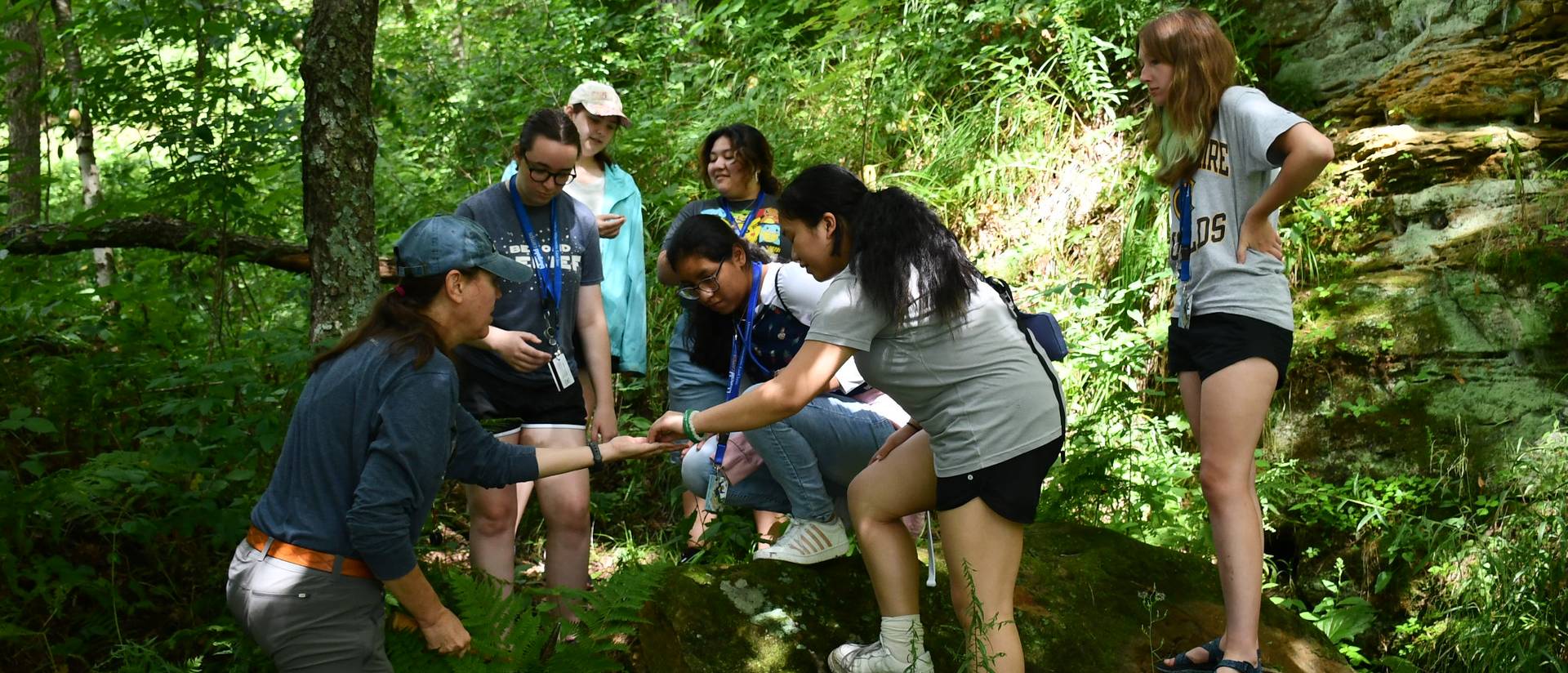 Explore Earth and Environmental Science in Western Wisconsin
Society is facing significant environmental challenges, including climate change, water scarcity and contamination, resource depletion, major changes in global energy production, and the long-term ecological impact of population growth. Scientists are actively working on improving these challenges, and you can be a part of the solution! Join us for an exciting week of exploring various aspects of earth and environmental science.
We will explore:
Geologic history of the Upper Midwest
Groundwater systems and drinking water
Impact of glaciers on our landscape
Metallic and non-metallic mineral resources
Environmental sustainability and the Green Revolution
Analytical techniques in Earth Science
How Earth Science impacts our day-to-day life
University opportunities and exciting careers in Earth Sciences

Course Details
Dates: June 23-28, 2024
Details: Participants will arrive at UW-Eau Claire on Sunday, June 23 at 5pm to check into dorms. Two teaching assistants will stay in the dorms with participants as chaperones. We will provide dinner and a meet & greet Sunday evening. Field experiences will take place during the day Monday, June 24 through Friday, June 28. The program will end on Friday, June 28 at 2pm. Participants are responsible for finding transportation to/from UWEC on June 23 and June 28. Additional details about the program will be communicated with participants after acceptance.
Example of schedule from 2023 offering
Day

Activities
1

Field trip to Big Falls (Fall Creek, WI) and Irvine Park (Chippewa Falls, WI) to evaluate rock formations, explore how water interacts with rocks to change landscape. Hands-on economic minerals activity and lab experience.

Evening Activity: Dinner and games at downtown arcade

2

Field trip to Devil's Punchbowl, Covia sand mine, and Cardinal Glass (Menomonie, WI) to see how sand is used in industry. Seminar with UWEC alumna, Anna Breckman, environmental consultant at Cedar Corps.

Evening Activity: Movie night at dorms

3

Field trip to Wissota Dam, a hydroelectric dam on the Chippewa River (Chippewa Falls, WI). Field trip to Sonnentag geothermal installation project. Career panel with geologists and environmental scientists.

Evening Activity: Board games at dorms

4

Installation of miniature groundwater well in Putnam Park (UWEC Campus). Field trip to the Eau Claire Municipal Water Treatment Plant. Water Quality Measurements in the Chippewa River in Riverview Park (after a swim break!).

Evening Activity: Live music and food truck dinner at Phoenix Park downtown

5
Tour and activities in UWEC geochemical laboratory, analytical techniques for answer different earth science-related questions.

Eligibility and Application Information
The Earth and Environmental Science Summer Field Program is funded through an NSF GEOPAths grant, and is designed to encourage student participation from communities that have been historically underrepresented in the earth sciences. This includes, but is not limited to, students of color, women, LGBTQ+ students, and first-generation college students. We encourage all students who identify with any of these broadly-defined groups to apply.
Eligible participants: High school students going into their Senior year at the time of the program (Junior at time of application)
Covered expenses: All in-program transportation, lodging, and meals are paid for by the National Science Foundation. Participants will also receive a stiped of $50/day ($250 total).
Priority Application Deadline: December 1, 2023 (applicants who submit their application by this priority deadline will be notified of acceptance by early January). Applications will be accepted after the priority deadline, with acceptances dependent on enrollment capacity.
Credit: There is an option to earn (1) college credit for participation in this program. If applicants are interested in this, please indicate on your application form, or email Sarah Vitale. For those who indicate interest, UWEC Admission's Alicia Wiltrout (WILTROAL@uwec.edu) will email you & your parent with the necessary steps to take this course for credit upon acceptance to the program. If you would like to take the course for credit, the NSF GEOPAths grant will pay for a ½ credit ($180), which will be applied to your bill after enrollment. The participant or their school district* must pay for the other ½ credit ($180)
*More information about potentially having your school district cover the other ½ credit ($180) will come from Alicia Wiltrout. You are not required to participate in this program for college credit.
To apply to the Earth and Environmental Science Summer Program, you must provide:
Your contact information
Contact information for your parent/legal guardian and an emergency contact
A statement of interest
Contact information for a high school mentor/advisor as a reference
A signed parent/guardian permission form.
If you have any questions about this program or the application, please email Sarah Vitale.
Program Instructors
Meet the UWEC geology faculty and students who are part of the GEOPAths program.