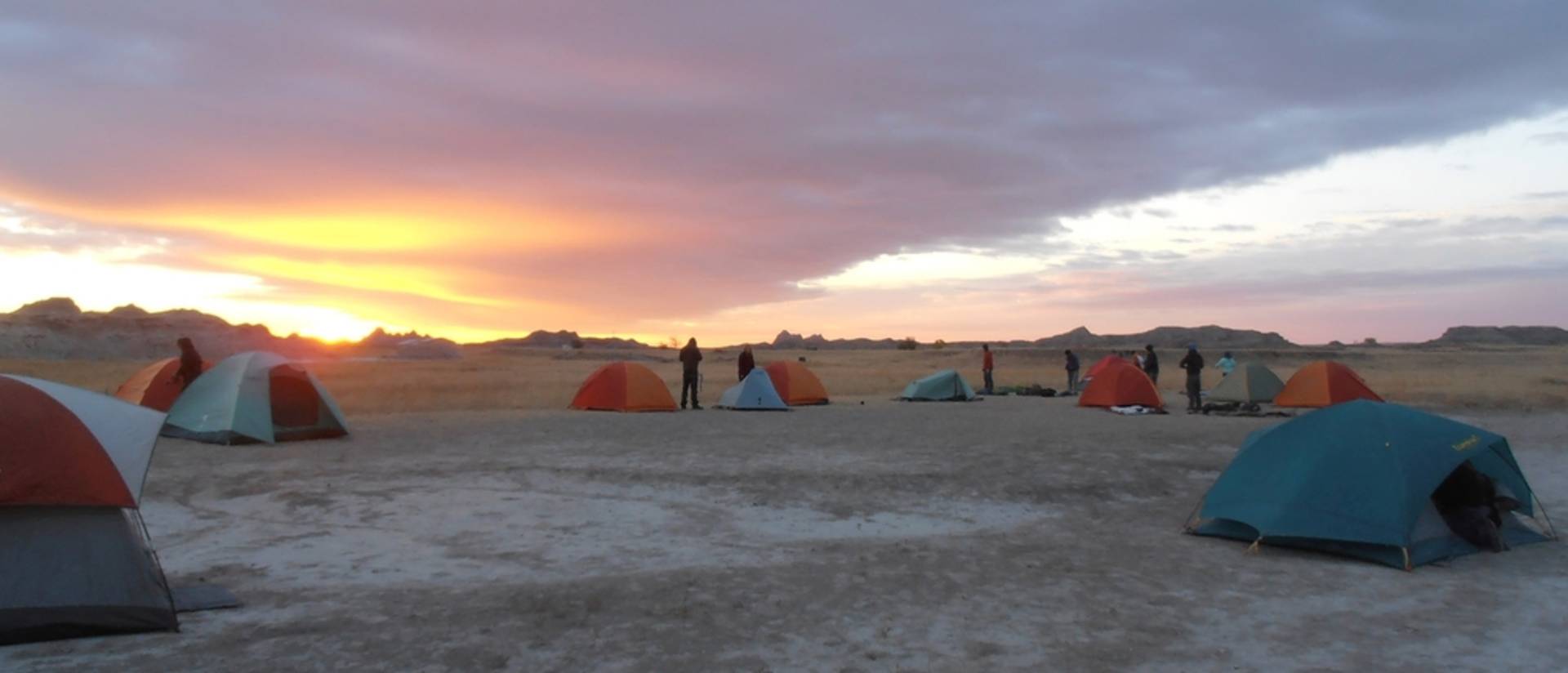 Get out and see for yourself
When we say this is a field-based curriculum, we mean it.
Blugold geology provides a rigorous field-based program, where traditional geological field skills are uniquely blended with modern technology and computational science. Students use state-of-the-art field-computer systems, GIS mapping software, and high resolution GPS equipment, while also learning traditional "rock-hammer geology".
While many institutions are having to reduce field-based courses, we have garnered generous grants and scholarships to supplement funding, and students are able to have these powerful experiences at little additional cost.
Geology classes at UW-Eau Claire include regular field excursions to the Black Hills and Badlands areas of South Dakota, northern and western Wisconsin, Arkansas, the Upper Peninsula of Michigan and many local field trips in the Eau Claire area. Alumni and current students cite the emphasis on field work as the biggest advantage to this program over others — our students are doing from day one.

Geology 312: Mineralogy + Petrology I

Offered every year in the fall, MinPet I involves the study of minerals and rocks with an emphasis on common rocks in field settings including the Mid-Continent Rift in Michigan's Upper Peninsula and the Black Hills of South Dakota.
Geology 320: Sedimentology + Stratigraphy

Offered every year in the spring, Geol 320 examines the origin and evolution of sedimentary rocks, with emphasis on sedimentary processes, stratigraphic principles, and basin evolution. This course features field trips in the Midwest.
Geology 343: Field excursions

Commonly offered during spring break, Geol 343 Field Excursions afford an additional opportunity for students to immerse themselves in field geology. These trips have visited such places as Guatemala, Big Bend, Texas, the Grand Canyon, and the slickrock country of southern Utah. The most recent excursion traveled to Death Valley, California.
Field Camps
The University of Wisconsin-Eau Claire Department of Geology offers a two part field program which is unique in the United States. Replacing a traditional six-week summer field course, the UW-Eau Claire model introduces students to field geology earlier in their program, provides a logical break between introductory and advanced exercises, and provides a low-cost alternative to traditional summer field camp courses. UW-Eau Claire students also need not sacrifice summer employment opportunities due to field camp obligations.
Geology 470: Field Geology 1

Offered every year during the Winterim in January, Geol 470 is based in Kingston, New Mexico. This rigorous capstone course includes exercises in the following:

land navigation, triangulation and structural measurements using the Brunton Compass, Garmin handheld GPS units, topographic maps, pace and compass traverse
stratigraphic section measurement and description
geologic mapping of a tilted horst in the Rio Grande rift
geologic mapping of a complex sedimentary, volcanic, and hypabyssal intrusive terrain
geologic mapping of the deformed and mineralized margin of an epizonal plutonic complex

Geology 470 - Field Geology 1 is normally taken in a student's junior year. This three-week, three credit course is offered every January and taught in west Texas and New Mexico. Field Camp 1 will introduce you to geologic mapping techniques, emphasizing the construction of geologic maps and cross-sections in plutonic, volcanic, metamorphic, and sedimentary rocks. The course is entirely computerized and uses the latest GIS and GPS mapping techniques. It is receiving national attention as a field program that integrates computer technology with traditional field methods.
Geology 471: Field Geology 2

Offered in odd-numbered years during the three-week Summer interim session, Geol 471 builds upon the experiences gained in Geol 470 and introduces students to mapping in more structurally complex terrains. This course, based in Whitehall, Montana includes exercises in the following:

stratigraphic section measurement and description
geologic mapping of a complex fold in the southwest Montana fold-and-thrust belt
geologic mapping of a duplex fault zone
geologic mapping of the deformed and contact metamorphosed margins and interior architecture of a composite plutonic complex

Here, you will map and analyze structurally deformed rocks in the Helena salient of the Montana thrust belt, contact metamorphosed rocks on the margins of the Boulder Batholith, and sedimentary and metamorphic rocks of the Belt Supergroup. GIS and GPS skills, plus structural analysis and regional synthesis of tectonic features, are emphasized.
Field research opportunities
In addition to the strong field component in our curriculum, a number of ongoing research programs encourage students to pursue independent research projects in the field, including the following field areas:
Lake Superior region
Southwestern Montana
Ontario
Maine
Northern Minnesota
West-central Wisconsin
Swiss Alps
Glimpses from geology and environmental science