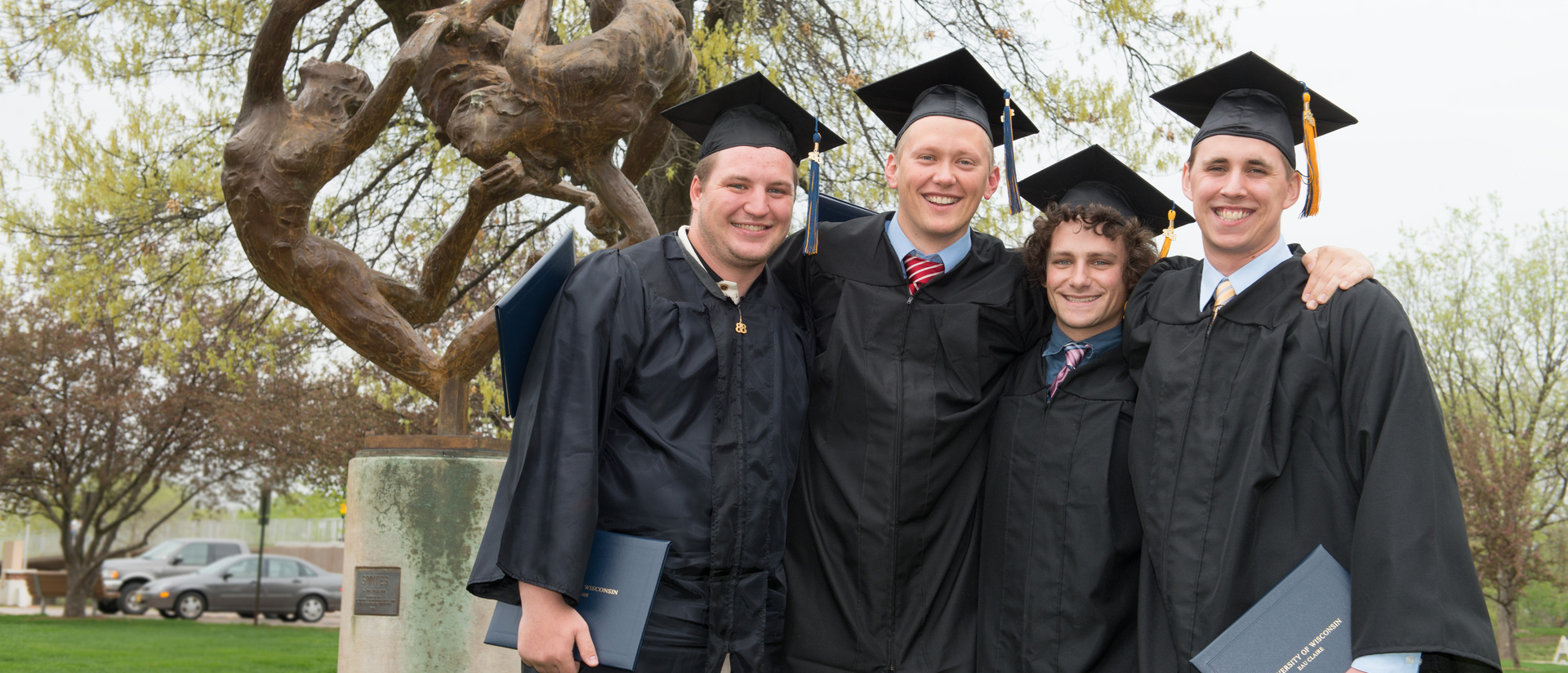 It's hard to throw a rock very far in this region and not hit a Blugold geologist working in the field — they're everywhere! As professionals in careers like environmental consulting or the mining industry, regulatory work at agencies such as the DNR and EPA in states nationwide, and in countless graduate programs across the country, our graduates are out there making names for themselves in industry and academia.
Where will this degree take me?
As any edition of our annual Alumni Newsletter will prove, the jobs and career paths that await you as a Blugold graduate of the Department of Geology are literally all over the map. Here is just a sampling of positions held by graduates who submitted updates for the 2015 Alumni Newsletter:
Project lead, Petroleum remediation program, MN Pollution Control Agency
Geologist, Maptek Corp.
Geosteerer, Sudbrink Geological Consulting
Hydrogeologist, WI DNR
College geology teacher, California State University-Fullerton
Environmental scientist, REI Engineering, Wausau, WI
Eau Claire City-County Health Department
Driller/geologist, Terracon
Directional drilling technician, Halliburton, Lafayette, LA
Geologist, Cedar Corp, Menomonie, WI
Staff Geologist, Chevron Corp.
Water resource engineer, HR Green Inc., Cedar Rapids, IA
Geological modeling & drill planning, Kensington Gold Mine
Geochemist, Virginia Tech
Mining specialist, Smart Sand Inc.
Field Geologist, Arcadis US, Minneapolis, MN
I really couldn't be happier with my experience in the geology department at UWEC. The quality of education offered in this department is top notch. It really focuses on the invaluable experience gained from taking field trips and getting out and looking at the rocks. Looking back at my time at UWEC, I simply can't see myself having been in any other major.
What about graduate studies?

Blugold geology students have gone on to pursue graduate studies at prestigious institutions around the country. These have included:
Carleton University
Colorado School of Mines
Idaho State University
McMaster University
Michigan Institute of Technology
Montana School of Mines
University of British Columbia
University of Calgary
University of California-Berkeley
University of Minnesota-Duluth
University of Montana
University of North Carolina-Chapel Hill
University of Wisconsin-Madison
University of Wisconsin-Milwaukee
Virginia Polytechnic Institute and State University
Western Washington University
Department resources
Job postings

For more information on job opportunities in the Earth Sciences through UWEC, contact Dr. Kent Syverson syverskm@uwec.edu.
Professional societies
Data images, maps + books
More geologic resources + links

Research about Blue Hills Felsenmeer from Dr. Kent Syverson

Orr, I.M.*, Mohr, A.R.*, Syverson, K.M., and Jol, H.M., 2009, Sedimentology of the Blue Hills Felsenmeer State Natural Area, Wisconsin: Geological Society of America Abstracts with Programs (North-Central Section meeting, Rockford, IL), v. 41, no. 4, p. 63. Winner of Great Lakes Section - SEPM Best Undergraduate Student Paper Award. Printable version of paper.

Hoaglund, S.A.*, Teige, E.L.*, and Syverson, K.M., 2007, Potential meltwater incision of the Blue Hills Felsenmeer valley, Rusk County, Wisconsin, during the late Wisconsin Glaciation: Geological Society of America Abstracts with Programs (North-Central/South-Central Joint Section Meeting, Lawrence, KS) , v. 39, no. 3, p. 60. Winner of GSA Outstanding Undergraduate Student Poster Presentation Award. Printable version of paper.

Syverson, K.M., and Colgan, P.M., 2004, The Quaternary of Wisconsin: a review of stratigraphy and glaciation history, in Ehlers, J., and Gibbard, P.L., eds., Quaternary Glaciations — Extent and Chronology, Part II: North America: Amsterdam, Elsevier Publishing, p. 295-311

Hinke, J.J. and Wittkop, C.A., 2007 Detailed Surficial Geologic Mapping and Terrain Analysis of the Blue Hills Felsenmeer, Rusk County, Wisconsin. Printable version of paper
Career Guidance
The professionals in our Career Services office are here and ready to help our students and soon to be graduates with not only internships, but career search and placement, as well as resume building that is geared specifically toward geology graduates. They have compiled multiple resources for our geology students, from national and international job listing sites to alumni career stories and job connections.