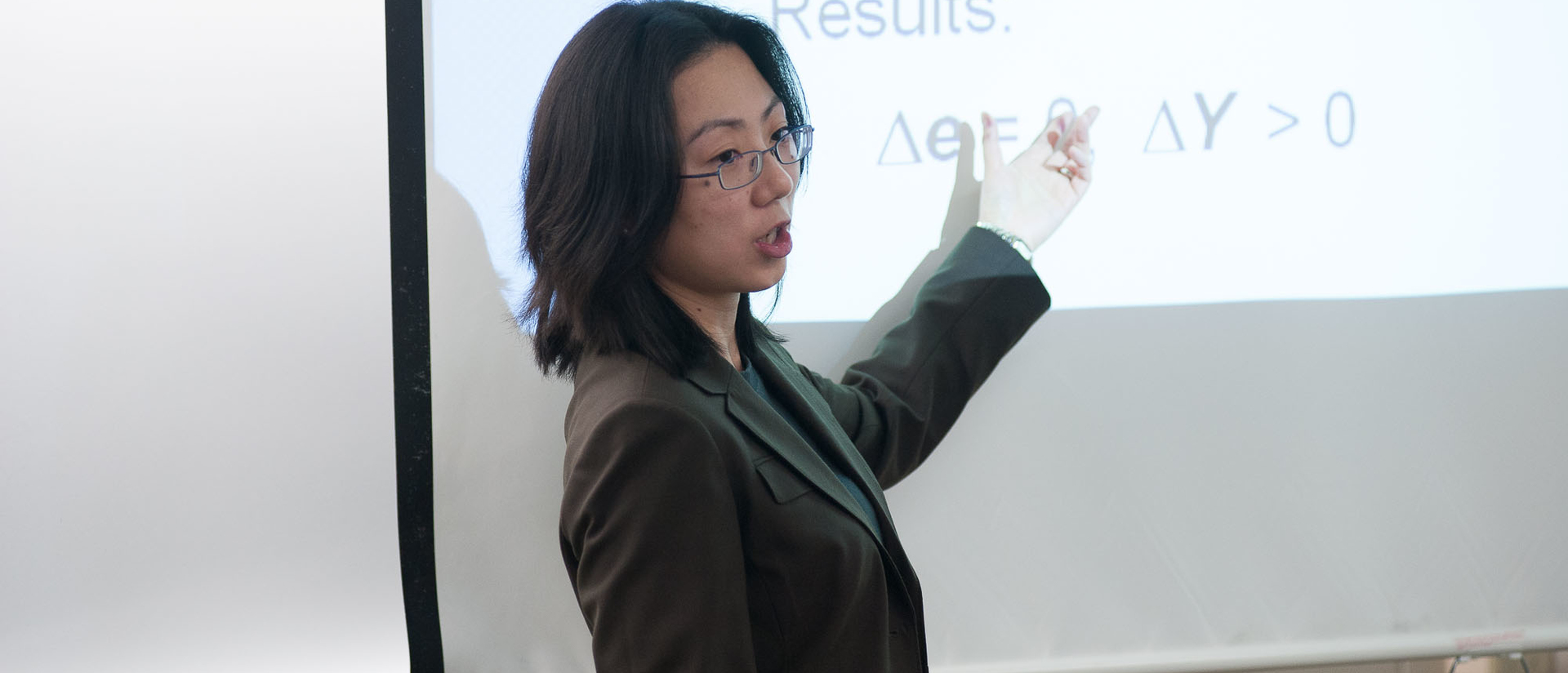 Got questions? We have answers
We understand that selecting a major can feel like a daunting task, and we are here to walk you through any questions you have about economics at UW-Eau Claire. If you do not see the question below that is on your mind, please contact us using the information at the bottom of this page.
How do I declare an economics major?

Drop by the economics department office at Schneider Hall, room 400G and schedule an appointment with the department chair. You will be able to talk through the program, officially sign up in the major, and will be assigned to an advisor that matches your interests.
Business Econ vs Liberal Arts Econ degree?

A Business-Econ degree is a comprehensive major in economics consisting of the Basic Business Core in the College of Business plus additional economics courses. Completion of this major results in a Bachelor of Business Administration degree. A Liberal-Arts Econ degree requires a minor and results in either a Bachelor of Arts or Bachelor of Science degree. For more information, please consult the catalog.
Do I need to be good at math?

Yes and No. Although Math is involved in many aspects, Economics is also a social science where verbal and written skills are also valued.
How many students are in the major?

Currently there are approximately 135 majors and 25 minors.
What courses should a new econ major take?

A new major should take Principles of Microeconomics (Econ 103) and Principles of Macroeconomics (Econ 104). These courses can be taken in either order or simultaneously. Introduction to Political Economy (Econ 201) may be taken before Econ 103 and/or 104, but credit will not be granted if taken after either of the above-mentioned courses.
What econ grad school opportunities exist?

A major or minor in economics at UW-Eau Claire provides a solid foundation for graduate study in many fields. Many of our graduates have gone on to successful careers in graduate school and exciting post-graduate professions. If you're considering graduate school in any field, it's important to talk to your advisor right away about the preparation you might need. You might need to take certain courses or pursue other opportunities at UW-Eau Claire to open the doors to the graduate program you would most enjoy. Your advisor can help you get an early start on this path.