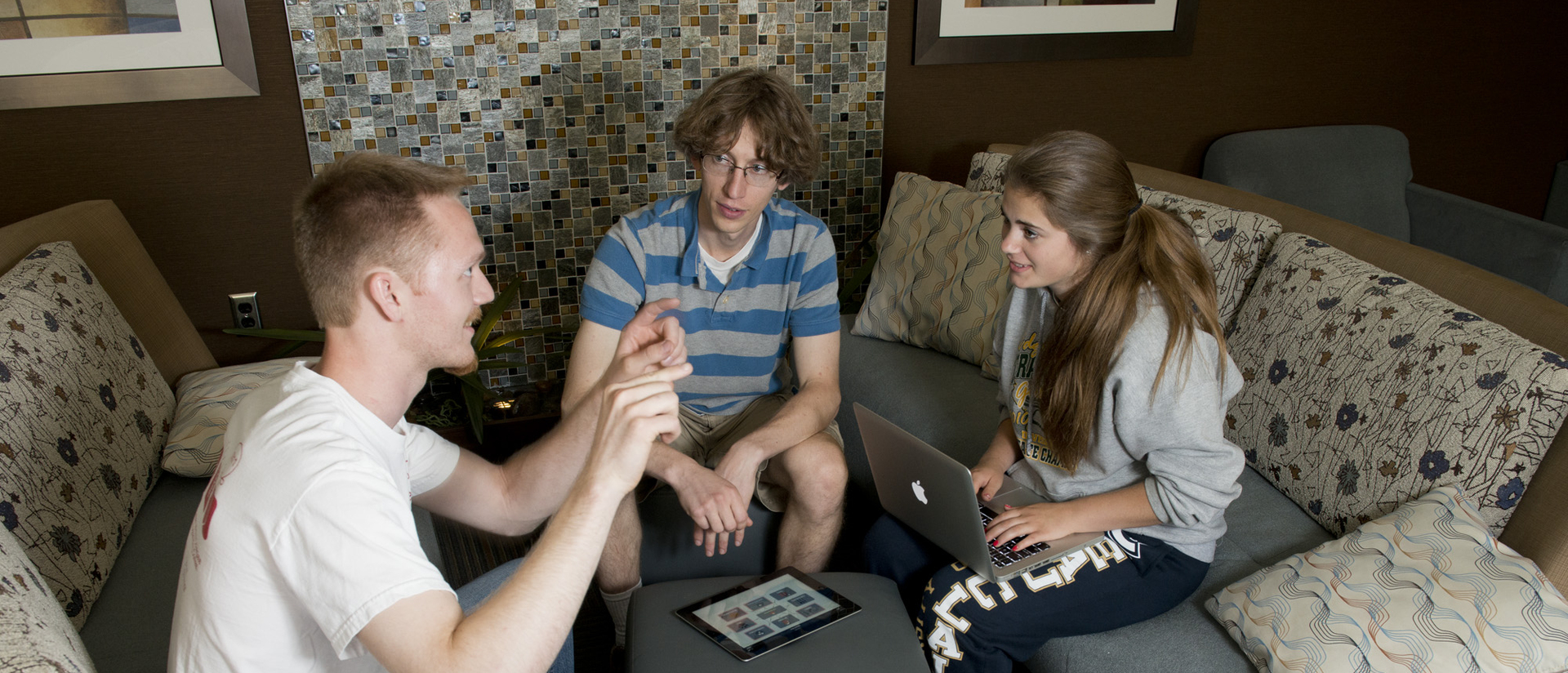 Welcome to our private domain
We'd never expect you to become prepared without the proper equipment, which is why the computer science department has five facilities for CS students. Whether you are studying alone or working on a group project, take advantage of these spaces. Utilize the four computer labs or the laptop lounge to further your education. These labs are only open to computer science majors, minors, and other students taking our courses. Looking for the codes to access the labs? Head on over to our Blugold Insider.

Our facilities
Jamf Instructional lab
Phillips 122
The Jamf Instructional Lab is home to two 3D printers: an UltiMaker S5 and a MakerBot Replicator 2X. This lab is also equipped with 8 computers running:
Operating System: Windows 11 Enterprise
Processors: Intel Core i7-10700 16-thread 2.90-4.90GHz
Memory: 32 GB
Graphics: Intel UHD Graphics 630
Displays: 2x 24-inch LCDs
Karlgaard Laptop Lounge
Phillips 124
The Karlgaard Laptop Lounge is a peaceful study lounge with tables and couches for group meetings or a place where students can bring their personal laptops and work.
Tutoring Lab
Phillips 111
The Tutoring Lab is equipped with four computers running:
Operating System: Windows 11 Enterprise
Processors: Intel Core i7-10700 16-thread 2.90-4.90GHz
Memory: 32 GB
Graphics: Intel UHD Graphics 630
Displays: 2x 24-inch LCDs
Marshfield Clinic Information Services Software Development Lab
Phillips 107
The Marshfield Clinic Information Services Software Development Lab has seating area for students with laptops, a 5-person conference room with a large display, and it is also equipped with 16 computers running:
Operating System: Windows 11 Enterprise
Processors: Intel Core i7-10700 16-thread 2.90-4.90GHz
Memory: 32 GB
Graphics: Intel UHD Graphics 630
Displays: 2x 24-inch LCDs
Instructional Lab
Phillips 115
This lab is equipped with 28 computers running:
Operating System: Windows 11 Enterprise
Processor: Intel Core i7-13700 24-thread 2.10-5.20GHz
Memory: 32 GB
Graphics: Intel UHD Graphics
Displays: 2x 24-inch LCDs