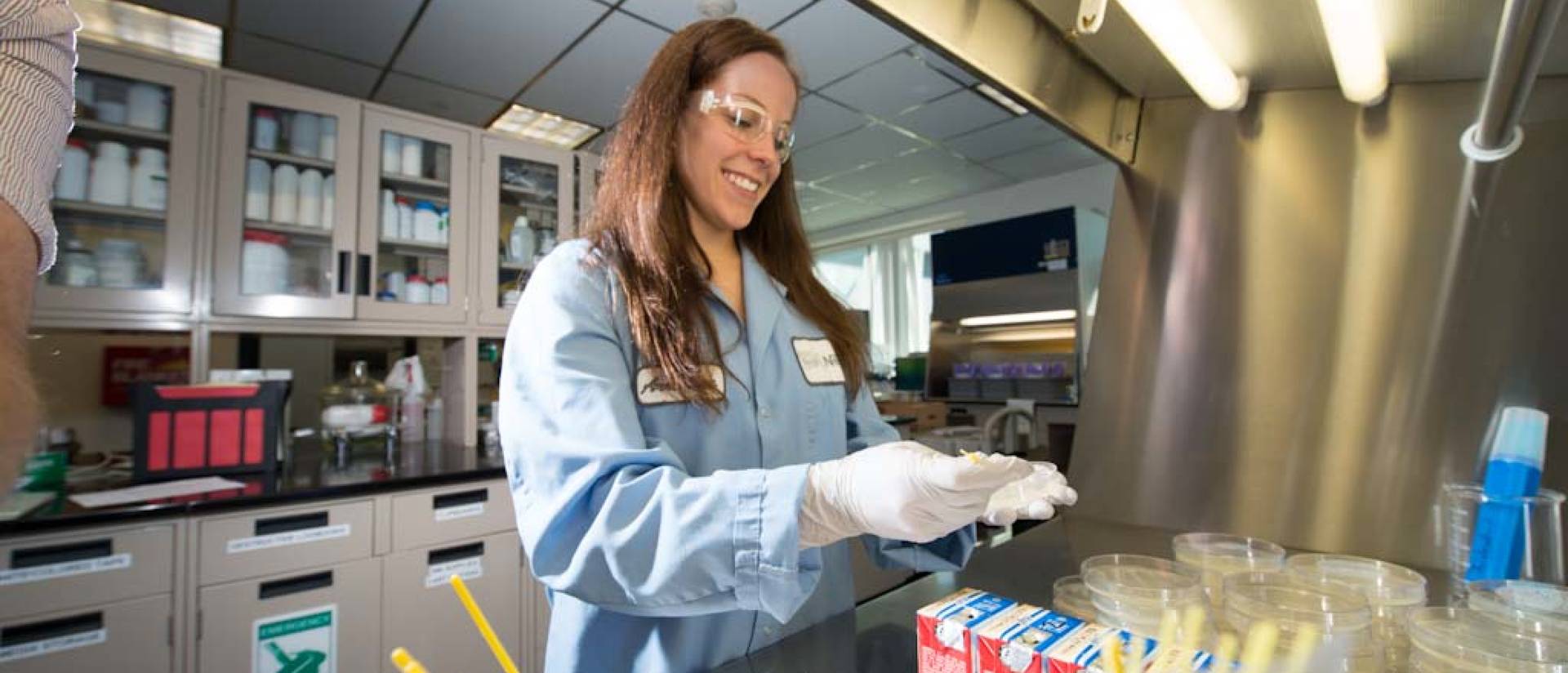 What can you do with a chemistry degree ?
Our #ChemistsAndCareers page showcases the great variety careers that one can pursue with a degree in chemistry or biochemistry, and the diversity of the individuals in them. It features both UWEC alumni success stories, as well as other chemists and biochemists that are making valuable contributions to the field, their organizations, and the world.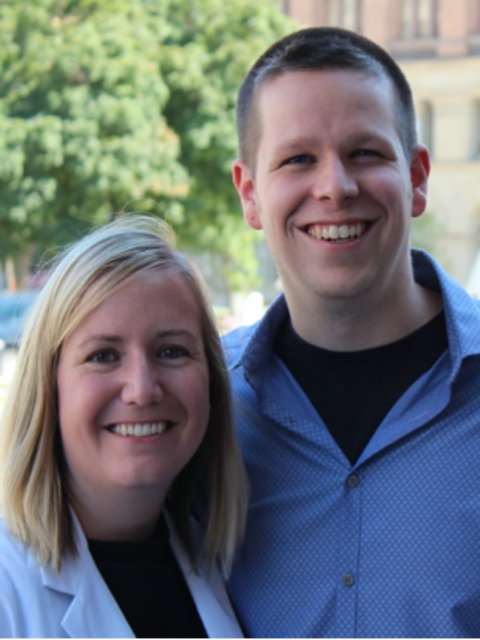 Mr. Brian Meeuwsen
Environmental Health and Safety Specialist
Hydrite Chemical Co.
Brookfield, WI
Education:
B.S.: UW–Eau Claire
About:
Brian is a Wisconsin native, born and raised in the Appleton Fox Cities area. When Brian was considering colleges, he was attracted to UWEC by the appeal of a small, manageable campus, as well as the dual focus of the Chemistry-with-Business-Emphasis major. During his studies at UWEC, Brian worked in Dr. Bart Dahl's research lab conducting organic syntheses and creating new chemical compounds. He graduated in December, 2013, and was working in the chemical industry shortly thereafter.
Hydrite Chemical was founded in 1929, as a company that supported the leather tanning industry, which was extensive in the Milwaukee area at that time. Their name is play on the names of certain chemical substances ("hydrites") and a reference to the tanning industry ("hyde-right"). Today, they are based in Brookfield, WI, and are one of the largest providers of chemicals and related services in the United States. They offer expertise in chemical distribution, food and dairy sanitation, food and beverage ingredients, chemical processing, water treatment, foam control, and compliance management. Their specialty products enhance many common consumer products; ingredients that make food and beverages more flavorful, chemicals for water treatment, as well as cleaners and sanitizers.
Brian initially joined Hydrite as a Quality Control Chemist and served in this role for four years at the Hydrite facilities in Cottage Grove and La Crosse, WI. In 2018, he moved to Milwaukee to start his role an Environmental Health and Safety Specialist, serving three distinct facilities in that area. Both aspects of his degree are helpful in his current position; he uses his expertise to educate his team to work safely around chemicals, conduct industrial hygiene monitoring, and coordinate with local, state and federal compliance agencies.
Brian states that the most rewarding part of his role is "helping ensure that my coworkers get to work safely and go home the same way that they came in".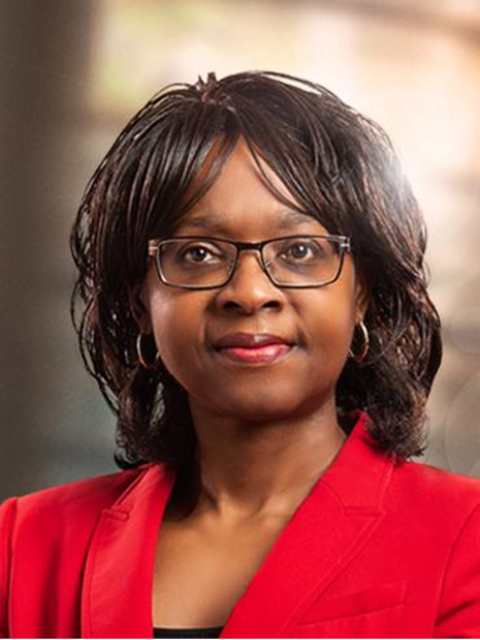 Dr. Beatrice Ngatcha
Attorney and Patent Agent
Lavery Lawyers
Quebec City, QC, Canada
Education:
B.S.: University of Yaoundé, Cameroon
M.S.: Laval University, Quebec, Canada
Ph.D.: Laval University, Quebec, Canada
J.D.: University of Ottawa, Ontario, Canada
About:
Chemists sometimes enter the legal profession, where there is a shortage of technically-trained personnel that are needed for patent and product liability law.
After nine months into her post-doctoral appointment, Dr. Beatrice Ngatcha knew she wanted to work outside the laboratory, but wasn't sure about how to make the transition. She ultimately decided to become a patent agent trainee, with only a vague idea of what a patent agent was and did.
Now she is an attorney, and works at Lavery, the largest independent law firm in Quebec. Lavery is involved in a wide range of legal fields, including intellectual property law, which is Dr. Ngatcha's primary focus. Even within this narrow legal context, Lavery's expertise spans many industries, and each has distinctive characteristics and challenges, as well as a specific legal framework. Therefore, Dr. Ngatcha's job is very different from day to day, because she interacts with wide range of clients from these various industries.
What Dr. Ngatcha likes the most about her job, is that she works on a broad range of technologies across the entire chemical field, becomes aware of the latest developments, and interacts directly with researchers.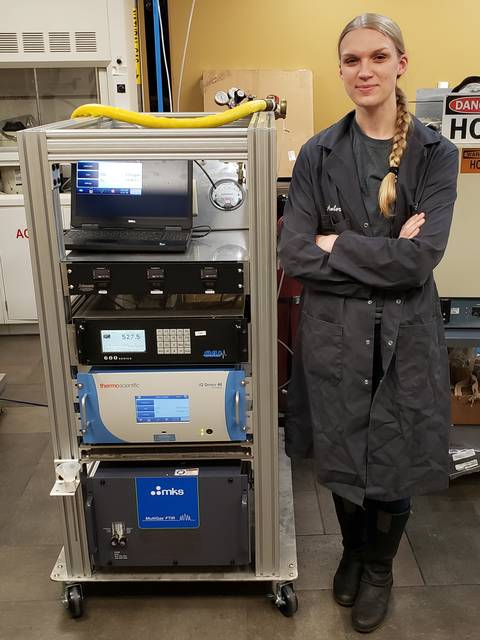 Ms. Amber Kraft
Research Chemist
Catalytic Combustion Corporation
Bloomer, WI
Education:
B.S.: UW–Eau Claire
About:
Amber grew up on her family's farm and went to high school in Barron, WI. She transferred to UW-Eau Claire from UW-Barron County (now UWEC-BC) after earning her associate's degree, and chose UWEC because it was in close proximity to home and more cost-effective than other four-year universities. In the department, she did liquid-crystal research with Dr. Wiegel, and was also a member of the ACS-Student Affiliate. She graduated in May, 2018 with an ACS-Biochemistry major.
Catalytic Combustion Corp. specializes in emission control technology, and develops products that help remove harmful substances and noise from process exhaust. Their catalysts are used in a wide range of applications, ranging from large manufacturing and power generation operations to small household appliances. A common place that you'll find their products is in food service; with their catalysts in place, small commercial ovens can operate in confined spaces (e.g., a mall food court), without the need for an extensive ventilation system to meet local operating codes. (Chemistry is everywhere!)
Amber was initially hired as a lab tech at Catalytic's a manufacturing plant, and has since been promoted to a Research Chemist position. In this role, she develops new chemical formulations for catalysts to make them more effective and efficient at 'cleaning' exhaust air. She also develops new applications for their products, such as 3D printing and commercial cooking, and also assists with quality assurance testing.
She writes, "My work is always challenging me in new ways, since we work with such a wide variety of applications on top of our research. That is what I find to be the most enjoyable aspect of my job."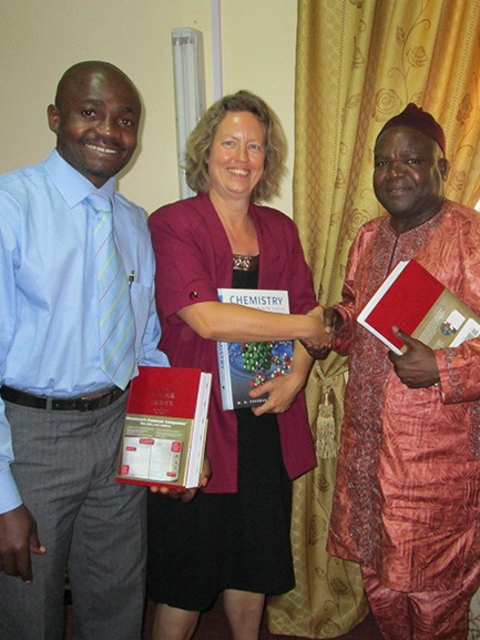 Dr. Rolande Hodel
President and Founder
AIDSfreeAfrica, Ossining, NY
Education:
M.S.: University of Kansas
Ph.D.: City University of New York
About:
Originally from Germany, Dr. Hodel was studying psychology on a study abroad program at Kansas State University where she met Dr. Gunda Georg, a professor of medicinal chemistry and fellow German. This meeting re-sparked her interest in in chemistry, and she switched her program of study to chemistry, ultimately enrolling in the KSU graduate program. She completed her MS degree at Kansas State prior to earning her PhD at CUNY-Queens College in New York City.
Dr. Hodel held a variety of "bench chemistry" jobs, until one day her life took an unexpected turn. After meeting the President of Brazil, Lula da Silva, who had just given an inspiring talk about how his country had managed to begin making its own AIDS drugs. She then turned her attention to Africa, and founded her own non-profit, AIDSfreeAfrica, in 2006. The mission of AIDSfreeAfrica is to help Africans become self-sufficient in producing pharmaceuticals — in particular, drugs needed to help people living with HIV/AIDS.
On the job, Dr. Hodel spends her time raising funds, speaking in public, writing grants, training and supervising volunteers in the US and Cameroon, and negotiating contracts with African agencies. She also consults with drug production and drug supply chain management, and also implements and supervises income-generating programs in specifically Cameroon. Part of her time is also spent networking; building connections among universities, pharmaceutical companies, and other organizations in the US and Africa. Even though she is far from the lab, she is still drawing in her expertise in chemistry.

Learn more about Dr. Hodel and AIDSfreeAfrica on the ACS career profiles site: ACS Career Profile: Hodel
Dr. Anna Waller
Presidential Management Fellow
US Department of Agriculture, Washington, DC
Education:
B.S.: UW–Eau Claire
Ph.D.: University of Illinois
About:
Anna hails from White Bear Lake, MN and attended UWEC from 2011 to 2015, majoring in Chemistry, Latin American Studies, and Spanish. She studied abroad for a year and Chile (she is an avid traveler), and did research with Dr. Phillips for three years. After graduating from UWEC, she did an internship with UNIVAR Inc. in St. Paul before pursuing her PhD in Food Science at Illinois. During her final year she held a Fulbright Scholarship while completing her doctoral research in Mexico.
The Agricultural Marketing Service (AMS) administers programs that create domestic and international marketing opportunities for U.S. producers of food, fiber, and specialty crops. AMS also provides the agriculture industry with valuable services to ensure the quality and availability of wholesome food for consumers across the country. The Presidential Management Fellows Program is the flagship leadership development program for individuals who will ultimately implement and manage public policies and programs.
Anna works within the Food Disclosure and Labeling Division of the USDA, where she is responsible for communicating with the food industry and consumers about the National Bioengineered Food Disclosure Standard. She also serves as a subject matter expert on biotechnology for the division. Her favorite part of the job is interacting with the food industry and being able to make a difference in the way our food supply is labeled and marketed.
Interested in learning more?
We would love to hear from you! Use the contact form below send us your questions, or make an appointment to talk directly about various career options and how our programs prepare students for them.