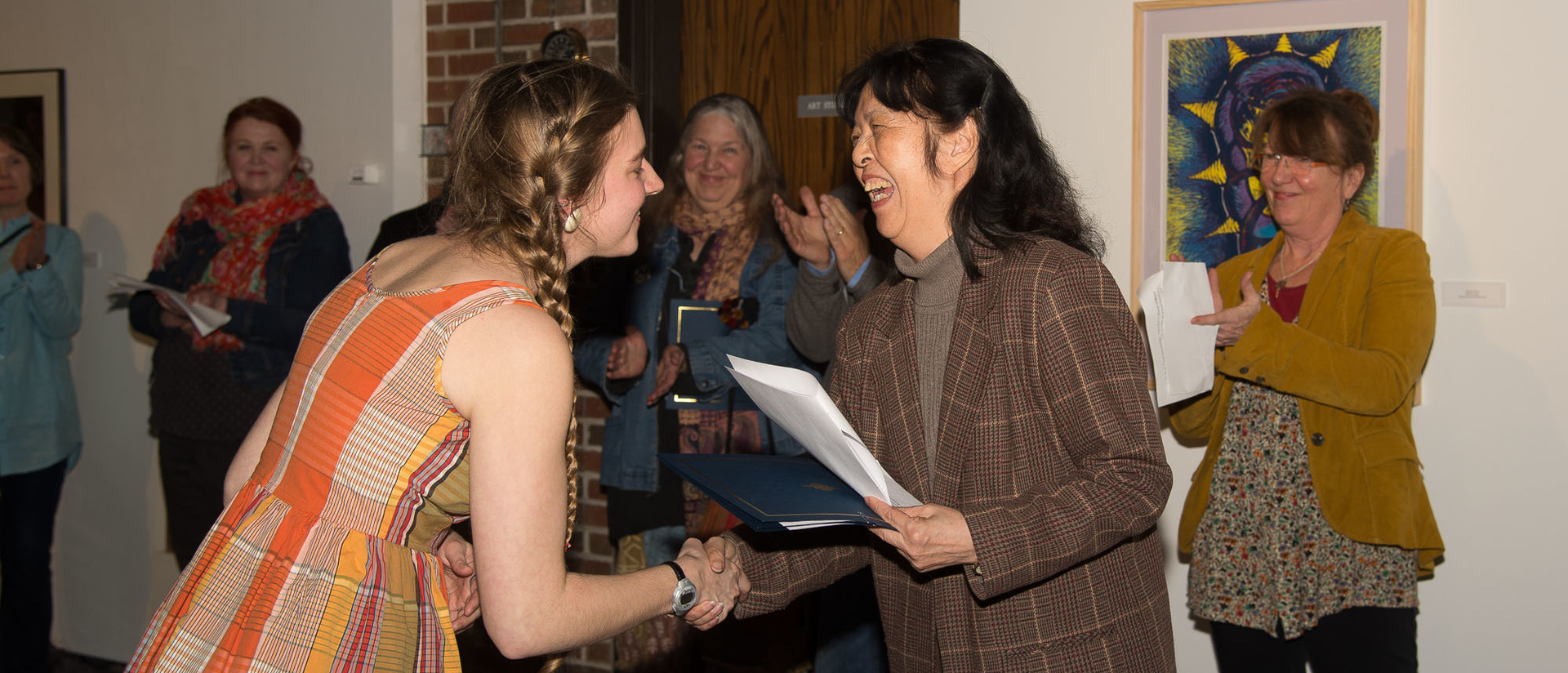 Between the costs of education and art supplies, many students often find themselves exploring brand new corners of their wallets or purses. Thanks to the generous donations of alumni and friends of the department, we are able to help alleviate some of the financial burden for deserving students.
Scholarship application requirements
Every spring semester, majors and minors in the department can apply for scholarships to be awarded in the next academic year. Students graduating in December will receive awards in full during the fall semester. Each application requires standard academic information, a formal letter addressed to the Art & Design Scholarship Committee, at least two recommendations, an unofficial transcript, a portfolio of 10 best artworks*. There is also an option to submit a financial need statement for students who do not qualify for financial aid. Recipients are announced at the Foster Gallery's Annual Juried Student Art Show reception, where they are presented with an award certificate.
*Portfolio only required for art (studio/design) majors or minors. Artwork from courses preferred over personal works.
Application Timeline
Recipients have been selected for the 2022-23 academic year. If you are interested in a scholarship for the 2023-24 academic year, applications are accepted starting January 1, 2023 and the deadline is to be announced (typically mid- to late March).
Available Scholarships
Find scholarship information and helpful links here: Scholarships at UW-Eau Claire
Charles and Ann Campbell Art Scholarship
Andrea Cecchini Memorial Art Scholarship
James H. Christoffersen Visual and Performing Arts
Patrick Danen Memorial Scholarship
Edward S. Fish Art Scholarship
Herbert Friend Art & Design Scholarship
Tom Grewe Fine Arts Scholarship
Gretchen Grimm Art Education Scholarship or Award
Stephen Katrosits New York Field Studies Scholarship
Randolph Koelsch Art Scholarship
Edward Haugen 'Ted' Leslie Memorial Art Scholarship
Josette T. Migawa Arts Education Scholarship
Gerald W. Newton Scholarship
Lydia Passow Fine Arts Scholarship