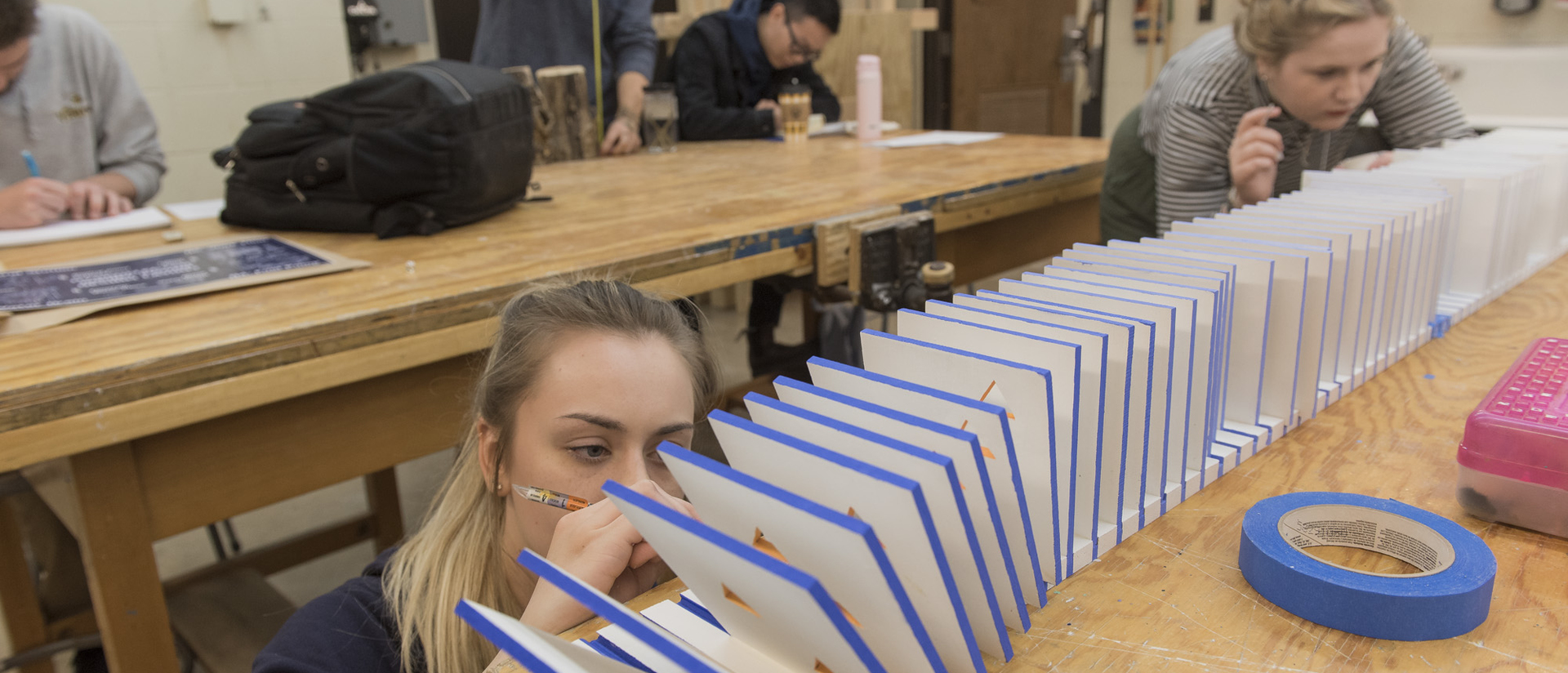 Art and Design Majors and Minors
Our variety of programs introduce students to multiple media, upon which they can build and tailor their art background with the freedom to explore new avenues of thought and technical skills. This array of majors and minors is ideal for those considering interdisciplinary careers or more immersive experiences in a specific artistic emphasis.
The mission of our department is to help you become the artist you want to be, allowing you to select and combine programs and areas of emphasis in the ways that best suit your individual talents.
What I enjoy most about this program is that it requires me to branch out from my artistry and take courses in the communication and journalism and/or computer science departments. With these courses, I feel I am better prepared in understanding communication not only visually, but interpersonally, and how to communicate through organized web design — essential skills for graphic designers looking to stand out.
Got questions? We have answers.
Prospective students with a passion for art and design have many similar questions when it comes to their education. This FAQ will help you find answers to some of the more common questions. After reading, you are welcome to contact any of our faculty or staff with additional questions.
Do I need to prepare a portfolio to be admitted to the program?
No - you are not required to have a portfolio to join the Art + Design department. Any portfolio requirements we have are part of the B.F.A. review, which won't happen until roughly your sophomore year.
Do I need a minor for Art + Design?
All students completing a 36-credit standard major are required to complete a 24-credit minor or a certificate program. No minor is required with a comprehensive major of 60 or more credits. In order to complete a 60-credit B.A./B.S. or 75-credit B.F.A. degree in four years, we don't typically recommend taking a minor. Please speak with your advisor if you have further questions.
What is the difference between a B.A. and a B.S. degree?
There is very little difference between a B.A. or a B.S. Those who choose a B.S. degree must demonstrate math competency at a higher level instead of a secondary language competency at the 102-level. While a B.S. is not advised against, it is recommended that most Art + Design students choose the B.A. degree, especially if they are planning to pursue the B.F.A.
What can I do with a degree in art?
Students who choose Art + Design as their major are often asked by family members what they plan to do after they graduate. Our graduates use their education in a variety of fields and in many cases, their positions closely relate to their personal career interests, work values, and transferable skills. Many either continue on with graduate studies or become professional artists, designers, educators, or art therapists. A major in Art + Design prepares students for a wide array of potential careers in art. Each of our areas of emphases has different opportunities for their majors, which can be read about further on their informational pages. We also strongly advise taking advantage of Career Services, even as early as your first year.
How do I know if my transfer courses will be accredited?
UW-Eau Claire offers a guide for students who have transferred or are planning to transfer. A simple comparative course search can be run for any UW Institution or selected non-UW school. More information can be found through Transfer Credit Information.
Can I use the studios/labs outside class hours?
Of course! Students taking art courses will have 24-hour access to the Art + Design wing of HFA. Rooms with punch pads will have codes updated each semester and students will need to obtain the new code from their instructor. Please note that designated computer labs are NOT for personal use, but for art-related assignments. The general access lab in HFA is room 275.
Thinking about getting a laptop for your education?
Perhaps consider waiting until you get to UW-Eau Claire, and then meet with Learning + Technology Services (LTS) to connect and learn about student discounts. Our university has collaborated with manufacturers to offer great deals for both hardware and software packages.
Our majors and minors have 24/7 access to three computer labs in our building: two Apple Mac labs and one Dell-based PC lab. Due to laptop prices, students often buy other brands. We simply recommend getting a laptop that is compatible with either platform. We further recommend the Adobe Creative Suite software package; particularly Illustrator, Photoshop, InDesign, Dreamweaver, and AfterEffects.