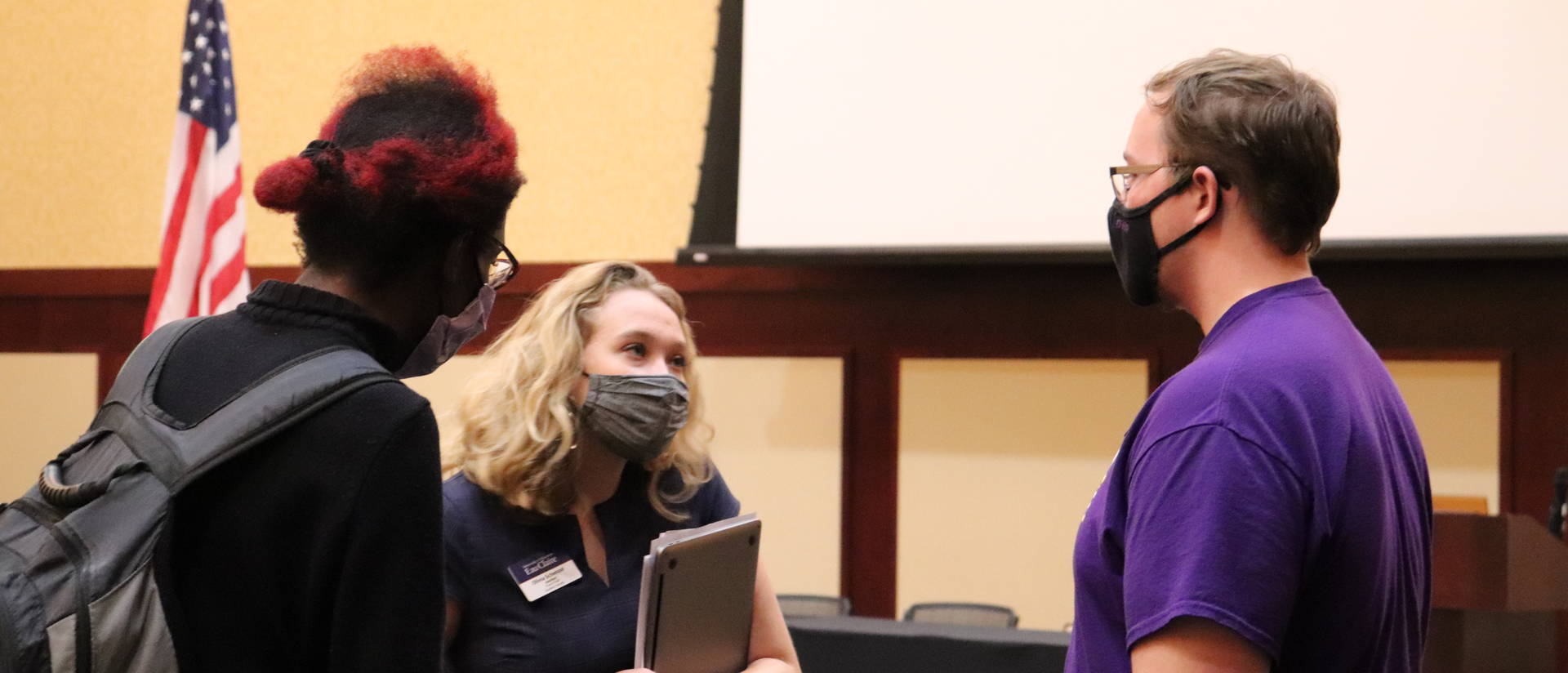 The mission of the University of Wisconsin-Eau Claire Student Senate is to represent the student body to the University and the community and to ensure readily-available student resources, diverse and enriching student development opportunities, and a positive and fulfilling student life experience.
Student Senate represents student interests by making policies with the University and UW System, Eau Claire City Council, and the state and federal governments. We allocate 6 million dollars in segregated fees to organized activities, including student legal services, UWEC athletics, Student Health Service, and many others. Different commissions within Senate also control another 13 million dollars including the Information Technology Budget, Differential Tuition, and the Green Fund, which funds things like computer stations, student-faculty research, internships, and sustainability initiatives. Aside from budgets and advocating, Student Senate plans events throughout the year including HOUSE Day, Pack it Up, Pass it On, and others.
Student Senate has the annual responsibility of allocating over $4 million in segregated fees to organized activities such as our nationally-ranked Forensics speech team, Blugold Athletics and Student Health Services and numerous other deserving organizations. In addition, Student Senate has oversees the $1.2 million Information Technology budget and the $11 million Blugold Commitment Differential Tuition budget. The Information and Technology budget funds innovative technology practices, general access labs, wireless Internet and much more. Blugold Commitment funds access to bottleneck courses, efforts to improve our four year graduation rate, and helps create high impact practices including immersion experiences, student/faculty collaborative research, internships, and capstones.
Aside from budgets and advocacy, Student Senate plans events throughout the year. Student Senate also oversees the approval of all new student organizations on campus and appoints students to university committees. We are incredibly proud of our service to students, and welcome suggestions on ways we can better serve our incredible student body.
If you are interested in joining Student Senate or any of its commissions or committees, stop by the Student Senate office in Davies 220. Contact commission directors for specific meeting times and places or e-mail the e-mail address with questions. Student Senate's general meetings are held at 6:00 p.m. on Monday evenings in Davies. Please check the meeting schedule for any changes to the date, time, or location.