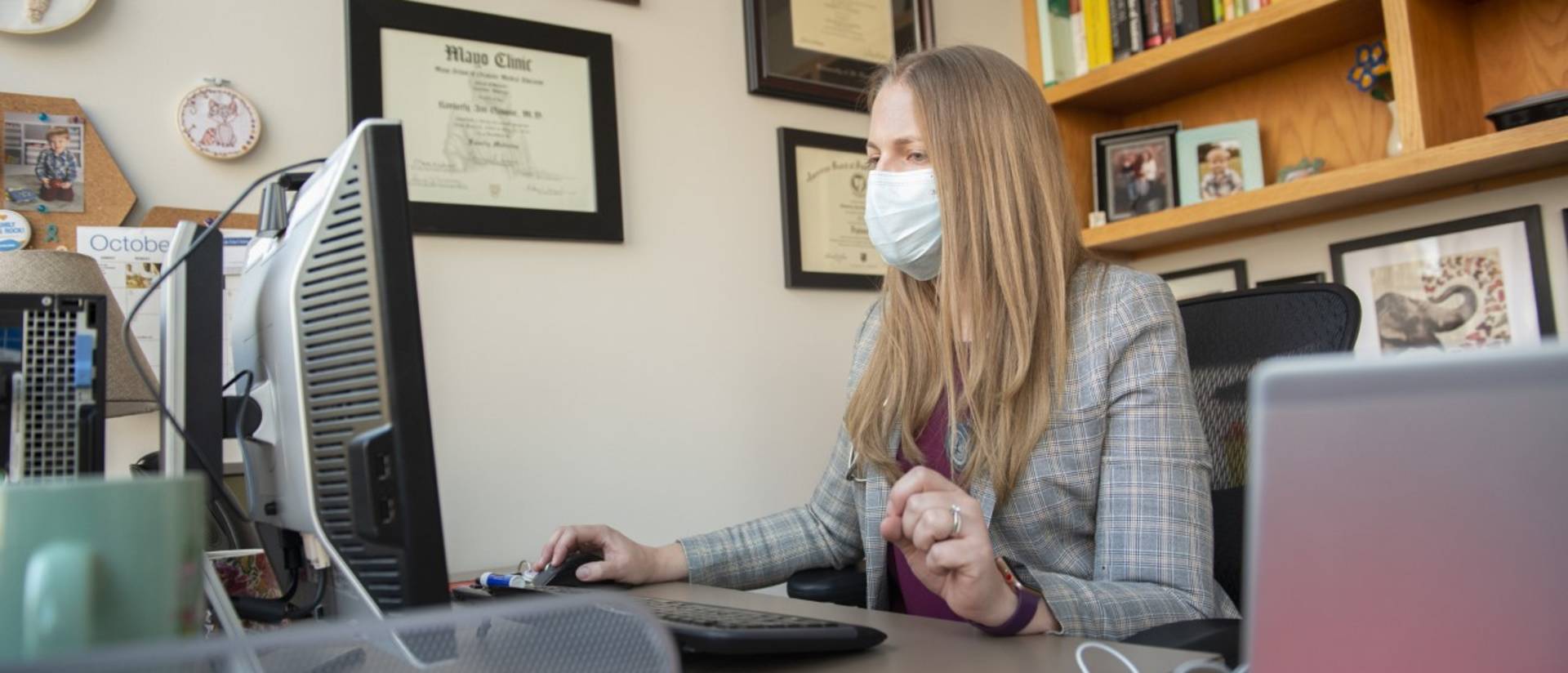 Stay informed and healthy
This page is designed to keep you informed of what to expect at Student Health Service during the COVID-19 pandemic. There are many moving parts as we take in the ever-changing information and guidance from local county health officials, but you can find the most up-to-date information on this page as well as COVID test information.
COVID-19 Vaccines
Making an appointment
Due to the COVID-19 pandemic, we are offering a limited number of options for online web-booking. We are still offering a wide range of services and appointments regarding illness, injuries, mental health, among other concerns. Please contact our staff at 715-836-5360 to schedule an appointment. We are also available by e-mail at shs@uwec.edu.
If you feel you are having a medical emergency, please CALL 911.
Virtual appointments
To ensure the safety of our campus community, we are offering appointments virtually using Microsoft Teams. Virtual appointments allow you to have your health care concerns addressed from the comfort of your own home. Some appointments will be needed to be evaluated in the clinic. Rest assured, Student Health Service is currently following state and national guidelines to ensure your safety during the pandemic.
Students with COVID-19 or potential COVID-19 symptoms will receive direction from SHS.
COVID-19: Symptoms

Fever or chills
Cough
Shortness of breath or difficulty breathing
Fatigue
Muscle or body aches
Headache
New loss of taste or smell
Sore throat
Congestion or runny nose
Nausea or vomiting
Diarrhea

This list does not include all possible symptoms. SOURCE: CDC
If you have any COVID-19 symptoms or questions, please contact Student Health Service (SHS) at 715-836-5360 or SHS@uwec.edu.
If you are having a medical emergency, CALL 911.
PCR vs Antigen Testing

PCR

PCR tests look for the genetic material of the COVID-19 virus. These tests used for diagnostic purposes, meaning these tests are used to detect current and active infections.

Antigen

Antigen testing looks for specific proteins of COVID-19.
Free COVID-19 testing for UWEC students
For all UW-Eau Claire students, COVID-19 testing is free at Student Health Service (by appointment only) if you have:
a temp of 100 degrees or higher
symptoms related to COVID-19
had contact with a person who has tested positive for the virus
Please call the clinic at 715-836-5360 to schedule. Students may also choose to have their primary health care provider conduct the testing. Faculty and staff should contact their health care provider if they are experiencing symptoms of COVID-19.
All Blugolds (students, faculty and staff) who test positive for COVID-19 should inform SHS, which is working closely with the Eau Claire City-County Health Department.
Additional information on testing
Community Testing Sites

Community COVID-19 Testing Sites
Quarantine vs Isolation

Quarantine

All students, those living on and off campus, may be required to go into quarantine if they have had contact with a person who tested positive for COVID-19. You must remain in your room in quarantine for a period of 5 days. After quarantine you must consistently wear a well-fitted mask for at least the next five days.

Isolation

Isolation is required for students displaying symptoms who are awaiting the results of a COVID-19 test. Students in isolation must only leave their room for a medical appointment, and they must wear a mask to go to those appointments. Students who test positive for the virus must remain in isolation to ensure the safety of the campus community.

https://www.cdc.gov/media/releases/2021/s1227-isolation-quarantine-guidance.html
Wisconsin Exposure Notification App