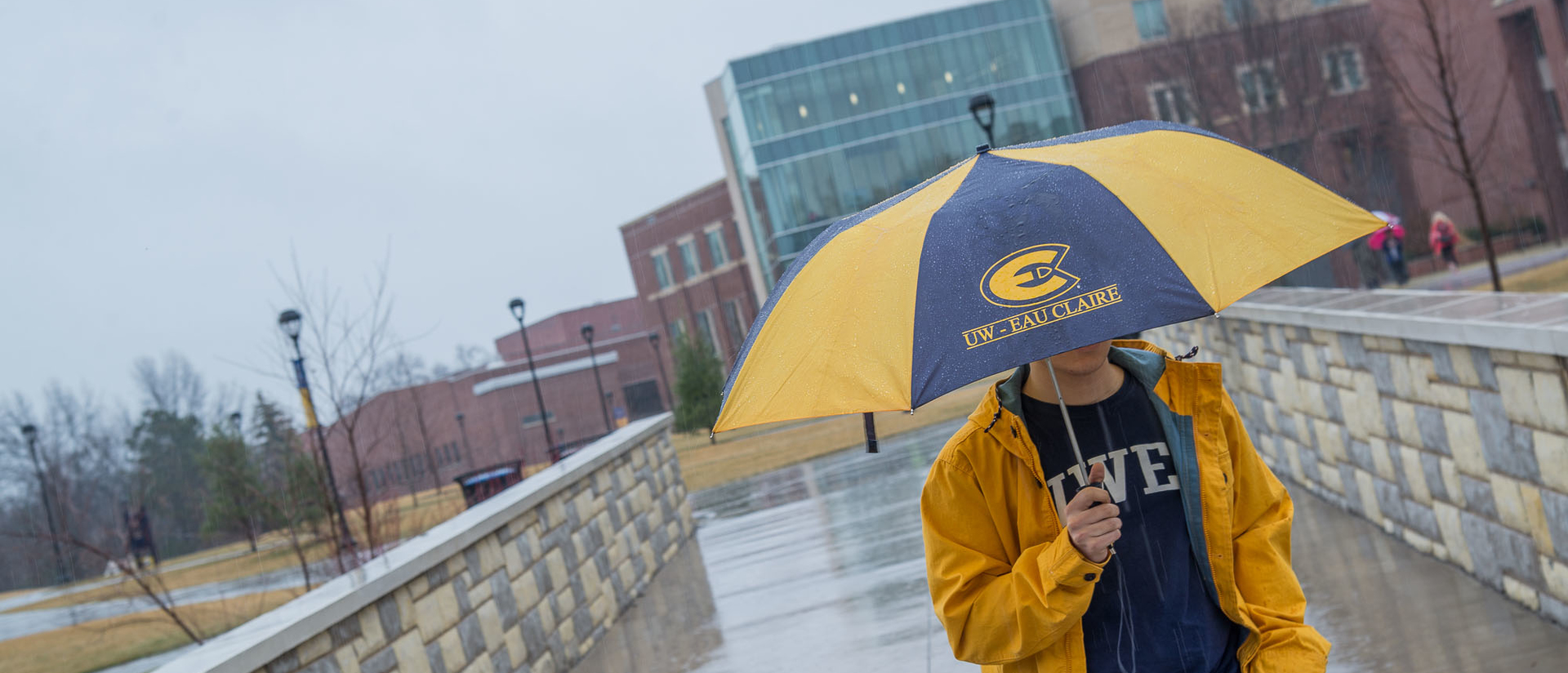 Be prepared as conditions change
Knowing what to do when there is a risk of severe weather can keep both you and the campus community safe.
Sirens, Watches & Warnings

Sirens

Sirens only will sound for locations in the path of severe weather based on National Weather Service data available at the time. Instead of issuing warnings for entire counties, warnings will be issued based on the paths of storms. The Eau Claire County Siren System is tested at 11 a.m. on the first Monday of the month throughout the year.

Watches

A watch is an indication of where and when weather conditions may present severe weather or tornadoes. The National Weather Service will issue a bulletin to local authorities as well as local television and radio stations.

Use available means to obtain more emergency or severe weather information (i.e. radio, television, weather alert radio, Internet services)
Communicate information to others
Know where emergency/severe weather shelters are located in your building, if needed

Warnings

When severe weather or tornadoes are approaching Eau Claire County, the National Weather Service will notify local authorities and radio and television stations. The Eau Claire County Weather Siren System then will be activated.

All persons immediately should seek shelter in the nearest designated severe weather or emergency shelter and assist in protecting the safety of others who may need assistance or direction
Go to the basement or an interior room of the nearest building if the location of an emergency is unknown
Avoid rooms with large roofs (i.e. auditoriums, gymnasiums or similar large rooms)
Stay away from all windows and exterior doors
Caught outdoors during a storm?

If you are caught outdoors

Stay away from anything taller than you or items with metal
Stay away from water
Take shelter somewhere that doesn't stand above the landscape - not under large trees or in isolated sheds
If there is no shelter, find a low spot or ditch. Kneel, put your hands on your knees and bend forward. Don't lie flat on the ground
Tornado Safe Areas

Eau Claire Lower Campus

Eau Claire Upper Campus

Barron County Campus
---
NOAA Weather-Ready Nation Ambassador
UW-Eau Claire is recognized as a NOAA Weather-Ready Nation Ambassador. This initiative is an effort to formally recognize NOAA partners who are improving the nation's readiness against extreme weather, water, and climate events. As a Weather-Ready Nation Ambassador, UWEC is committed to working with NOAA and other Ambassadors to strengthen national resilience against extreme weather.