Kong Pheng Pha, Ph.D. (He/Him/His)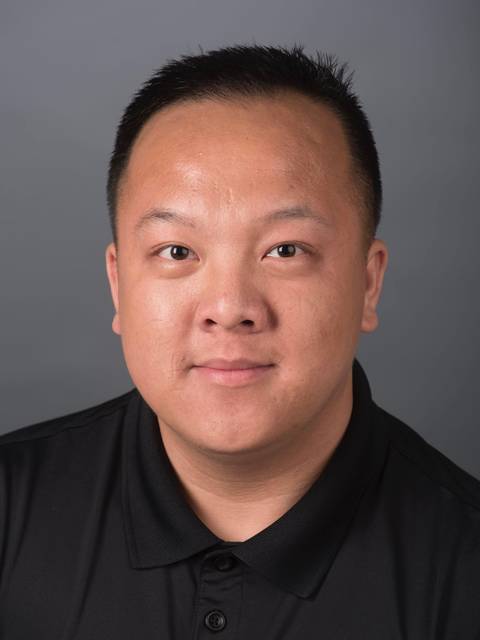 My research examines the constructions of race, gender, and sexuality within the Hmong diaspora in the post-refugee migration era. I chart out the contestations over the heterogenization of Hmong communities and experiences and its implications for Hmong American social and political belonging. I employ intersectional queer, feminist, and critical race approaches to theorize how Hmong Americans are simultaneously situated within and diverge from U.S. historical and contemporary racial, gender, sexual, and queer politics and activism in order to understand how Hmong Americans and other historically divested subjects can expend the analytic of the "refugee" and the "queer" for political and progressive ends. Furthermore, I examine how queer Hmong American youth narratives and critical imaginations unsettle dominant discourses of Hmong American, Southeast Asian American, and Asian American racial, gender, and sexual formation.
I teach courses for both Critical Hmong Studies and the Women's, Gender, and Sexuality Studies program. I serve as Chair of the Critical Hmong Studies Advisory Committee and I also serve on the Women's, Gender, and Sexuality Studies Steering Committee. Beyond the classroom, I have published in scholarly books, as well as in scholarly journals and popular newspapers, including Hmong Today and The Twin Cities Daily Planet. I also work with Hmong American, Asian American, and queer communities on issues related to civic participation, racial and queer justice, and student engagement.
---
Teaching Interests
HMNG 130: Hmong American Experiences in the U.S.
HMNG 342: Critical Hmong Studies International Travel Seminar
HMNG 391: Critical Refugee Studies
WGSS 100: Introduction to Women's, Gender, and Sexuality Studies
WGSS 206: Perspectives in LGBTQ Studies
WGSS 308: Asian American Women's, Feminist, and Queer Cultural Productions
WGSS 315: Women of Color Feminisms
WGSS 365: Intersectionality: Critical Approaches to Identity and Injustice
WGSS 406: Queer Theories and Sexual Politics
WGSS 490: Global Pandemics, Transnational Feminism, and Social Justice
Research and Creative Activities
Hmong American histories, politics, and literatures
Southeast Asian American communities
Critical Hmong Studies
Asian American studies
Critical refugee studies
Contemporary Asian American activisms
Asian American racial formations
U.S. migration and immigration cultural politics
Feminist theories, pedagogies, and methodologies
Gender and sexuality studies
Women of color feminisms
Critical race and ethnic studies
Politics of race, racism, and anti-racism
LGBTQ social movements in the U.S.
Queer theory, queer diasporas, queer of color critique
Education
Ph.D., University of Minnesota (American Studies)
B.A., University of Minnesota (Psychology, minors in Sociology, History, & Asian American Studies)
Published Research
Pha, Kong Pheng. "Review Essay of Fly Until You Die: An Oral History of Hmong Pilots in the Vietnam War and Prisoner of Wars: A Hmong Fighter Pilot's Story of Escaping Death and Confronting Life by Chia Youyee Vang." Journal of Vietnamese Studies 17, no. 1 (2022): 72-78.
Pha, Kong Pheng. "Review of History on the Run: Secrecy, Fugitivity, and Hmong Refugee Epistemologies by Ma Vang." Environment and Planning D: Society and Space (October 11, 2021).
Pha, Kong Pheng. "Introduction to Pao Houa Her's My Grandfather Turned into a Tiger." Aperture Magazine, no. 244 (September 2021).
Pha, Kong Pheng. "Unsettled Mourning." In Sparked: George Floyd, Racism, and the Progressive Illusion, edited by Walt Jacobs, Wendy Thompson Taiwo, and Amy August, 192-198. Saint Paul: Minnesota Historical Society Press, 2021.
Pha, Kong Pheng, Kaochi Pha, and Meria Khaosue Pha. "How We Became 2 Bulletproof: A Critical Conversation Among Three Hmong American ARMY Siblings." The Rhizomatic Revolution Review [20130613] 1, no. 2 (March 2021): 1- 15.
Pha, Kong Pheng. "Two Hate Notes: Deportations, COVID-19, and Xenophobia against Hmong Americans in the Midwest." Journal of Asian American Studies 23, no. 3 (2020): 335-339.
Pha, Kong Pheng. "The Politics of Vernacular Activism: Hmong Americans Organizing for Social Justice in Minnesota." Amerasia Journal 45, no. 2 (2019): 207- 221.
Pha, Kong Pheng. "'Minnesota is Open to Everything': Queer Hmong and the Politics of Community Formation in the Diaspora." Minnesota History 66, no. 6 (Summer 2019): 255-263.
Pha, Kong Pheng. "Book Reviewed by Kong Pheng Pha: Moua, Mai N. Moua (2017). The Bride Price: A Hmong Wedding Story." The Journal of Southeast Asian American Education and Advancement 13, no. 1 (2018): 1-4.
Lo, Aline, and Kong Pheng Pha. "Hmong American Literature and Culture." In The Oxford Encyclopedia of Asian American Literature and Culture, edited by Josephine Lee. New York: Oxford University Press, 2018.
Pha, Kong Pheng. "Doorknocking for Justice: Exploring Asian Dreams, Lives, and Issues Through Critical Conversations." Asian American Organizing Project, June 13, 2017 www.aaopmn.org/2017/06/13/__stpdoorknock4justice/
Jeong Wood, Eunha, and Kong Pheng Pha. "On Police Abuse and Black Lives Matter: Talking Asian to Asian in North Minneapolis." APIS4BlackLivesMN, February 9, 2016. https://api4blacklivesmn.wordpress.com/2016/02/09/on-police-abuse-black-lives-matter-talking-asian-to-asian-in-north-minneapolis-2/
Pha, Kong Pheng, Louisa Schein, and Pao Lee Vue. "Hmong Sexual Diversity: Beginning the Conversation." Hmong Studies Journal 16 (2015): 1-18.
Pha, Kong Pheng. "Minneapolis-St. Paul, Twin Cities Hmong Community." In America's Changing Neighborhoods: An Exploration of Diversity Through Places, 886-890, edited by Reed Ueda. Santa Barbara: ABC-CLIO, 2017.
Pha, Kong Pheng. "Finding Queer Hmong America: Gender, Culture, and Happiness Among Hmong LGBTQ." In Claiming Place: On the Agency of Hmong Women, edited by Chia Youyee Vang, Faith Nibbs, and Ma Vang, 303-325. Minneapolis: University of Minnesota Press, 2016.
Pha, Kong Pheng. "What Does Marriage Equality Mean for The Hmong American Community?" Hmong Today, September 26, 2013. http://Www.Tcdailyplanet.Net/Opinion-What-Does-Marriage-Equality-Mean-Hmong-American-Community/
Pha, Kong Pheng. "Review of Hmong and American: From Refugees to Citizens, edited by Vincent K. Her and Mary Louise Buley-Meissner." Hmong Studies Journal 13 (2012): 1-4.
Professional Memberships
Association for Asian American Studies
American Studies Association
National Women's Studies Association
American Men's Studies Association
Organization of American Historians
Hmong Studies Consortium