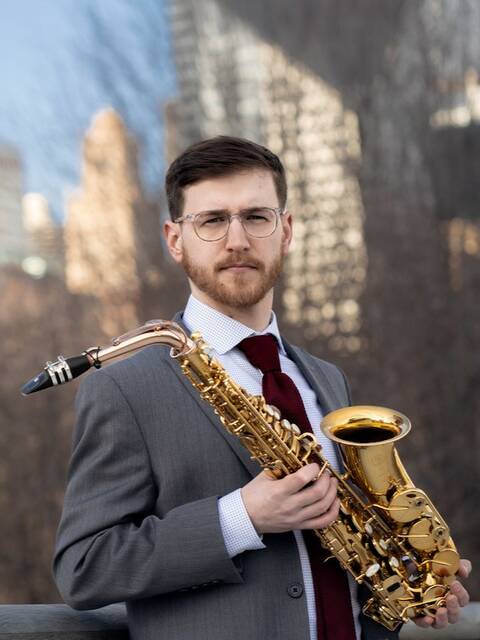 Joseph is a Madison-based saxophonist, educator, and collaborator focused on presenting the music of living composers. Joseph has performed in solo, chamber, and ensemble settings in venues across the United States and abroad including at the Chicago Civic Opera House, Shanghai Symphony Orchestra Hall, Carnegie Hall, Forbidden City Concert Hall, Tsuen Wan Town Hall, and the Museum of Contemporary Art Chicago, among others.
Joseph is the recipient of the 2022 Luminarts Classical Winds Fellowship and was named first-place prizewinner in the Music Teachers National Association Chamber Music Competition, Neale Silva Young Artists' Competition, Miroslav Pansky Concerto Competition, and Oshkosh Symphony Orchestra Discovery Artist Competition, second-place prizewinner in the NASA Quartet Competition, and third-place prizewinner in the NASA Collegiate Solo Competition. Joseph has recently been invited to perform at the World Saxophone Congress, North American Saxophone Association Biennial Conference, New Music Gathering, Northwestern University New Music Conference, and the International Saxophone Symposium. Recent engagements include recording sessions with Ensemble Dal Niente of Aaron Einbond's Attempts at Exhausting a Place and Jeff Parker's Water on Glass, a year-long residency with Fuse Quartet at Webster University, and community outreach concerts with ~Nois.
As an orchestral musician, Joseph has appeared with the Chicago Lyric Opera, Northwestern University, Oshkosh, La Crosse, Fox Valley, and Manitowoc Symphony Orchestras. In Fall 2021, Joseph joined the Joffrey Ballet, Chicago Lyric Opera Orchestra, and conductor Scott Speck for ten performances of Maurice Ravel's Bolero for the acclaimed season opener "Home". In 2018, Joseph travelled with the Northwestern University Symphony Orchestra for performances in Beijing, Shanghai, and Hong Kong.
As an educator, Joseph is committed to empowering students to achieve their musical goals through personalized instruction and a passion for saxophone pedagogy. Joseph serves as Lecturer of Music at the University of Wisconsin-Eau Claire where he teaches applied saxophone and chamber music. Joseph has presented masterclasses and lectures at Lawrence University, Northwestern University, Webster University, UW-Milwaukee Peck School of the Arts, North Park University, and the Chicago Math & Science Academy. In the past, Joseph has served on the faculty of Lawrence University and the Merit School of Music.
Originally from Oregon, Wisconsin, Joseph completed a Bachelor of Music in saxophone performance and instrumental music education at Lawrence University, a Master of Music in wind performance at Northwestern University, and is currently completing a Doctor of Musical Arts in wind performance at Northwestern University. His primary teachers include Taimur Sullivan, Steven Jordheim, and José Encarnación.
---
Education
B.M., Lawrence University
M.M., Northwestern University
D.M.A., Northwestern University (in progress)