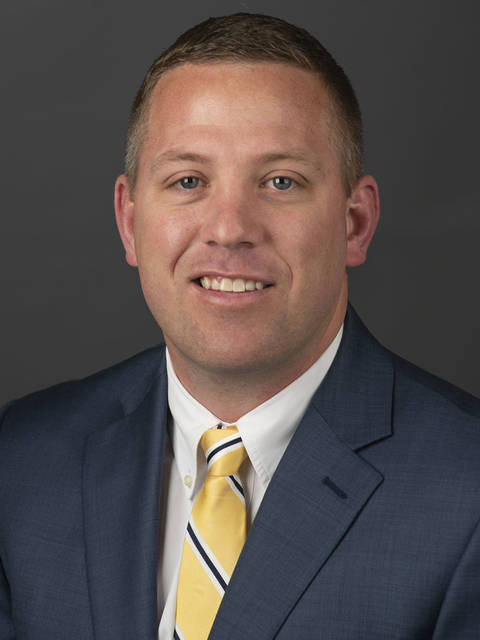 Wesley Beschorner enters his first season as head coach of the UW-Eau Claire football team in 2019-2020.
Beschorner, who had been the quarterbacks coach at the NCAA Division I University of Maryland, became the 17th coach in school history when he was hired in February 2019.
At Maryland, the Terrapin offense ranked second in the Big Ten in rushing touchdowns, number three in rushing offense and saw five players earn All-Big Ten honors last season.
Beschorner is a former standout at the University of South Dakota who went from Offensive Scout Team MVP to being a Harlon Hill finalist his senior season – an award given to the most valuable player in NCAA Division II. As the Coyotes signal-caller, Beschorner led South Dakota to a North Central Conference title in 2005. That season, he also earned First Team All-American honors and led Division II in passing efficiency. Beschorner re-wrote the record books during his four-year career, setting 33 program records. For his efforts, he was inducted into South Dakota's Hall of Fame in 2017.
Following his playing career, the Lohrville, Iowa native and Iowa High School Hall of Famer (2017) stayed in Vermillion as a graduate assistant coach before becoming the quarterbacks coach and eventually, the associate head coach and offensive coordinator. USD recorded several big wins with Beschorner leading the offense, including wins over North Dakota State and defending national champions Eastern Washington, both of whom were ranked number one in the nation at that time. The Coyotes were nationally ranked for 10 consecutive weeks in 2011 and the program also tallied a 41-38 signature win over the University of Minnesota in 2010.
After his time at USD, Beschorner was the offensive quality control assistant at the University of Pittsburgh before taking a position at Rice University as their quarterbacks coach.
Wesley is married to former USD track standout Kiki (Smith) Beschorner. They have three sons, Burke, Rhett and Troy.
---