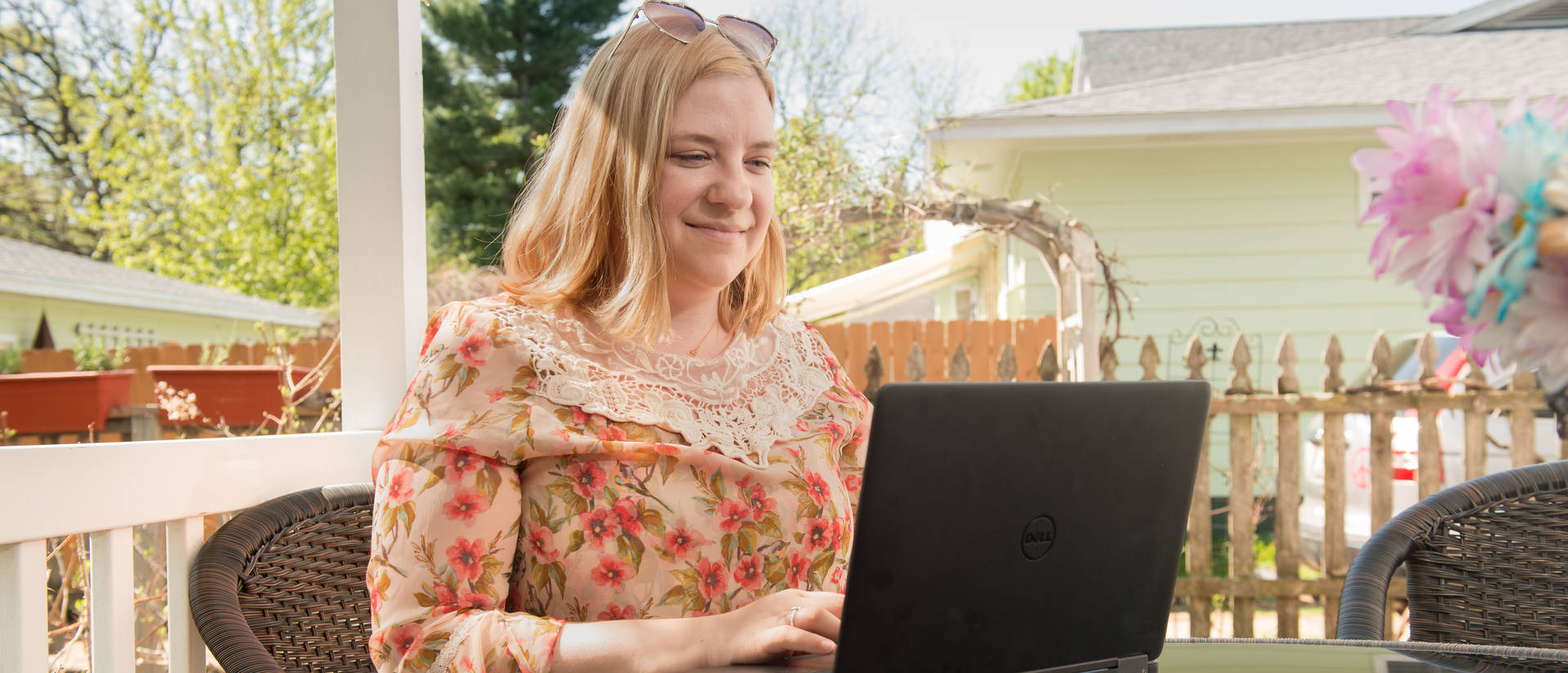 Orientation for Online Students
Welcome to your UW-Eau Claire Online Campus!
Thank you for choosing UW-Eau Claire for your online program. Whether you are pursuing a degree, earning a certificate, or registering for individual online courses, you are an important member of our Blugold community!
We hope that you will find this online orientation helpful throughout your online career here – this site is meant to find student services, academic and financial information, and instructions for completing student transactions -- from preparing to be a student again, to registering for classes, to ordering your final transcripts.
This is not meant to replace your individual program website, so we've provided links to each individual program's information, as well.
We hope you enjoy your UW-Eau Claire experience!
What Online Courses, Degrees, and Certificates are Offered?
How Do I Succeed as an Online Student?
How Can I Get Financial Aid?

As a part-time student, what should I know about financial aid?

You may qualify for financial aid if you meet all the following requirements

You are enrolled in a degree seeking program

Students admitted as Special (non-degree) students are not eligible for financial aid, this includes students in the DSEPS program.

You are registered at least half-time

To be registered half-time, Undergraduate and Post-Baccalaureate students must be registered in a minimum of 6 credits per Fall, Spring, or Summer semester.
Graduates must be enrolled in at least 4 credits (Fall, Spring) or 3 credits (Summer)

For those enrolled for less than full-time credits

Please review your Financial Aid Notification which will state the enrollment level that your financial aid is based on for each semester.
If your actual or intended enrollment does not match the Financial Aid Notification, please, send an email message to Blugold Central (BlugoldCentral@uwec.edu) stating your exact number of credits for which you are enrolled. Financial aid will adjust your award accordingly.
Without notification, the financial aid system defaults to full-time status and will not disburse funds as long as you are enrolled less than full-time.

Refer to the Financial Aid website for additional information, including how to apply, deadlines, Satisfactory Academic Progress, and Verification.
What Assistance is Available For Active Military & Veterans?

Education Benefits: Veterans and eligible dependents may be entitled to educational benefits under various programs administered by the Veterans Administration. The University Veteran Benefits page provides information about how to apply for admission to UW-Eau Claire, how to earn credit for your military experience, and how to apply for Federal and State benefits.
Yellow Ribbon: UWEC participates in the VA Yellow Ribbon program to assist with nonresident tuition for qualifying students. Please visit the VA website to learn more and then contact the veteran services office for the application: veterans@uwec.edu

Military Leave Policy: The UW-Eau Claire military leave policy is in place to accommodate students who must temporarily set aside their educational pursuits when called to active duty in the military.
Get Connected: UWEC is home to a Student Veterans of America (SVA) chapter, which helps students stay connected. Please join our Facebook page to meet fellow veterans and stay connected without having to be on campus.
For other assistance with benefits, please email veterans@uwec.edu.
How Do I Register, Add/Drop Classes, and View My Grades?

Registering/Adding Courses

Cancelling/Dropping/Withdrawing

Cancelling refers to dropping some or all of your classes before the term begins.
Dropping refers to withdrawing from an individual class, but remaining registered in one or more classes. (Learn More) You can drop any course as long as you are within the deadline to drop courses, and as long as you are not dropping your last or only course.
NOTE: To find the deadline to drop an individual class, log in to your CampS Student Center. Click the Drop icon preceding the course you want to drop.
Withdrawing refers to reducing your enrollment to zero credits on/after the term start date. (Learn More)

Financial/Refund Deadlines

Financial deadlines do not necessarily match academic deadlines. Full or partial refunds are based on the date you drop/withdraw. Visit the Business Office website for more information.

Grades and Transcripts
How Do I Find My Bill and Pay Tuition?

Bills for tuition and fees will be posted in CampS shortly before the beginning of the semester. In most cases, you'll be notified by email that you can view your bill in CampS. If for any reason you do not receive the email, be sure to check CampS for your bill before before the payment due date.
You may pay by credit card, but you will need to pay additional fees to do so. There are no fees for paying online directly from your bank account.
If paying by mailing a check, be sure you mail it about a week in advance of the due date to avoid late fees.
How Do I Find Required Textbooks and Access Courses?

Textbooks

How do I find my textbook list and rent books?

Access Your Courses

Your courses utilize Canvas, an online portal to access content, assignments, and grades. The student page for Canvas will give you basic instructions on how to use the various tools in the system.

*You may not see your course listed in Canvas until the first day of class. If it is the first day of classes and you still don't see your course, contact your instructor.
How Do I Access My Campus Email and Technology Support?

How do I log into my email?

Using your UWEC email is crucial to keep up with communications from your instructors, other students, and the institution. All official information from the university will be sent to that address.

When the university activates your student account, you will receive an email that provides you with a username and password. You will use that same username and password when you log into Webmail and other university accounts.

*If you don't want to check your email regularly, you can forward it to another email, such as a Gmail account. Please contact the Help Desk with any questions.

What technology do I need to complete an online course?

What are the minimum technology requirements?

Have your own computer – avoid borrowing or relying on other computers for long periods of time. If your computer is old or unreliable, taking online courses will be more difficult.

Don't expect to complete an entire online class from your phone or tablet.

Stable internet access – online courses may be more difficult to complete without highspeed internet access as your course will probably include streaming videos.

Your program will also have specific technology requirements; for instance, CSD students often have to create videos for their courses or some programs may have computer recommendations.

How can I get technology help?

LTS Help Desk can troubleshoot many issues with software, email, and D2L/Canvas

LTS Training provides assistance to learn software such as D2L/Canvas, Word, PowerPoint, Excel, Email, video editing, Photoshop, and more.
Can I Use the Library and Other Student Services?

How do I find library resources?

McIntyre Library offers services, research assistance, and materials to students studying online. Thousands of online journals, ebooks and streamed videos are readily available online. When print materials are needed, the library will even mail physical materials to students who live and study outside of the Eau Claire area. Librarians offer research assistance via chat, phone, or email. Some online classes 'embed' librarians who provide research assistance and tips through D2L or Canvas.

More information on library services for online students.

What services are available for students with disabilities?

UW-Eau Claire encourages students with documented disabilities to participate in our programs whenever possible. If you require a reasonable accommodation, please notify Students with Disabilities (SSD) office at least two weeks in advance of your program so that appropriate arrangements can be made.

Degree seeking, Post-Baccalaureate and Graduate students with disabilities are offered a variety of services and accommodations to ensure that both facilities and programs are accessible. The link below will direct you to the Services for Students with Disabilities (SSD) webpage. Here you will find appropriate contact information for SSD staff, as well as resources and accommodations available to meet your needs. All requests are kept confidential.

Please review the accommodations and services policy to arrange these services through UW-Eau Claire. Common accommodations for our online students may include, but are not limited to: access to technology, assistive technology, alternative text and Closed Captioning.

Career Services

Professional staff in the Career Services office can offer helpful advice for finding internships and jobs, launching careers, and pursuing your professional goals. Career Services at UW-Eau Claire is a division of the Advising Retention and Career Services division.

Contact Career Services

715-836-3487

Remember to identify yourself as an online student.
Can I Get a Student ID Card?

How do I get a student ID card?

As an online student, you are not required to have a Blugold Student ID card, but you may request one for a variety of reasons:

possible discounts for professional conferences, software purchases, texts and even reduced insurance rates.
It also can be beneficial when ordering materials from McIntyre Library and when working with Career Services.

For online students, your Blugold Card will not have your picture displayed.  Where your picture would normally be—it will read "Online Student." 

How to apply for your card:

*UWEC degree-seeking online students do not pay segregated fees. As such, these students are not eligible for segregated fee services

Contact your academic program contact to determine if the Blugold ID Card is available through your program, and to initiate a request.
Your program representative will ask you to complete the Blugold Card Notarized Identity Verification for Student Document.
Download and complete the Blugold Card Notarized Identity Verification for Student form
Upon completion of the notarized form, scan or take a photo of the form and email it to your program representative.

Your program representative will send the completed form to the Blugold Card Office, where your card will be created at no cost to you. Upon creation, your program representative will mail your card to you using your address provided in CampS.

Please allow a minimum of 2 weeks for card delivery.
Policies