The University of Wisconsin-Eau Claire will host events in Eau Claire and at UW-Eau Claire – Barron County in Rice Lake in recognition of Indigenous Peoples Day. The events are free and open to the public.
Eau Claire campus:
UW-Eau Claire's Multicultural Student Services office will host "Indigenous Peoples Day: A Trip to Turtle Island" from 4-7 p.m. Monday, Oct. 9, at the Chippewa Lounge along the Chippewa River on campus. The event will feature a vibrant celebration of art, music and food from a variety of North American Indigenous cultures.
For more information about this event, contact Charlie Kernan or Rosa Gómez, student service coordinators in Multicultural Student Services.
Rice Lake campus:
UW-Eau Claire – Barron County will host its third annual Indigenous Peoples Celebration Thursday, Oct. 12, on the Rice Lake campus.
The event, which will take place in the Commons of Meggers Hall, will begin at 5:30 p.m. with a dinner of wild rice and three sisters soup provided by the UW-Eau Claire Intertribal Student Council.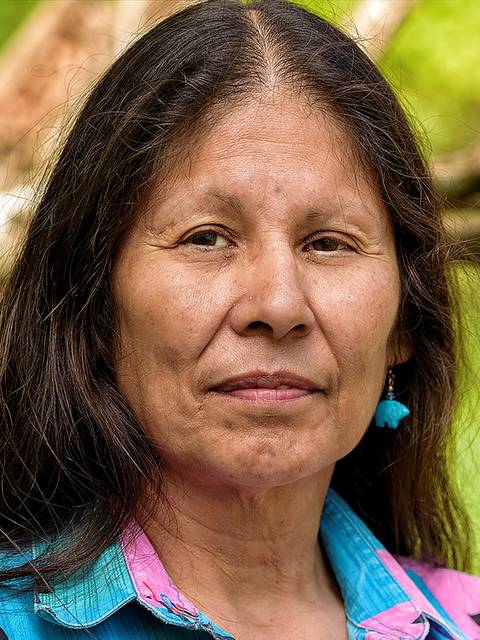 At 6:15 p.m., Wanda McFaggen will present "A Harvest Story: How Wild Rice came to the Ojibwe People." A Q&A session will follow the presentation.
McFaggen is the director and tribal historic preservation officer at St. Croix Chippewa Indian of Wisconsin. Her spirit name is Bedobanukwe (Bii-daab-a-noo-kwe), which roughly translates to "daybreak woman." She is from the Migizi (Eagle) Clan and also is Second Degree Midewewin.
McFaggen established the St. Croix Tribal Historic Preservation Department in August 2000 for the protection and preservation of cultural, historical and archaeological resources on St. Croix reservation lands. She has used traditional methods to restore the wild rice to Clam Lake in Siren.
The presentation will be livestreamed at uwec.ly/ipc (link will be activated when the presentation begins). Those interested also may view McFaggen's presentation on demand at ricelaketv.com after the event.
For more information about the Rice Lake event, contact Dr. Abbey Fischer, campus director at UW-Eau Claire – Barron County.