Photo caption: UW-Eau Claire is continuing a pilot program that supports faculty who want to incorporate into their courses more teaching, learning and research materials that reside in the public domain or have been released under an open license that allows them to be used at no cost. The project aims to reduce costs associated with buying textbooks or other course materials.
In the 11 years that Dr. Lisa Quinn-Lee has been teaching an Introduction to Social Welfare class at the University of Wisconsin-Eau Claire, she has yet to find a textbook that meets her needs.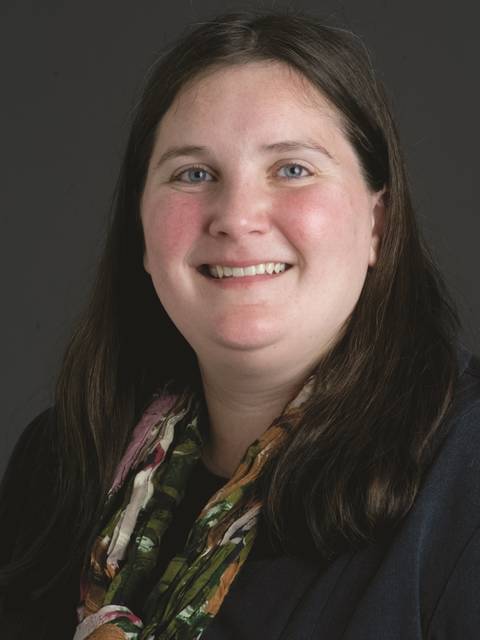 The course attracts large numbers of students, including freshman through fifth-year seniors, few of whom are
social work majors, says Quinn-Lee, an associate professor of social work.
"It's difficult to keep everyone engaged and to keep the course material at a level all can understand and apply to their own major, while also giving social work majors a strong base," says Quinn-Lee, noting that it is an especially frustrating problem given the high costs of textbooks and related materials.
So, she welcomed the chance to be part of a program UW-Eau Claire is piloting that gives faculty the time, resources and support they need to redesign a course using open educational resources (OER).
OER are teaching, learning and research materials in any medium that live in the public domain or that have been released under an open license, making it free for people to access, use, adapt and redistribute the materials. Beyond textbooks, OER may include items like multimedia and interactive learning exercises.
"It was a chance to go an alternate route and find better things that work for my students and me," Quinn-Lee says of joining the pilot OER Adoption Incentive Program during the summer and fall of 2020.
UW-Eau Claire's OER pilot program
Through the pilot program, UW-Eau Claire offered 10 faculty members stipends to redesign one of their courses to incorporate OER. Preference was given to faculty teaching courses that enroll large numbers of students and/or students who are underserved by the university's current rental textbook program.
Faculty in the program worked with Center for Excellence in Teaching and Learning (CETL) staff to redesign their courses, and to develop assessments to measure students' academic outcomes and cost savings. Librarians in McIntyre Library and the Barron campus library helped faculty find OER content and other low- or no-cost textbook alternatives.
When OER is integrated into courses, it saves students money, and gives them immediate and long-term access to course materials, says Jill Markgraf, the director of McIntyre Library who helped launch the program. The materials also allow faculty to more easily reuse or revise how they use the materials in future courses, making course revisions or updates easier, she says.
UW-Eau Claire has not been an early adopter of OER, in part, because its textbook rental program has been effective in keeping many textbooks affordable, Markgraf says.
"However, our rental program also masks the cost of textbooks to students and though all students pay the textbook fee, not all benefit from the program equally, depending on their major," Markgraf says.
Blugolds pay $70 per semester in textbook rental fees, but on average they spend another $400 a year on textbooks they are required to purchase and an estimated $100 per course for access codes for digital ancillary materials, Markgraf says.
Those costs can be a burden to all students, but especially those who already are struggling to pay for college, Markgraf says.
In a 2020 survey of students attending UW System schools, 65% said the cost of textbooks and materials impact what courses they take, Markgraf says. Other surveys show that many college students say they take fewer classes a semester because of the cost of textbooks, and significant numbers of students report that they have dropped a class or failed a class because they couldn't afford the textbook and other costly materials, she says.
Since their primary mission is to make reliable information widely available, librarians have long been advocates of open scholarly and educational content, Markgraf says.
"We observe a publishing model, both in journal and textbook content, where the intellectual work of our faculty is creating greater and greater profit margins for publishers," Markgraf says. "Educational institutions, students and libraries then have to purchase that content back at a costs that keep rising and are unsustainable."
Quinn-Lee agrees, saying that as the cost of textbooks and related materials continues to go up, OER becomes an even more valuable option.
"The publishing world seems to dominate the choices and dictate the costs," Quinn-Lee says. "In a sense, OER is like trying to cut out the middle person. Above all, I want to cut costs for students and more and more, one traditional textbook through the rental program just isn't working. We need other choices and options."
In recent years, Quinn-Lee has heard a lot about OER in higher education and in her profession. Intrigued, she already was considering incorporating OER into her classes, but she quickly realized that she lacked the time and expertise to do it on her own.
"With CETL's guidance, the library liaison's expertise and help, and everyone's time and teamwork in this, I was able to be successful," Quinn-Lee says of revamping her course through the pilot project.
Promising outcomes
Students who were in the courses revised through the pilot program had positive feedback about the textbook-free curriculum and appreciated that there were no costs associated with class materials, Markgraf says.
In surveys, students reported that they liked the quality of the materials, the broader selection of readings and information, the visual and audio tools that supported their learning, and the more tailored lesson plans, Markgraf says. Others said the OER content was more relevant and engaging than standard textbooks, and they noted that they used the OER materials more than they used their textbooks in other courses, she says.
Librarians worked closely with faculty and CETL staff to identify OER and to connect them with library content that could replace or supplement textbook materials, Markgraf says. That experience has librarians thinking about new ways they can support faculty in the future, she says.
"The collaboration between CETL, librarians and participating faculty turned out to be a win-win-win situation," Markgraf says. "Participating faculty and CETL staff appreciated the involvement of librarians in helping to identify content in the process of course design. They recognized the value in involving librarians in course design beyond OER."
While UW-Eau Claire's pilot program's outcomes are still being assessed, a similar OER program at UW-Milwaukee has resulted in significant student savings. Between 2016-2020, students at UWM saved $2.3 million in textbook costs when faculty adopted OER instead of requiring a traditional textbook. The number of students impacted by the program at UWM in those five years is 18,900. Assessments there also show that student outcomes are the same or better in classes taught with OER, Markgraf says.
Quinn-Lee, who told her students that the course was part of the pilot project, says her students told her directly and reported in surveys that they appreciated that OER had replaced textbooks.
"The biggest comments I got were that it decreased their stress and anxiety a lot, especially during the fall semester, because they didn't have to wait for textbooks or spend time trying to get the textbook like almost every other student on campus," Quinn-Lee says. "While many of their friends, and they themselves for their other classes, had to wait weeks and even up to one month after classes started to get textbooks, codes and other course materials, for this class, they had everything they needed from day one."
Students also told her that the OER materials she used were easy to access, easy to understand and interesting, Quinn-Lee says.
Faculty reported that by incorporating OER into their courses, they were able to amplify voices and perspectives that aren't mainstream, Markgraf says. Often textbooks simplify perspectives or cultures, but OER allows faculty to show the world in its complexity and dig out material that is often overlooked, she says.
The OER materials also made it possible for faculty to let students choose from among different engagement activities, as well as from various practice assessments as they prepared for high-stakes assessments, Markgraf says. And, while it takes time and effort, when faculty curate the materials they will use in their classroom, it ensures the materials will meet their goals and needs, she says.
Expanding OER on campus
While more faculty are becoming interested in OER, not everyone is ready to move away from textbooks, Markgraf says.
Many faculty struggle to balance teaching, research, advising and other demands on their time, so having packaged materials, including ancillary material like exercises and quizzes, makes it easier for instructors to meet their many obligations, she says.
Also, in the early days of OER, there was a dearth of quality OER content available, so some faculty remain wary of the idea because of earlier negative experiences, Markgraf says.
OER still has challenges, and there still are some disciplines better served by it than others, Markgraf says.
"While the availability of open content is growing exponentially, there is still a dearth in some disciplines," Markgraf says. "And, while there are many finding tools for OER, there is no definitive place to look. So, it can require significant effort to find and evaluate appropriate and high-quality OER."
However, the pilot project was designed with those challenges in mind and in a way meant to ease some of those concerns, says Markgraf, who worked with Dr. Angie Stombaugh, director of CETL, and Kristin Schumacher, director of University Centers, to develop the program.
The Instructional Resource Rental Program contributed textbook fee funds to pay for summer stipends for 10 instructors to participate in the pilot project, offering them a monetary incentive along with significant support from the library and CETL, Markgraf says.
Markgraf says their goal was to include faculty who teach courses with high enrollment or demand, that have substantial textbook costs or that use textbooks not included in the textbook rental program. The pilot project included faculty from eight academic departments, representing three colleges and the Barron County campus.
Markgraf says the program will be offered again this summer with another cohort of instructors. They are in the process of encouraging faculty to apply, she says.
Some faculty in the pilot project already have said that they want to incorporate OER into more of their courses, Markgraf says. Hopefully, she says, they are talking with colleagues about their experiences in ways that will pique their interest.
Eventually, Markgraf says, she would like to see adoption of OER grow from individual instructors to entire departments. However, that will take time because it would require OER to be seen as a scholarly achievement in the tenure and review process, Markgraf says.
"If we wish to expand use of OER, we have to ensure that the time and effort spent in finding, updating, curating, adapting and even creating OER are valued," Markgraf says. "Publishers provide an ease of use that is hard to resist. Our OER pilot project was one way of incentivizing faculty to engage, but other mechanisms such as valuing OER work in the review process will be essential to continue growing the project."
Given its mission to provide and promote equitable access to information sources and tools of discovery, McIntyre Library is well positioned to lead the OER effort, Markgraf says.
"Through support of the OER movement, the library is advocating for a sustainable model that goes a step further than textbook rental in saving our students money," Markgraf says. "It pushes back against an academic publishing model that is increasingly driven by the profit motive, which restricts rather than expands access. It promotes the sharing of content and access, which is what libraries are all about."
OER also aligns with McIntyre Library's commitment to advancing equity, diversity and inclusion on campus, Markgraf says.
"With traditional textbooks, publishers and the inherent systemic biases of the industry serve as gatekeepers, determining what gets published and which voices are heard," Markgraf says. "OER can amplify unheard voices and lead to greater inclusion and diversity of voices in our learning tools."