Photo caption: Seven Ojibwe ponies are cared for at The Humble Horse in Spring Valley. (Photo credit: Rebeca Paro Photography)
Have you ever heard of Ojibwe ponies or Lac La Croix Indigenous ponies? Prior to the 1930s, there were thousands of these gentle and intelligent horses roaming free in the northern U.S. and Canada alongside the Ojibwe people. As more and more Native people were forced onto reservations, the horses were considered a nuisance and sold for glue or dog food by the U.S. and Canadian governments.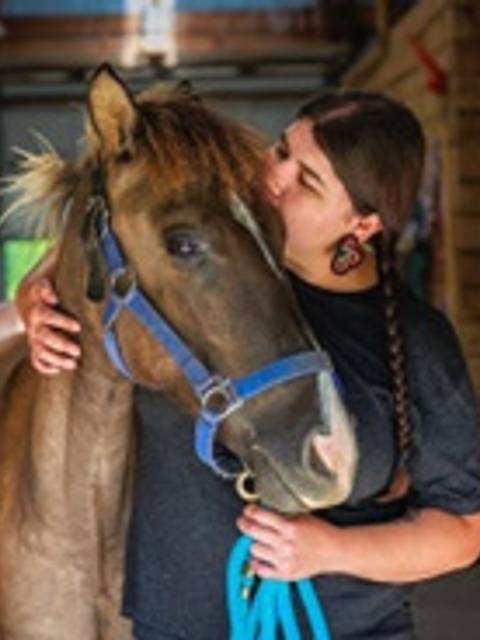 By 1977, there were only four mares known to remain. These were bred to a Spanish mustang in Minnesota, thus saving the breed from extinction. They are still only about 170 strong, mostly in Canada. Seven are being cared for by an Ojibwe-founded and -led 501(c)(3) organization called The Humble Horse in Spring Valley.
Em Loerzel, founder of The Humble Horse, will share the story of these remarkable animals and how she came to be their caregiver during "Thursdays at the U" March 16 at the University of Wisconsin-Eau Claire – Barron County. The presentation will be from 12:30-1:30 p.m. in the Blue Hills Lecture Hall in Ritzinger Hall and will be livestreamed at ricelaketv.com.
In addition to her work at The Humble Horse, Loerzel is a Ph.D. candidate at the University of Washington in Seattle, focusing on social welfare and intimate-partner violence of Native women.
The "Thursdays at the U" weekly series is free and open to the public thanks to support from the UW-Eau Claire – Barron County Foundation. Neither seating reservations nor parking permits are needed for campus guests. In addition to the livestream option, the recordings are archived on the "Thursdays at the U" webpage.
The next presentation in the series will be Thursday, March 30, with Janice Rice presenting "My Homelands: Echoes of My Ancestors."
For more information about the series, call the campus at 715-788-6244 or email Dr. Linda Tollefsrud, the series organizer, at tollefla@uwec.edu.